0.2.7 is here!!!
Changes
+ More Desert area
+ New Boss
+ Warp Zone and Warp Poles
+ Bullets now bounce off spikes (evil tricks with this coming later >:D )
* Re-Balanced an almost impossible jump
* Bug Fixes
* removed sudden rule change in favour of consistency (all spikes are instakills regardless of bail cards)
And other changes that i can't remember, probably.
Detail
The main focuses of this update are two things, the expanded desert area, and warp points.
Currently, every single area in the game has a point that cannot be accessed yet, either due to blocks, some sort of barrier, or an impossibly high jump. You will be able to access these areas later in the game, after collecting the necessary items required. To be able to get back to where these items are required easily, I have added warp points and the warp zone.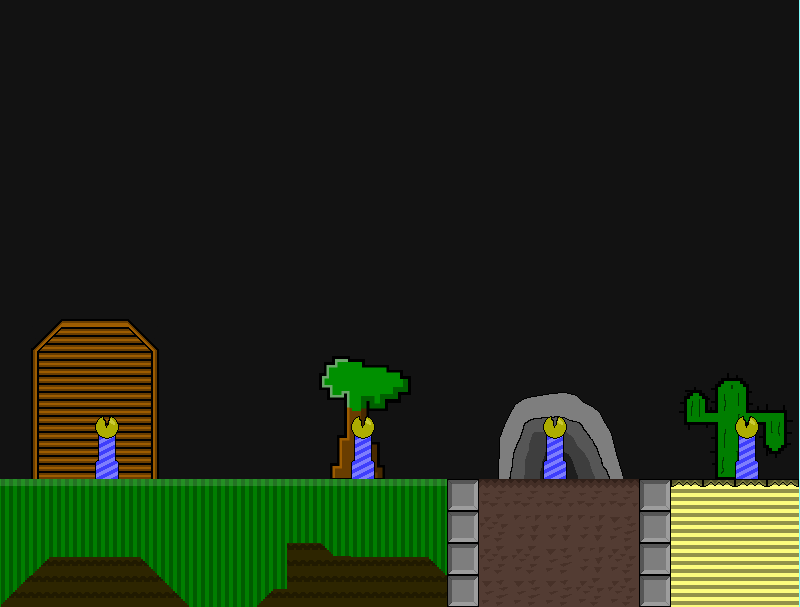 The warp poles have to be fixed by the player before they can be used. This can be done simply by pressing the up arrow when stood in front of one of these poles. The poles in the warp zone can NOT be fixed this way, but are fixed automatically when the corresponding pole in the other areas is fixed.

It is recommended that you restart your save file if you previously had one, to be able to activate all the warp poles.
The other main part of this update was the expansion of the Desert area. The focal point of this is the boss fight. It is almost entirely RNG based, with 4 different attacks.
Here is a video of the fight, minus the 4th attack:
I must state, that you can not currently get any further than the boss, as touching the right edge of the screen will kill you, however, you can go back and save at the previous point, so you dont have to go through that again.
Future
The next update will include some of the following:
Secret rooms
Helpful passive items (giving buffs like: large permanent boss health bars, additional text health display, being able to carry more bail cards, etc.)
Further expansion on the desert area, including Pyramid boss and a start on the pyramid area.