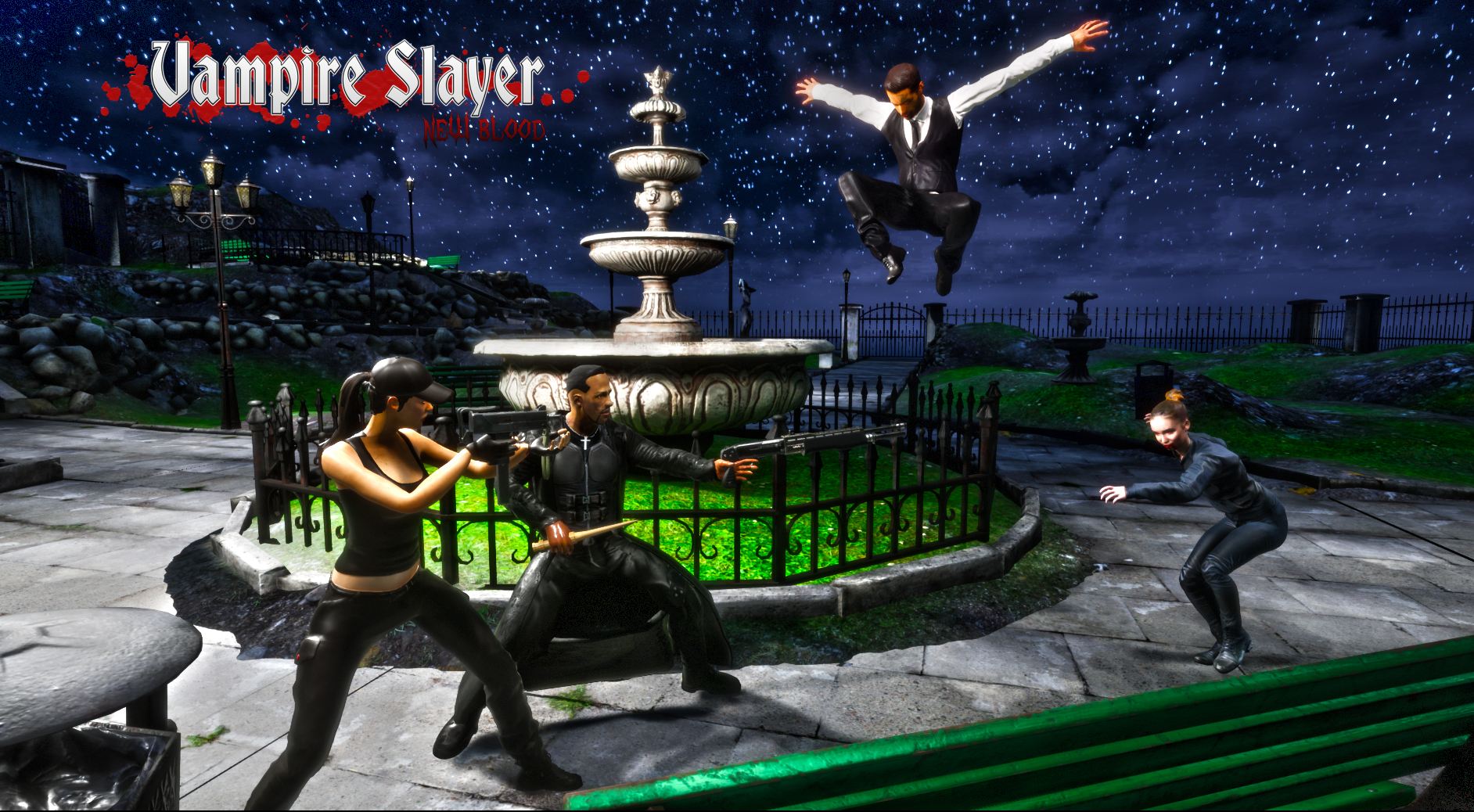 Fans of first person action and vampire lore, rejoice! A new hectic and exciting multiplayer shooter is making its way to a gaming platform near you soon! Vampire Slayer: New Blood is a multiplayer-focused shooter that pits you and your friends against another team of players in an all out battle to the death. Players must choose their side and fight til the bloody end, battling it out in a variety of locales. You either play as the quick witted and talented vampire hunters, or the demons of the night themselves. With fun first person shooting, unique abilities, and fast paced action, Vampire Slayer: New Blood is shaping up to be one of the most exciting multiplayer experiences you've ever played!
For those unfamiliar, Vampire Slayer: New Blood is a traditional death match experience with a vampiric flare, developed by Sketchy Realms. The small team development team at Sketchy Realms have been working long and hard over the past years to create something very special. Their love for these creatures of the night is undeniably. The attention to detail, excitingly unique characters, and cool visual design makes it apparent that Sketchy Realms knows best. The game is currently in development, and the team is gearing up for release as they fix bugs, create new characters, and refine features.
When you start a match of Vampire Slayer: New Blood, you'll have to choose one of the unique characters available. Although you'll eventually get to pick from a larger number of characters, there are currently four specialized characters to choose from. On the bloodsucking side, you can choose from either Eric or Malissa. Unlike Malissa, Eric is a vampire in disguise, walking among humans and hiding in plain sight. To aid in his sneaky endeavors, Eric is able to turn invisible for short periods of time, a power that will be tremendously helpful on the battlefield. Malissa is a bit more mysterious and has hidden origins, but an equally impressive power. Malissa is able to see through walls, locating enemies and taking them down. These vampires can't go unchecked, though, and you'll be able to take them down with one of the two vampire hunters. Firstly, there's Jill, a tactical vampire hunter that likes to burst down her foes. Using her signature MAC-10, a machine pistol with a high rate of fire, Jill swoops around the map spraying her foes with bullets. Joining by her side for the first time is Pablo, the newest vampire hunter to be added to the roster. Pablo is dark and brooding, using a stake to take down his enemies. Pablo's strong will and resolute faith make him unaffected by the cross weapon, which will give you a strategic advantage during battles.

Players will be able to duke it out on a number of maps, varying in size and style. You can duel in the Cemetery, a spooky map that is best used for 1v1 battles. Smash through shop fronts and paint the streets red in Small Town, a medium sized map for team battles. Fans of the movie Blade will enjoy the map Underground, which takes its inspirations from the memorable "blood bath" scene from the film. You'll also be able to trade shots in the Vampire Lair, as well as a bright and colorful club. The game currently supports mid-sized battles of 5v5, with plans to grow in the future.
Be sure to subscribe to our YouTube channel and Twitter, as well as keep a close eye on our website for more updates. Thanks for checking out Vampire Slayer: New Blood; we hope to see you cracking skulls when the game launches!