Before i say anything i want to mention that i have a problem with my keyboard so for any mistakes blame that. XD
---
Hello fellow S.A.O fans. As promised here's the update i metioned. Had some bugs to fix thats why it got delayed.
---
USER INTERFACE UPDATE v0.1
---
So in this update we have the folowing topics :
---
Contents
---
1: Loot and other Pop-Ups
2: Quest ( UI ) Option
3: Trasperant Feature
4: Bugs
5: Updates
6: Changelog
---
1
Loot and other Pop-Ups
Summary
With the major part of the main menu completed i moved onto the Pop-Ups Menus.
Content
The version 2 of the confirmation of the option create a party ( social>>party>>create )
Version 1 : Version 2 :
and the log out comfirmation pop-up ( options>>log_out ) is completed.
Also the version 1 of the Loot Pop-Up dialog is here.
Here's the preview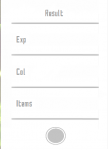 This pop-up will open after you defeat the engaged group of mobs ( enemies ).
The contents of the window are :
The button has 2 status. First one is idle gray and the other one is hovered yellow.
EXP :
Exp indicates the number of experience gained during the battle.
Exp minimum value is 1.
COL :
Col indicates the amount of col ( in game currency ) gained.
Col gained might be 0 at some times.
ITEMS :
Items indicates the number of items looted from the mobs ( enemies ).
Items value might be 0 at some times.
Here's the test preview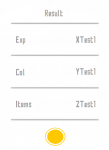 ---
2

Quest ( UI ) Option
Note
As mentioned on previous posts THE UI IS NOT COMPLETE. I know that there are issues like coding, positioning, and graphic issues.
But i don't know what's wrong with you guys/girls doing like crazy and try to correct me. I want to be corrected but not on the way you're doing it. I always open to suggestions to make anything better but it seems that no one cares, UNTIL a demonstration picture is uploaded.
Summary
Sorry everyone i'm reffering to Quest as option on the user interface not as ingame option yet. :(
Content
The Quest option has been removed from the Profile menu ( profile>>quest )
Before : ( sorry no crop on this one ) After :
---
3

Trasperant Feature
Note
Whether the trasperant feature will be on or off is a subject to change.
All i have to say is: The next pics i'll upload include some Computer related brands, that i don't want to forward or anything.Just because of the colors they have are great for testing the trasparent feature.
Summary
I had some free time so added a trasperant feature on the pop-up menus.
Content
The trasperant feature has been already applied here :
1: Log Out Pop-Up
2: Create Party Pop-Up
3: Loot Pop-Up
The following are a demonstration of the work i've done so far.
1: Log Out
Normal :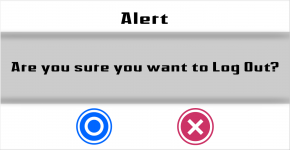 Trasperant 60% :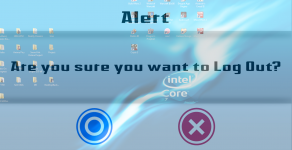 2: Create Party
Normal :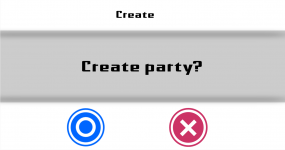 Trasperant 60 % :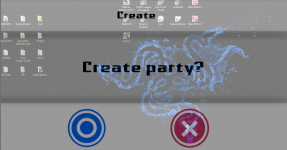 3: Loot
Normal : Trasperant 60 % :
---
4

Bugs
Summary
Everything that has something to do with computers contain bugs.
So does my UI.
Contents
v0.1
Fixed a bug where hover buttons had different colors than intented.
Fixed a bug where disolve and invite buttons where still disabled after creating a party.
Fixed a bug where the log out button was still highlighted after the confirmation pop-up returned the value "cancel".
---
5

Updates
Summary
From now on i will change the information included with my updates including this one.
Contents
Any further updates from me will include
1: Contents
1.1: Notes
There will be notes included on everything.
1.2: Summary
1.3: Contents
2: Preview
2.1: Domonstration Pics
There will be included demo pics on every topic.
2.2: Details
There will be a detailed report on every content.
3: Changelog
3.1 Bugs
There will be a report on the bugs that got fixed after avery update.
3.2 Changes
There will be a summary of the changes introduced with each version.
---
6

Changelog
v0.0.1 (First test release)
Main Menu created
Create Party Pop-Up v1 created
v0.0.2
Resources updated
Main Menu updated
Log Out Pop-Up v1 created
Create Party updated from v1 to v2
V0.0.3
Accessories repositioned
Message Box repositioned
v0.1.0
Possition Check repositioned
Write Message created
v0.1.1 ( current version )
Trasperant feature introduced
Loot Pop-Up v1 created
Quest repositioned
Log Out Pop-Up updated to support Trasperant feature
Create Party Pop-Up updated to support Trasperant feature
---
---
Just a note for all of you.
Some of you got angry with my ecchi wallpapers so i changed them and cropped any of the pictures. Again i will say that i had no intentions of insulting anyone. I included them for 2 reasons :
1st because i thought they were cute.
2nd because that way no one could say "this is fake" or "it's just a fanart" or something like that.
Again i'm sorry for everything.
---
Anyway, as always i'm open for suggestions, just post them bellow or send me a pm.
---
Your support makes me happy and gives me strength to carry on.
Closing i will thanks Gatreh for his info and Astreus for sending me his database.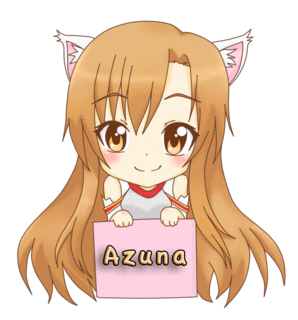 ---
I'm trying to finish my part so the game will be available as soon as possible. :D
---
Sorry for any possible grammar and spelling mistakes thats because my native language isn't english. :)