Today I went over my progress and plans with a few people, and together we came up with a few additions and changes to current systems.
First off, I want to keep most of these under-wraps for nice news posts when I have them implemented. It's fair to say though, the new systems massively overshadow the current ones.
For starters, each level will be much bigger now, sporting multiple distances out to sea that you can cast from (that you sail to!). And multiple distances from those points that you cast out. Getting deeper into each level and unlocking greater cast distances will require upgrading your rod and boat to handle what's out there!
Which leads into the storyline shift, while it will still focus on you working for a marine biologist, getting further out into each level will lead you to encountering more rare, scary and disturbingly awesome fish, such as this handsome buck: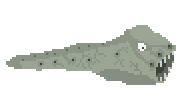 Yes, this looks utterly disgusting, but that's the usual tone you get from deep, DEEP sea fish. I'm thinking about implementing a boss-battle-like challenge when reeling in REALLY deep sea creatures, or creatures at the highest level of each zone. It won't be as simple as watching the float and spamming space now, it will be full of quick-time events to keep you on your toes and making keeping fish on the line even harder.
You'll also be able to set your line depth before each cast, hopefully with a tidy little UI to drag your float up and down the line.
Overall these changes will make the game a far better one, and there are plenty more to come, the re-write of the base engine will begin soon after extensive planning for these new features.
Here's a concept image! (Note, no gui elements, but the fishing rod handle at the top will be the base for the gui elements).