Hi there everyone! Hope you're doing as fine as we are.

I've seen that some developers put the time they've been working on their game on the updates but it is hard for me to do that because I started this project a long time ago and I've had to stop and come back a few times and also do over a lot of stuff. But I can tell you that we've been working almost non stop for the last two or three months and we are deffinitely seeing the results and soon you will too.
In the last week we finished the spritesheet for Jimbo, the first one of our playable characters, we took the old one and shaded the hell ou of it and now it really looks 16 bits style (35 frames total and we will keep adding new frames if needed).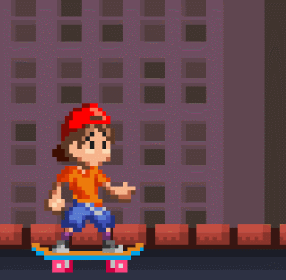 Now it looks like this...
Also almost all of the players actions and behaviours are working now, we have a normal and a special attack and currently we are working on power ups that work as collectible items that give the characters extra abilities, some are timed some are restricted to a single use (this is what we are showing next screenshot saturday).
Al of the enemies sprites and animations are finished although we might still do some changes and tweaking as they are added to the game.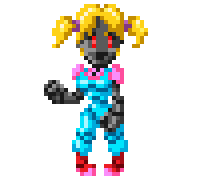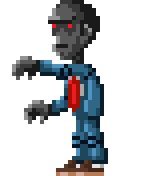 here are some examples
And more...
About 50 or 60 buildings obstacles and background assets are finished and ready to be added to the game.
There's also a very simple main menu with the animated logo that I posted here before.
We have some finished chiptune songs and audio FX that sound amazing and I think that we will start showing those soon on gameplay videos.
The next is to keep working towards an early alpha demo to show and get feedback from some people but I don't think that we'll put that one online because it is still too early.
Thanks for reading, thanks fo your time and support and follow us everywhere to keep track of the development of Grind Day
Jav
Bonus... a WIP explosion effect