Hello!

Today we've got another content update for you, V0.27, which brings a number of improvements and some extra blocks for you to play around with.

Camera Block
The camera block can be attached to your war machine and provide a second, fixed perspective of your contraption. The block should allow for much greater control of flying machines and easier navigation of the environment. It has 4 different modes to choose from and each mode has a number of options you can tweak to fulfil your specific needs.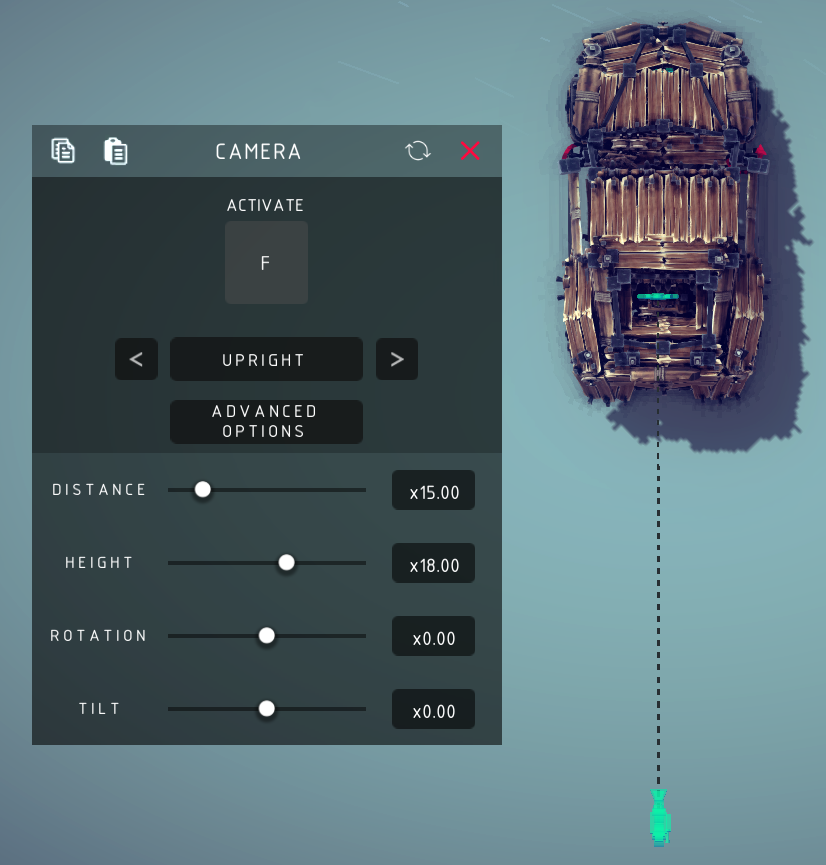 The block is activated by a hotkey, which can be changed using the parameter tool, allowing you to place as many of them on your machine as you want.

Rocket/Firework and Large Unpowered Wheel
We've added both an explosive Rocket and Large Unpowered Wheel to the array of blocks available to construct you machine.

The Rocket is highly customizable, allowing you to change; thrust, delay before explosion, explosive force and even the colour of the explosion itself.
They can be used as an offensive weapon to great effect or fixed to your machine to provide thruster capabilities to your war machine!

The Large Unpowered Wheel is, just like its smaller counterpart, a wheel that rotates freely without any torque behind it.

Other Improvements
We've taken this opportunity to make some other useful improvements to the game, which people have asked for.
There is now an option in the Piston's parameters to make them extend whilst your in build mode, before the simulation starts.
We've added a reverse option to the flying blocks parameters, allowing you to invert its thrust.
The flamethrower now has a range slider which can be altered.

I'm sure that many of you will be disappointed we weren't able to bring you any new levels this time around but we are working on them and we've got some very exciting features for Besiege on their way.

We hope that you all enjoy the new blocks and we look forward to seeing more of your extraordinary and often terrifying creations.

Cheers,

Von
Changelog V0.27

ADDITIONAL CONTENT

Added Camera Block
Added Rocket/Firework Block
Added Unpowered Wheel

IMPROVEMENTS

Pistons can now be extended in build mode
Flying block now has a reverse option
Flipping a Steering Hinge now also flips the hinge's limits
Flamethrower now has a range slider


FIXES

Fixed problem where ballast weight would not update correctly
Fixed a bug with toggle mode on contractible springs
Fixed Grabber's grab static only option
Fixed Tank steering method that uses multiple key presses
Fixed the ability to skip a level by clicking along the bottom of the screen
Fixed placing rotation of blocks to be more streamlined
Valve in Zone 26 can no longer be moved in build mode
Barrels in Zone 16 can no longer be moved in build mode
Crystal in Zone 21 can no longer be moved in build mode
Completing Zone 20 now gives you the next level button instead of return
Fixed Undo/Redo bug that would sometimes remove more or less than it should


CHANGES

Blocks with ID 8 will no longer be loaded, this fixes an issue a lot of people experienced with Spaar's Modloader
Modding Related:
-----Custom data can now be saved to machines, with events trigger
-----Added More BlockMapper types: In all: MKey, MMenu, MToggle, MSlider, MColourSlider, MLimits.
-----The offset position and rotation of ghosts can now be set easily
-----Undo/Redo now accounts for rotation/translation changes.