Ok so... Were are we at right now?
In the last few weeks the programmers have been very busy finishing an educational game for a client and I had some time to rethink a lot of this project. For starters I never loved the (sorta) 8 bit style I was using, it's not that I'm not a sucker for 8 bit but this game is intended as a homage to the Playstation 1 era or the GBA games, and the art wasn't just right.Talking with Matias who is a great friend of mine and is helping me with some designs and sprites for the game I decided to take a risk and try something more on the line of the 16/32 bits style.
I've been trying to improve almost all of the graphics and sprites, even making a lot of stuff again from scratch including backgrounds characters and interfaces, even the game logo has a new version now.
Yesterday I had a meeting with Gustavo who is already back into coding and doing his programmer magic and we agreed on a lot of content and features to include and now are working hard to get a playable demo as soon as possible.
Ok enough text let me show you what I was talking about.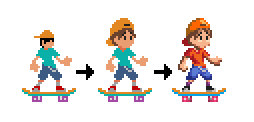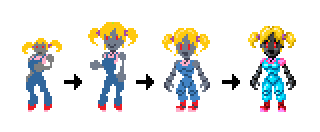 I feel like this is finally looking how it is supposed to look. Doesn't seem like much right now but it is... Also I sure have tons of stuff that I'd love to show right now but I'd rather wait until they are implemented on the game. We have around ten enemies, dozens of buildings, platforms and obstacles and a few characters and skateboards and we keep adding content every week.
Now take a look at the latest mockup (and also this week's screenshot saturday)... I'm kind of proud of this one.
Thanks for your time and have fun :)
Jav