Hello everyone! The alpha launch has so far been as successful as I could have hoped for, so thank you to everyone for making that possible. The comments have been great, so please keep any suggestions and thoughts on the game coming in. The more I get, the better I can make the game. I've been working hard right since launch, so, on with some news:
UI Overhaul
Claustrophobia's UI has bugged me for ages, mainly because it was made as a placeholder, then stuck in the game all the way up to alpha. I also dislike how much empty space there is on screen at once, and how the actual game window is badly centred. So, without further ado, the new UI: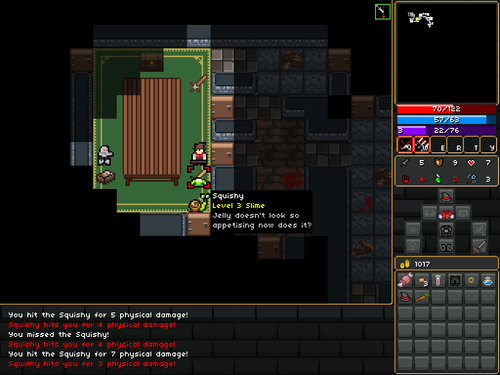 I hope you'll agree that this is much nicer on the eyes, and of course, the menu and skill systems are now properly designed to fit it too. Of course, the resolution has now changed from 1366x768 to 1024x768, but since most of the screen was in the fog of war anyway, it's no big loss. Resolution options will be coming soon, so if people want to return to widescreen dimensions, I'll probably make a split version of this UI too.
Crafting
So yeah, this was always going to happen. It just happened quicker than expected. Crafting will be making an entrance into 1.0.2 (the current version should be 1.0.1, but I may have messed the versioning up oops). It looks somewhat like this: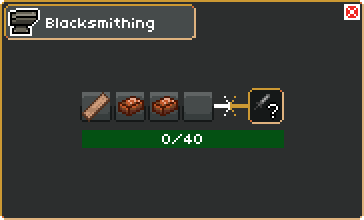 I don't want to give too much away about how crafting works, but, as you can see above, crafting involves combining 1-4 different materials to create a new item. As you craft, your crafting level increases, allowing you to combine higher quality materials. What you craft is decided by the quality of the materials you use, and what type of materials they are. There are no set recipes, just combinations of materials which make different gear types. The rest is for you to figure out.
Claustrophobia Lets Play
If you want to see some gameplay, and hear someone else's opinion on Claustrophobia, then go check out Ridler Gaming's Unfinished Works video, linked below. Go sub to his channel, he has some really good content:
Finally
So, as you can see over on the right there, I now have a Twitter account. If you want up to date news on Claustrophobia's Development, and probably some general game design conversing as well, then go follow @theindieforge.
Alpha 1.0.2 will launch some time within the next few days, keep a look out! Thanks again for all the support, and keep your comments coming in.
~TheIndieForge