I'll take an opportunity this week to go over two things: what I have completed this past couple of weeks and where Turnover stands on the whole.
Recently
The majority of work that I have done recently is to make what I have completed so far feels like a mini-version of what Turnover will ultimately be. It feels important to me to make sure I get an idea of what the final product is going to be like. I'm making sure that I have a grounded style and gameplay snapshot that I can rely on as I continue on.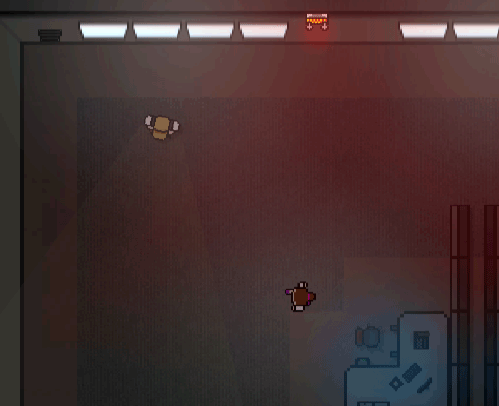 I've been adding some niceties and effects to entities to give them a little more life. The spotting and hearing icons for the Sentinels are now animated decals instead of static sprites.
Linux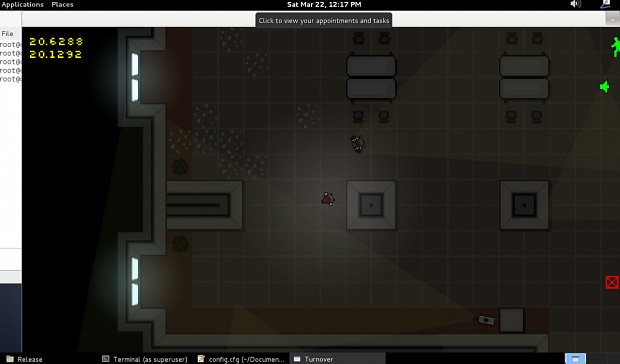 Turnover is now successfully compiling and running just fine in Debian 7. So, Turnover will have a Windows and Linux binary upon release. I plan on doing some more testing in a couple other popular distros before release.
As a Whole
If I had to take a guess where Turnover stands right now in the cycle of development, I think it is hitting the 25% completion mark.
Here's a rough breakdown of where things are:
About a quarter of the levels are gameplay tested and gameplay complete. Of those levels, the majority are decorated.
Art is ongoing, with more to be completed as level work progresses. Can't really put a number or statistic on that one!
The game engine is nearly feature complete, subsystem wise. Work continues on new enemies and their underlying gameplay factors.
The HUD is roughly completed, to be revisited at a later date.
The objective system is nearing completion. Objectives will be implemented later.
No UI work is completed as of now. I will begin brainstorming that soon.
The skeleton of the saving/loading system is complete.
Linux build is up and running under Debian 7.
Everything is going great! Sometime during Spring, I'll likely put together a feature video on how the game plays. Can't wait to see what others think about it.