A lot of new updates have been taking shape for the Steam version of Solaroids: Prologue. In addition the new Vector mode hinted at in the most recent IndieDB article (now available in an experimental fashion), Steam Trading cards have been added, periodic leaderboards, and a whole mess of improvements to the games Heads Up Display (HUD) elements.
Valve approved the Steam Trading Card set late December, so if any of you were wishing for some extra Solaroids "bling", those are available to collect. I tried to make them both showcase some of the artwork I created, as well as be useful for players. As such they include design notes and descriptions of the capabilities of some of the enemy types. They are English only for now, but I would like to commission localization where there is enough popularity and if Steam will let me add them. Here are a few samples from the set of five available.
For those into starry-scapes, in addition to the trading cards, I created several Steam Profile Backgrounds to go with the set. You can collect them while crafting trading card badges. Here's a preview from the set of five available.
And of course, there is also a set of Steam Emoji Icons in the Solaroids theme.
On the competition front, Solaroids now supports Daily, Weekly, and Monthly leaderboards in addition to the local and overall friend and global champion boards. Work your way up the ranks as you work on your piloting and combat skills, and compete against other players that have recently played. The competition is ferocious at the top. I post the results of the monthly leaderboards at the beginning of each month in various communities. Join the ranks!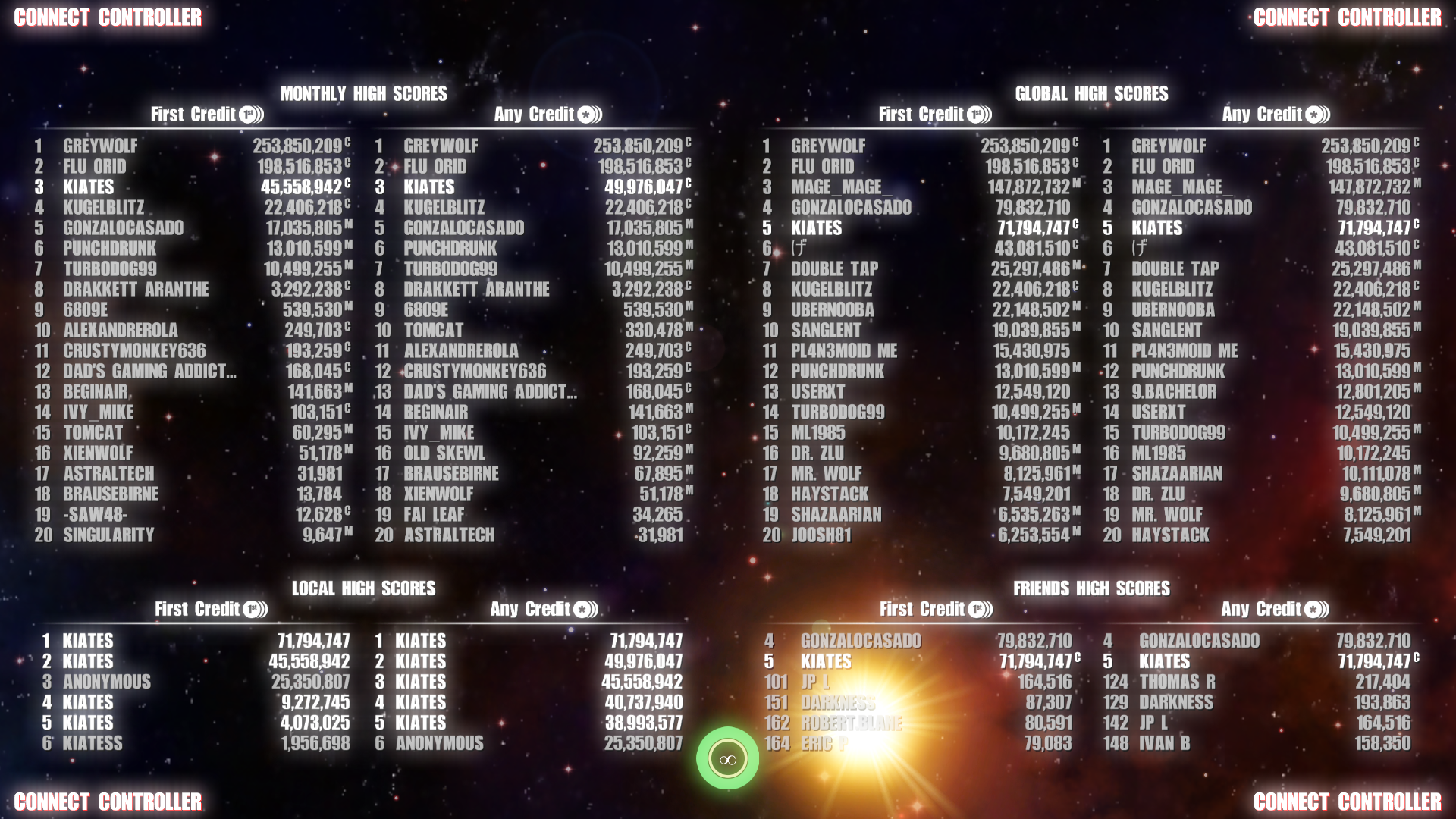 On the vector mode front... Vector mode is now in Color! The colors aren't finalized, but it's starting to take shape. I'm also starting to work on converting parts of the HUD to vectors, so now the icons for the power-up prompts are showing up as well as your extra ships and active primary, secondary, and defensive weapons. It's still very much and experimental mode with score, fonts, and such needing the vector treatment, as well as refinement of the current vectors to make them more readable - especially in the case of power-ups.
Here's a "still" that gives a glimpse at the animated vector effect.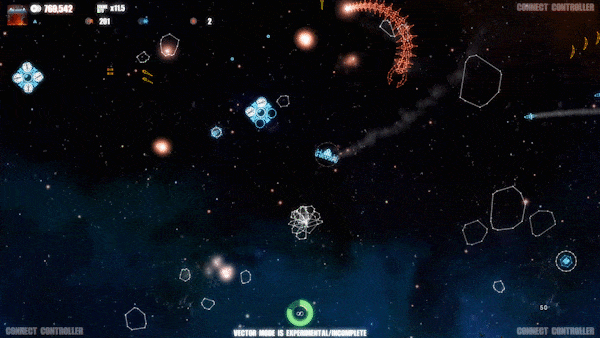 The above gif was taken before I added support for player ship color configuration, but recently I've been able to get that implemented so you can now pick your ship color the same as in the regular themed game. Here I'm randomly cycling through the combinations of hull and stripe colors.

Finally, hot off the press are a bunch of enhancement targeted at communicating information via the the HUD.
Many of you will be happy to know that Solaroids now has a health bar for player ships. Previously the amount of smoke and sparks emitting from your ship was the health indicator, and was meant to be a soft indicator, introducing a little uncertainty to whether you really can take another hit. But by popular demand, the ships computer system has been upgraded to be able to take more precise measurements of the hull integrity. I've decided to introduce an inner ring just inside the current reticle, allocating the back half to health. As you take hits, this "bar" will shrink from both sides and the color will go from happy green through yellow and orange to unhealthy red. I expect this will also help to get a better understanding of how much damage different hazards and enemies inflict.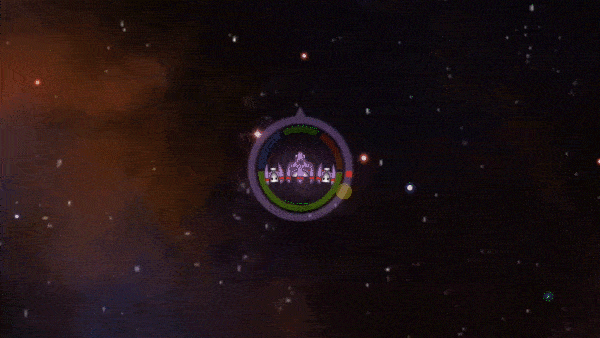 But wait, that's not all. Since I've allocated a whole new ring to the reticle, why use it all for health when I can use the front semi-circle area to add another requested feature... Ammo indicators. Rather than having to always glance back up to the corner of the screen to assess what kind of ammo you have available and about how much, I've added some mini ammo "bars" for all three weapon types: primary, secondary, and defensive. The area is divided up into thirds, with primary front and center, secondary to the left, and defensive to the right. Each is color coded based on the weapon slot, and in the case of Xbox controller users playing with the default classic controls, also matching the colors of the controller buttons they are assigned to.
Following with the interface changes theme, I've added some additional indicators to help provide additional useful information.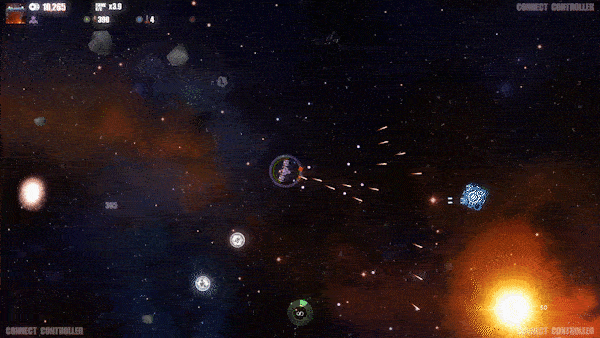 First, Whenever the multiplier moves by a whole increment, an indicator will be shown near the player ship. The multiplier goes up incrementally as you destroy things, down incrementally when you're not destroying things, and by a lot when you take damage. Now you'll see these changes as the multiplier goes up and down.
Second, most things have a score adder associated with it, and that score is further adjusted by your current multiplier. In this version, the final score adder will now show up at the point where the score was accumulated. This also helps to see the exact score value for point pick-ups since I don't show the exact value on the pick-up itself, but you're guaranteed the points are at least that amount. I expect to add an option in the future to turn showing score adders on/off if it's too distracting - let me know.
There have been a tone of other tweaks and refinements too. Check out the Steam store page or community for detailed patch notes.
If you haven't played Solaroids before, I hope you you'll give it a try (free demo here), or brush of the dust and give it some play-time with the new features. Either way, please share some feedback in the Steam Community or in the new Solaroids Discord server. Also, if you like it, or know someone that might, please help spread the word by sharing in your circles on Twitter, Reddit, Facebook, YouTube, Twitch, or your other favorite social platforms/forums.
Solaroids is available in Early Access on Steam , Kartridge, and GameJolt and receives regular updates. Try the demo out today or splurge and get yourself a copy and join the fun!