Through the Dead City's First Alpha
After one year of working on Through the Dead City in my spare time, and a couple delays, I've decided to release a build of the game in it's current state for people to play. This isn't even close to the finished game, but if anyone is interested, I welcome you to try it out and give me some feedback.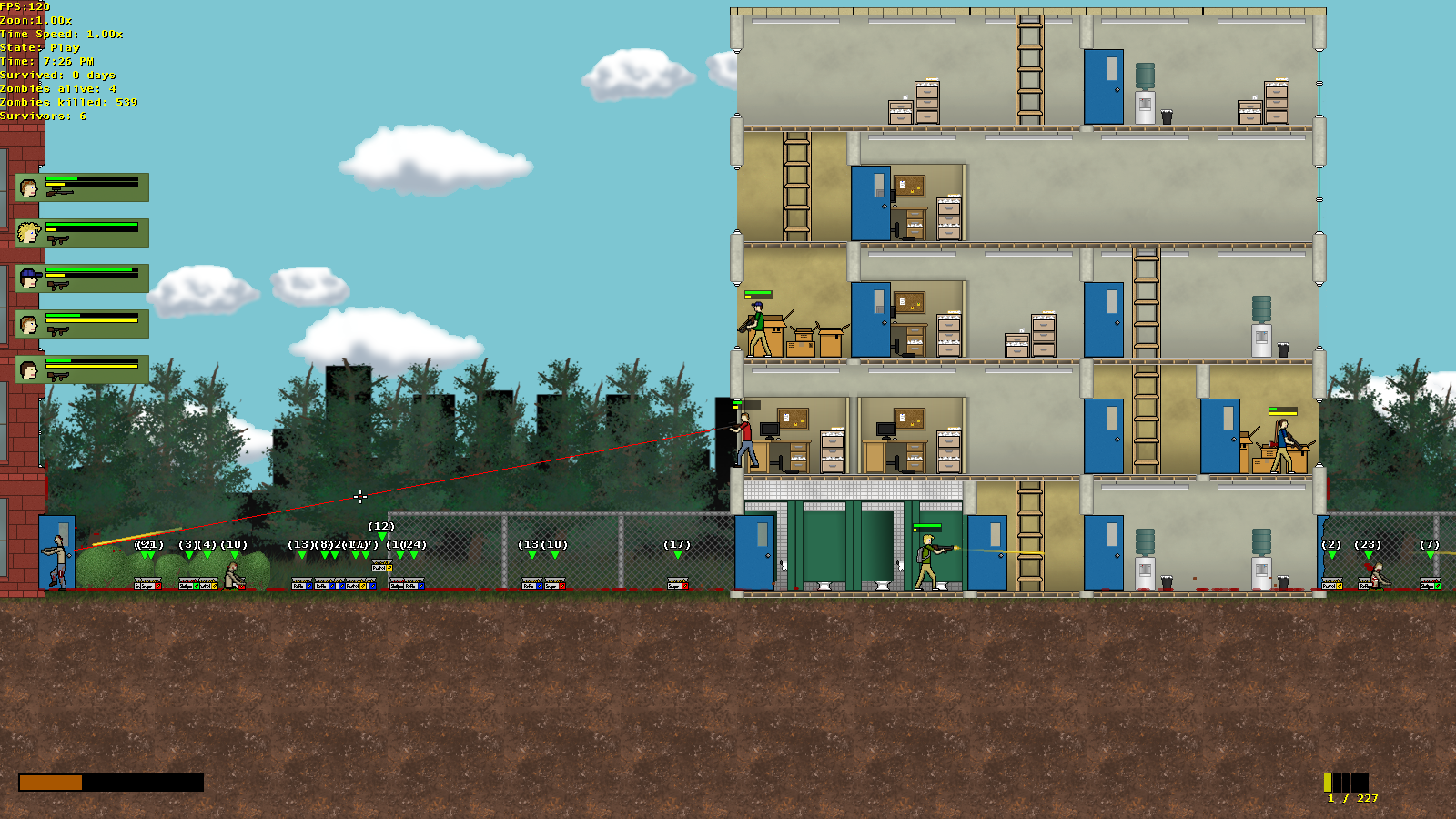 Latest Screenshot of Through the Dead City (March 2013)
Features
Current:
- 2D side-scrolling, zombie shooting action.
- Squad-based gameplay.
- Open world, procedurally generated city.
- Scavenge for guns, ammo, and supplies to help you fight off the zombies.
- Day and night cycle. The zombies come out in much greater numbers at night, it's best to stay inside and defend until daylight.
Planned:
- Saving and Loading the game.
- Repairing doors.
- A lot more guns!
- More melee weapons.
- New zombie types.
- Greater variety of buildings.
- Character customization.
- NPCs and shops.
- An end goal.
- A lot of bug fixing and an overall make-over of the art once the game is almost complete.
How to Play
The game will start you out with a pistol, a bit of ammo and a melee weapon. You'll also have a survivor companion to help you kill zombies. Loot containers for new weapons and items to help you survive. You might also encounter some more survivors along the way that will join your squad. If a squad member dies, they're gone forever. They will drop the items in their inventory though, and you can recruit a new survivor to take their place. The squad limit is 5 survivors including the player. If the player dies, they will drop their items and be sent back to the original spawn point. (This is temporary. There will be a way to set checkpoints eventually.)

Gameplay:
- Move around with WASD.
- Aim with mouse, left click to shoot, right click to use your melee weapon.
- "E" to open doors and containers. Hover the cursor over the object you'd like to interact with then press E. (At the moment there is no range limit. You can interact with any interactive object on the screen.)
- Spacebar to toggle "Command Mode".
- "Q" to quickly regroup your squad into formation.
- "I" to open your inventory.
- "T" to open the Squad Menu.
*(Inventory and squad menu both bring the game into command mode. You can return to the game by pressing spacebar.)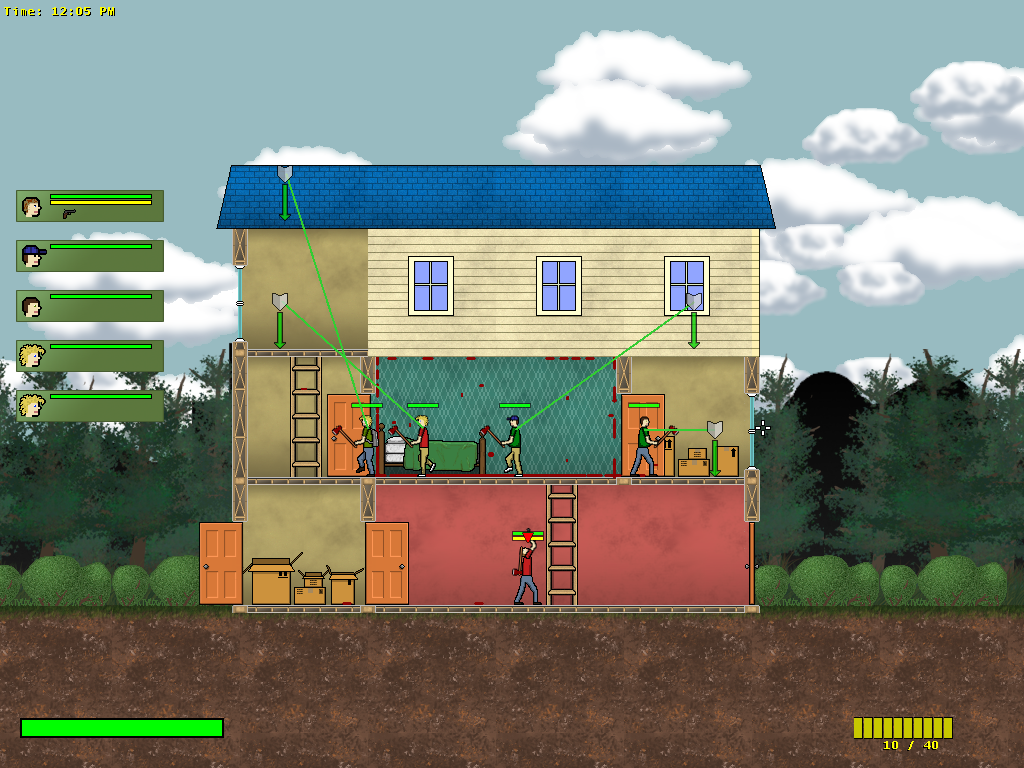 Command Mode:
- Press spacebar to enter and exit "Command Mode". In command mode, time will stop so you can quickly give your squad commands or organize your inventory.
- Left click on a survivor while in command mode to view their options.
- Defend (Green shield symbol): click the defend symbol once, then click again where you would like that survivor to defend.
- Join/Leave Squad (Red handshake symbol): If the survivor is not in your squad, they will join you and you will be able to give them commands. You can order a survivor to leave your squad by clicking the button again.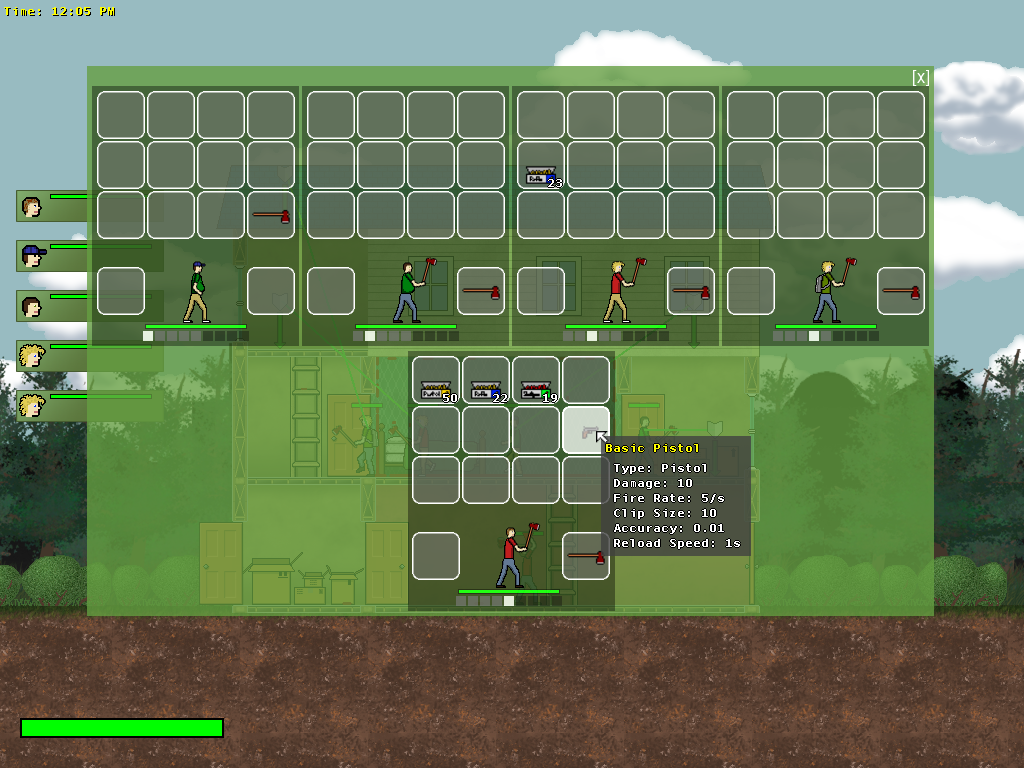 Inventory:
- Press "I" to view your inventory. (includes the inventory of each survivor in your squad)
- Click and drag items to different slots to move them around. Some items can be stacked by dragging one onto the other.
- Holding "Ctrl" while moving a stack of items will split that stack in half. Useful for splitting ammo between survivors.
- The slot to the left of each survivor is their gun slot and the slot to the right is their melee slot. Drag and drop weapons into these slots to equip them on that survivor.
- Each survivor can only use ammo that is currently in their inventory. It's important to keep track of how much ammo everyone has.
- Right click on an item to use it on the survivor who is currently carrying it. (Use health items or quickly equip weapons)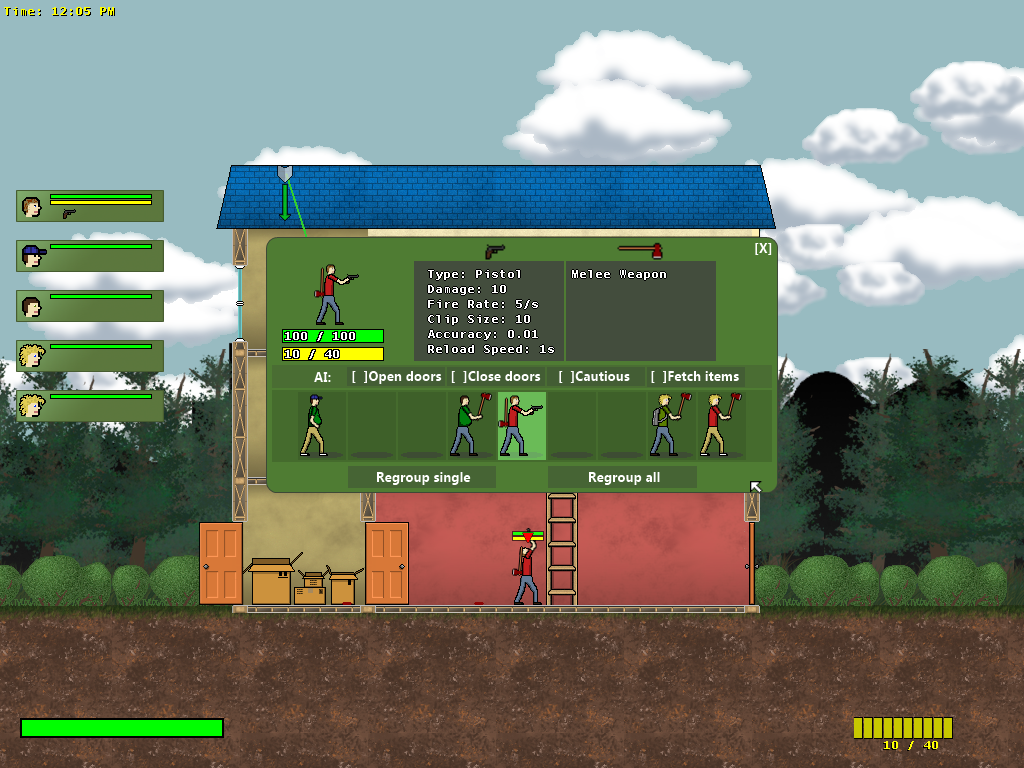 Squad Menu:
*(the AI buttons in the squad menu don't currently do anything)
- Click and drag the survivors in the squad menu to choose your squad formation.
- Click "Regroup Single" while a survivor is highlighted to regroup them into squad formation if they are currently defending.
- Click "Regroup All" to regroup all of your survivors who are currently defending. (You can also press "Q" during gameplay to quickly regroup your whole squad)
Thanks for showing interest in Through the Dead City, I look forward to getting some feedback!