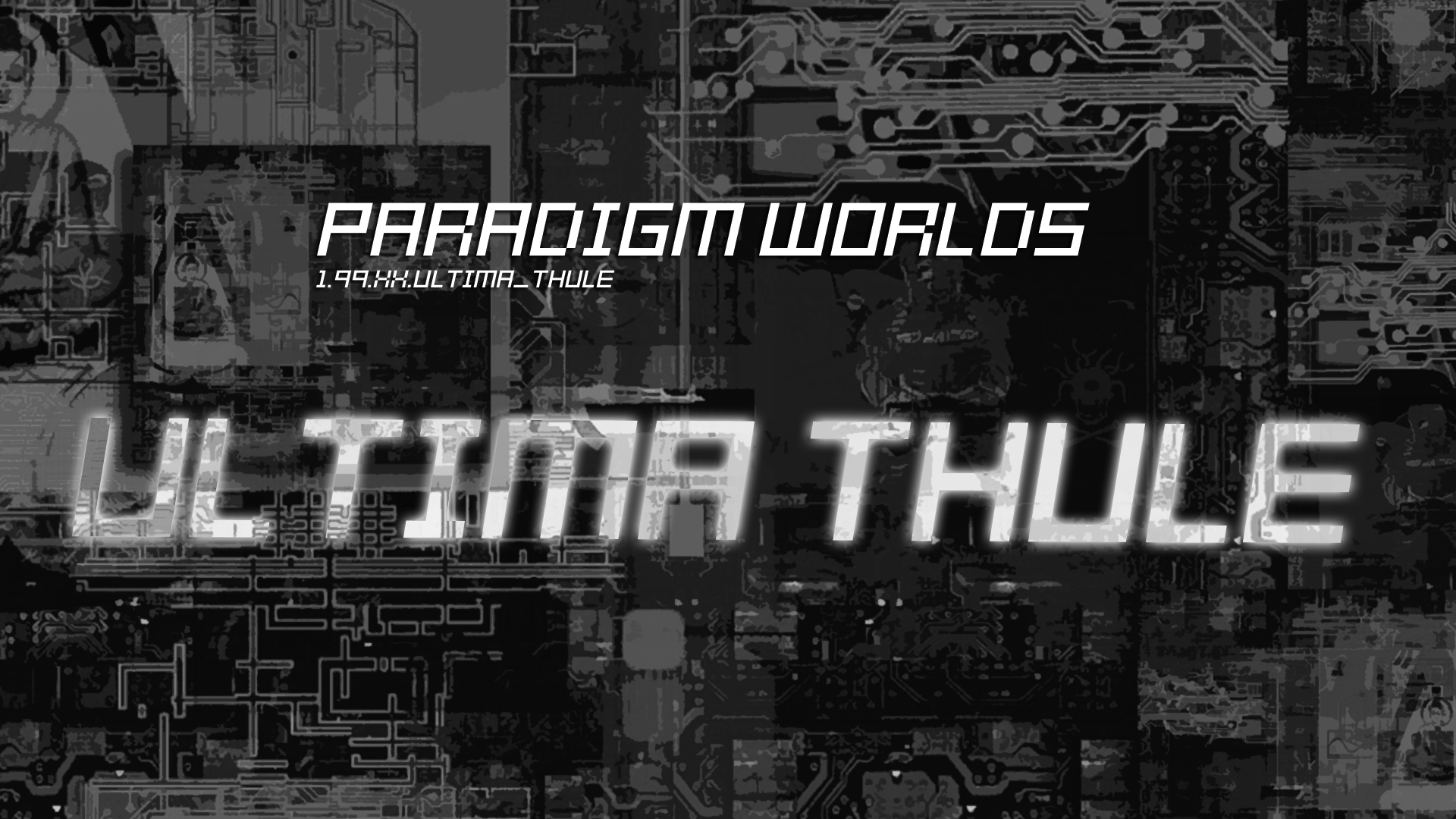 This is not a farewell article.
And it has nothing to do with the pipe.
Do you have recent version of Paradigm Worlds? See download page or new features introduction article.
Dear Friends! With this update, Ultima Thule, I think, I deserve to say that promise was fulfilled and delivered.

Paradigm Worlds becomes an ultimate mod. Paradigms arrived at destination by reaching two almost impossible goals:
infinite randomness and absolute freedom.
Thanks to grand randomizer Paradigm Worlds become project offering infinite combinations. They also allow Player to become a narrator himself, thanks to Faction Creator. Creative player thanks to reverse-engineering. What have Paradigm Worlds become you can see just by trying to get through list of features from last 3-4 updates. It will take you hours. [wanna try? below I had attached a short list of direct links]
I could say, that Paradigm Worlds reached moment, when original engine limits further development, but it would be not true for two reasons. First, because it happened a long time ago already, and secondly because it is developers job to make it work. But we all know, that there is some truth in that statement.
I think that if I am here to deliver another great surprise, apologize for my excuse, Warband engine will not make it.
I can't add many new items, or pictures, objects, troops, etc. because it all weights already too much. It overloads Warband engine enough. Some people, that play on older pc - whom I always respect - already noted issues, like not loading textures, etc. Modern, or new bought PC or laptop does not guarantee stability too: anyone may have problems, and it often depends on luck, or graph card series, or maker, etc. It is a roulette, and sometimes for some people it is its 'Russian' variant.
This is why Ultima Thule is something of a kind of a Final Version.
Final for a Warband engine at least. It means, that small features may still appear in future. It is still possible to make some small changes naturally, I am always open for suggestions. Support, patches, tweaks - this is indefinite. Creatures of Paradigm Worlds (and You, Friends) can always count on me, I like diving in this crazy world too, so I will always try to make it little bit better, less buggier. I think it is unique in its form, primal in graphic, which sometimes is almost symbolic, but for me it is a positive.
I believe - personally, that Mount and Blade: Warband as a game, and developing idea should be, or... already are in the gamedev 'history' logs. I also think that Talewords made a piece of true art, not 'just' gaming art, but the Art.
That is one of many reasons - from a list long from here to Alfa Centauri why Paradigm Worlds will be supported.
Also, allow me, mention
for giving Paradigm Worlds music, there are lot of people saying that this is really cool playlist, and I totally agree. Personally I thank You for convincing me, that new - not native - music is what this mod needed.
Thanks to
who gave some needed love to our creatures. He is author of new faces for mutants, and also added feature allowing changing face shapes.
for creating alternate page and giving another perspective on Paradigm Worlds
Thank You, friends, players, veterans, for all these years, for that incredible attention. Thank You for Your time, and your trust. How much I have enjoyed fact that people played this mod, you know because I always repay you with surprises, new content, and also literally pages of comments. I also appreciate all comments from all people. You always provided me here with challenging tasks, good ideas how to make Paradigms better mod.
Thanks to all good people who helped. [see credits article]
Thanks to Talewords for inspiring so many creators
A great gratitude for moddb for being a perfect host for all this years
Good game to all media people
Imagine Paradigm Worlds, as a foundation for future projects. Now... It can become anything. Events Horizon I'd say. Naturally I will think about how I can respect of the poll, because as You know I always listen to what You say.
So, thank you, and I invite you to check new Paradigm Worlds project - codename - NEW PARADIGM.
Soon, naturally.
Extended list of PARADIGM WORLDS features:
What is PARADIGM WORLDS?
See also:
links to most important - milestone - Paradigm Worlds' features
PARADIGM WORLDS: We, the Creatures! + patch - a statement of independence of Paradigm Worlds creatures.
PARADIGM WORLDS 1.10 FULL MOD - improved, enriched version. It integrated new weather system.
Paradigm Worlds 1.00 - first version announced as deserving a name 'total overhaul'
WEATHER&WARFARE Simulation Module - Rulebook
FACTION EDITOR - How to create own scenario?
STRATEGO - how to give orders / manage armies on World Map
---
PARADIGM WORLDS 'COMMAND CENTER'