Hello everyone! I am proud to finally publicly show some progress on Nightfall Survival on such a great place such as moddb. So! No time to waste, let's jump right in to the start of it.
---
DeveloperI would like to introduce myself first of all. My name is Tevin (a.k.a Mexicouger), and I love to make video games, whether it be scratch games, modding, or just helping someone else. It is a passion of mine; I guess I just love to see my creativity blossom and show itself(I suck at other forms of art like drawing and such :P). Game development is what I have planned my whole highschool career around, and is what I am pursuing for college and my overall career in general. I have worked on various games off and on for the past 4 years, and have loved every day of it. There has been many ups and downs within my time, whether it's been with hardships on implementing a certain feature, or having just general bumps in life which have pulled me out of making anything.
Anyways, as I said earlier, I have worked on several games in the past 4 years. I have worked on Prime PSP, Revamped 1, several mini projects(Call of Duty zombies top down inspired game, a general top down zombie rampage, Slender Darkplaces), Left 4 Quake(Waaaaay back in the day), Augustine, and my senior project which was a history learning game based on the Spanish Conquest of the Aztec empire.
I'd like to note that my passion is bubbling deeply for Nightfall survival, and I want to make it as immersive as possible. I am a single developer working on this game alone(like I usually do), and I try to do everything I can(even if it's not that much*cough* 3D modeling *cough*).
---
What is Nightfall survival?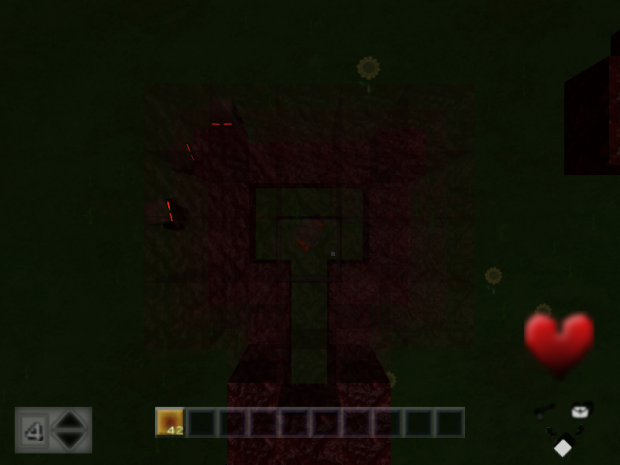 Nightfall survival is a survival game, where players utilize the daytime, and rummage through a broken down city, collecting materials and items, and returning home to build or return to a home before night hits. When night hits, Blood curdling zombies come out and seek to eat the player. They will stop at nothing, as they will destroy any structure that is built by the player.
With every passing day, the zombies grow more and more hungry. They get stronger in many ways, which means collecting more powerful materials becomes necessary.
Players can collect materials and build a house to survive in. It must be maintained as Zombies will just view it as a slight obstacle to get some flesh.
---
Implemented features
I wanted to Add quite a bit the make a base out of this game before I introduced it. So here is what I have implemented thus far.
A grid

: Players can place blocks on a generated grid

Material system

: All 10 materials are made, and collectible. The inventory bar for the materials is also complete, and displays current materials and the amount collected

Blocks

: Players can place and break at blocks

Mode system

: There are 3 different modes the player can switch between: Block mode, Weapon mode, and inventory mode. Block mode is for block management. Weapon mode is for using collected weapons, ammunition, or whatever else you have to fend for your life. Inventory mode is for placing or using certain items

Weapon system

: The weapon system base has been added (Hk45 pistol added, reloading, some of the animation work)

Health system

: The player can take damage, and (as of now) automatically heals. There is a heart on the HUD that beats as well (and beats faster the less health the player has)

AI

: A new A.I system with short pathfinding has been created. It still has alot to expand upon, but has a pretty good base as of now (Zombies follow the player and try to kill them, they break blocks, have animations and a model)

Dynamic Day/Night system

: A full day and night system with transitioning colors and effects.
Dynamic weather system: Weather changes as the player is out and about. So far, rain, thunder, clouds, hail(unsure on this), and fog(Unsure if I should keep this or not yet) have been implemented.

Natural disaster system

: There will be, at random times, a natural disaster in the world which can stir things up quite a bit. So far, earthquakes have been added, which damage anything.
---
Planned FeaturesI have only been working on this project for roughly a month and a half, so there is still alot I have planned to do.
Inventory menu

: I have still to create the inventory mode.

Inventory Items

: I haven't even started creating any of the inventory items(I have quite a bit planned to add)
More weather effects

More natural disasters

Many more weapons

Weapon HUD

Food/hunger system

Temperature system

Menu

Cover art

Improve A.I (They still have some bugs)

Create the city map

Add multiplayer

Nightly aggressive zombies

possibly more texture work on various models and items

Further optimization

More particle and various effects

Daily item spawns in the city
There is most likely more than what I have put, that will probably come with time.
---
Demonstrations:
Here is an earlier video, demonstrating the functioning grid, as well as other background things you may notice(Day/night cycle, weather, effects, etc). It is fairly outdated, as I have redone quite a bit of content that is shown in the video, however it still stands as a demonstration for the game.
---
Being a senior in high school, we all had to present our senior project at an open house where members of the community could come browse what we had to offer. I made a video game for my project. Here is Nightfall survival being displayed. It was a very fun event!
---
Conclusion
I'm going to try and bring you guys updates as fast as I can. I am limited on time and resources as of right now(you guys know how life can be hectic sometimes :P), but that hasn't stopped my progress so far! Thank you guys for reading and if you like what you see, track for more updates!
-Tevin