The feedback from Space Food Truck's Early Access is pouring in, and we've already got our sights on some big changes. Rolling out as soon as possible: our least popular cards are being retired to make way for some cooler ones.
New in the ZapMart
The Sammich, Footlong Sammich, Echonium, and Enriched Echonium buff your card values if you happened to have sylk or ingredient-type cards in your hand. But that isn't happening as often as we like. So to improve the usefulness of these cards, their powers are being combined. The new and improved Enriched Echonium will give big bonuses if you have sylk OR ingredients in your hand, making it twice as useful!
The Claw of Duty lets you pull job cards from your discard pod, but it doesn't really feel stronger than the regular Claw. So to make it worth the purchase price, we're buffing it to pull any card you want from your discard. And if your pod happens to be empty, it'll now be worth 2 Power to charge your abilities.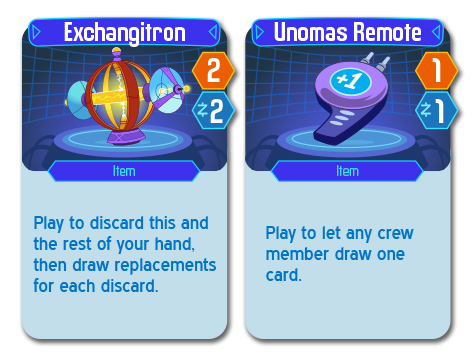 Lastly, two new items are in works! We hate the Prime Accelerator as much as you guys. So we're removing it from the game completely, and replacing it with a sweet new card called the Unomas Remote. You'll also soon be able to reach your favorite cards even faster with the powerful and flexible Exchangitron.
New Job Cards
Another issue that's been brought to our attention: there are a few boring cards in the Scientist's lab. We agree, so here's what's being changed for each character.
The Captain's Ask Around will no longer have a Power requirement. You'll get 3 free picks around the galaxy map, so you can save your Power for travel.
The Scientist had plenty of Research cards already, so we're replacing the one in his lab row with a second copy of his powerful Mimicube card.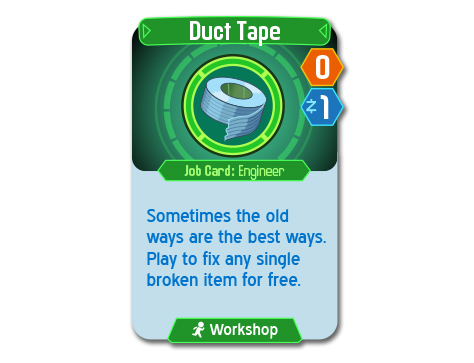 If you're like us, you avoid unlocking the Engie's third Upgrade Ship card if you can help it. So that's been replaced with a brand new card called Duct Tape, which can be used to fix any single broken item on the ship for free, no matter how expensive.
We've got a few more changes in mind that we'll be ready to post about soon. Huge thanks to everyone who's supported us and sent in feedback so far. Let us know what you think of these changes, and keep an eye out for new builds on the way to Space Food Truck's Early Access!