In Lords of Xulima you will set up a party of 6. Gaulen the Explorer, the protagonist is the first character, and you build and customize the other 5 to your liking.
Full update can be seen on our Kickstarter page.
---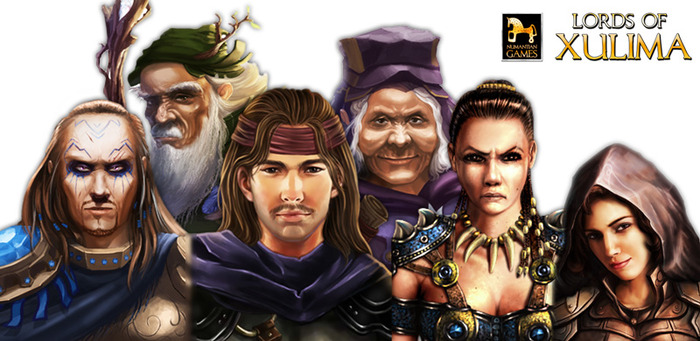 ---
Party Creation
When creating a character, you select a name, gender, class, deity (which Lord of Xulima the character follows), and the weapon that you will start the game with. The beginning skills and attributes are selected by default according to the class and gender.
The customization process is simple, as we wanted to make sure that the player has the basic skills and abilities to survive when they start the game. Once the player starts to level up they can learn and improve their abilities and attributes according to what works best for their play style. The more they advance in the game the more experience they will have as players.
---
The Classes
In Lords of Xulima there are 9 classes, 10 counting the Divine Summoner, but as that class has not yet been fully designed, we won't include it here today.
Our 9 classes are, without doubt, very classic and well known.
Here are the nine classes with their base attributes, skills and resistances.
There are three categories, or realms, of magic from which each class gets their powers
---

An expert in all manners of weapons and war tactics, this fighter specializes in combat skills which, when used at the right time, may turn the tide of battle in your favor.

---

A musician and troubadour, his enchanted melodies can support and motivate your group, as well as provoke or discourage the enemy.
---

A tough, intimidating warrior and an expert in heavy weapons. No other class has as much resilience and raw strength as these savages.
---

Erudite and wise, the Mage is the only class able to fully comprehend physical and elemental laws. Conjuring precise lightning storms or invoking chaotic flames are mere examples of what he can do.
---

Decades of battle experience have allowed him to refine the art of controlling magical energy and commanding the elements.
---

Always astute, fast and perceptive. There is no lock able to resist him, no trap he can't disarm, no trick he doesn't know.

A compassionate and versatile fighter, the Explorer lives in harmony with animals and nature. Finding secret paths, food sources and enchanted herbs are well within his talents.
---

Paladins live by a strict code of honor, selflessness and sacrifice. They are so devoted to the Divine Realm that the gods grant these warriors their blessings and magic.
---

The most fervent divine devotee, it is the only class in complete communion with the gods. He is able to channel a much larger portion of their powers.
---
Thanks to the artist Quico Vincens who has drawn the classes icons for this update.
What class set up would you pick?
---
You can read in full detail on our Kickstarter update. The campaign ends November 29th, 2013.