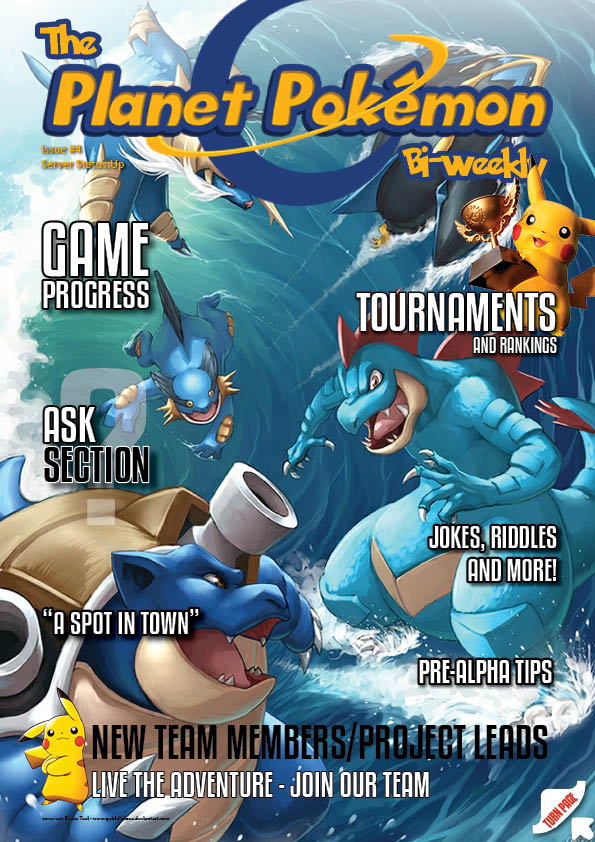 Issue #4
Server Status:Up
Game Progress
by Dunghallen
We've been doing a lot of game design and writing. In the past two weeks we have discussed how the HUD(Heads Up display) should look. We also still have the Nontraditional vs. Traditional starters poll on our forums. So if you have an opinion on whether or not we should have you guys start of with the Traditional or Nontraditional starters, head on over to the forums, and place your vote. You can also post a comment about what you think would be the best choice. To find out more, and to place your vote on the matter, click on this link here that will send you to the forum poll. >>> Forums.planetpokemon.net
Tournaments and Rankings
by Dunghallen
I know that usually we talk about the latest highlights of our ranked tournaments, but this time, we are going to start promoting a new tournament event that reaches out to all of the Organizations/Guilds that have formed here at Planet Pokemon. This event will be called, The War of the Orgs. and will be directed towards all the clans/guilds/organizations that have formed throughout the existence of Planet Pokemon. The tournament will be a knockout style tournament, where each organisation will compete to see which one is the strongest.
When is it?
The date for this event is still TBD, but will be in at least a month. So all you guilds out there wishing to participate, start training.
How will it work?
The War of the Orgs. will operate much like a normal ranked tournament does, except instead of one player using three pokemon, it will be 3 players using one pokemon each. Before each battle, each organisation will select three of their members to be placed into the arena in a certain order. This order will be the order in which each player fights, so pick carefully. Much like in a normal tournament, you're not allowed to switch pokemon until the current one out faints, in the event of a pokemon fainting, the team of three will then move on to the next player moving down the list on the monitors. (If you've played the pre alpha, I'm talking about the giant blue things in the Pallet Stadium) Once the last team member of an organisation is defeated, they lose and are knocked out of the tournament, while the winning team moves on to the next round.
What does the winning organisation get when they win?
We have decided on a prize, however, we are going to wait until the week before the actual event, to unveil this amazing prize that will indeed be featured somewhere in the alpha for all to see.
Can someone play for more than one Organization?
The answer to this is no. However, if there is an organisation that only has 1-2 member and wishes to play, then an exception will be made where an "alliance" may be formed so that players from one organisation can help out a fellow organisation when it comes to numbers.
Can an organisation use the same pokemon more than once throughout a battle?
If you're in an organisation like the Teenage Mutant Ninja Squirtles, that features a certain species/type of pokemon and you wish to have all your team members use that species/type of pokemon, then yes, you may do so.
Anyways, that's all for this issue's Tournament and Rankings, as always we feature the top 25
ranked trainers.
The current top 25 rankings are:
[124.5 Rank Points] Kwames

[104 Rank Points] DolphinHungry

[83.5 Rank Points] luana

[81 Rank Points] bowieee

pokeman1342

Satoshi

BlueDemon

Zangoose

Jfaferrie

Zehkar

Skyre

dareem3

Blind

Loki

Bulbasaur

freddyfazbear

xAltariax

Wendoling

frezer

thegamester41

wendel12BR

herobrinedestroy

Dunghallen

Ilumina

Legiticism
Remember our tournaments are on Saturday at 21:00 GMT(5 pm EST), and Sunday at 0:00 GMT(Saturday 8 pm EST).
Ask Section
by Shadow
Again and again our collections of thoughts remain devoid of answers, whether they be so simple as to contemplate the colour of the sky or to consult the fundamentals of logistics and automation.
Gather your uncertainties and questions about technical problems or future and current plans for the game or even something stupidly irrelevant, so long as the question can be answered, the ask section is directed towards providing that answer.
Every other week, users can submit their questions in the comments, at random, one will be chosen and featured, alongside an answer.
This week's question comes from: Martysama
Q: What is the meaning of life?
Disclaimer: this is a personal opinion and is not based off any studies or scientifically proven facts.
What gives meaning to our lives in empathy; our ability to communicate and understand others.
It's what has us feeling nauseous when we see something or someone suffering, and plays a major role in our lives. In the forum thread, Martysama suggested it was how many people we have touched, which directly links to empathy. When we see someone hurt, we help them, and what is given back; gratitude and respect, is what gives meaning to our lives. When people pursue change and revolutions or even a fresh start, they seek to rid suffering and improve the general quality of life. Empathy is shown in children from as young as the age of 2, and is a constant in our lives.
Serial killers have limited capacity for empathy, and act very impulsively. They don't find pleasure within helping and understanding others.
Impulsivity is a strong urge to do something, and is often a serial killer's motive to kill. It is generally more present in individuals affected by mental disorders, and as such they can be more prone to acts of violence. In cases such as a serial killer, empathy doesn't give their lives meaning, instead, it is the impulsive acts and response that does, which is why, you'll see most, if not all, serial killers with a mental disorder.
"A Spot in Town"
by AndIsayHey
Hello! This is the Spot in Town section, where I'll go somewhere in game and take a screenshot. It's then your job to tell me just where I am! Post in the comments a zoomed out version of the screenshot that shows my location in game, and when the next newsletter comes out, you'll find out if you were right! The first person to find it last time was Flamour, congrats!
So without further ado:
Where am I?
View the PDF for more details.
Jokes, Riddles and more!
by Tuxintuxedo
Congratulations to Flamour for getting the answer right from last issue's quiz, the answer was
Raikou.
View the PDF for more details about this week's quiz.
Pre-Alpha Tips
by bowieee
When playing the Pre-Alpha, there are things that not many people know are possible to do, or just completely pass over. This article segment is for all sorts of tips and hints to broaden your play in the Pre-Alpha. We will be featuring a few of these tips per article, so if you want to learn some secrets of the Pre-Alpha, this is where to look.
Tip #1.) To get the zubat wings faster, use Zubat to collect the four leafed clovers. This works, because Zubat can pick up 2 clovers at a time.
Tip #2.) If you want to take a screenshot without your player or the other UI elements getting in the way, you can press Y to toggle screenshot mode. This will make everything besides for the map itself to disappear from your screen, press Y again when you're done taking a screenshot and everything will reappear like normal.
Well that's all for now. Check this section again in our next newsletter for more hints and
tips. See Ya!
New Team Members/Project Leads
by Dunghallen
If you want to join the team, you can go to our "Available Positions" thread.
Our current open positions that we are looking for people to fill are:
Design:
● Web designer
Art:
● 2D, 3D artists (e.g. modelers, animators)
Moderation:
● Game Moderators
News:
No open positions at this moment.
Writing:
No open positions at this moment.
Sound:
● Composers
● SFX Editor
As always, please remember that in order to even be considered for a position, You need at least 2 to 3 weeks of sustained project activity, and 3 posts to send a PM, and a forum account.
You can follow us on:
Twitter: Twitter.com
Facebook: Facebook.com
Reddit: Reddit.com
Youtube: Youtube.com
or our forums: Forums.planetpokemon.net
Here is the PDF link >>> Drive.google.com