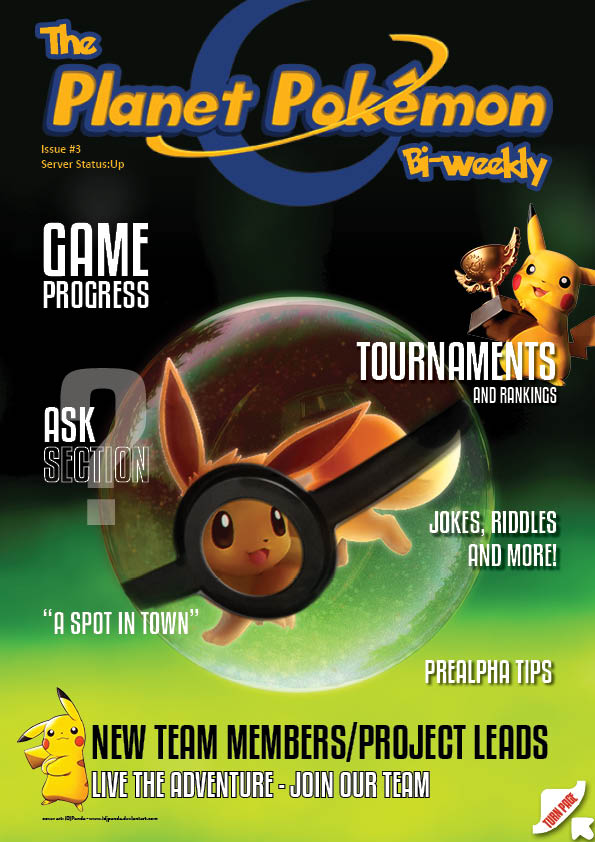 Issue #3
Server Status: Up
Game Progress
by Dunghallen
Some UI elements have been created, we are finalizing the design of the combat system(not coded yet, but it will be). The inventory is somewhat working, and we are deciding on traditional or non-traditional starter pokemon, a desicion in which you may have input on as well, just follow this link >>> Forums.planetpokemon.net
To go into some specifics of the combat system, I asked our Lead Coordinator, Endie, to describe what has been done so far, she says
"We have finalized a lot of the essence of combat and how you will be able to progress your pokemon with skills. We have simplified the system to make it easier to jump into, but also very fluid for veteran players. We are starting to design some early moves for testing."
And with that said, we can all be sure that the team is still active, and working hard to bring us a game that we can all enjoy and play together.
That's all for this week, we hope to bring you more news in the next issue of The Planet Pokemon Bi-Weekly!
Tournaments and Rankings
by Dunghallen
Hey all you battle hungry trainers, here's some of the latest amazing highlights from our recent tournaments, and a look at the current rankings.
Tournament 1 of week 33 was one of the biggest tournaments that we have had in a long time, with a whopping 16 participants! All of the participants fought hard and well, leaving us with the strongest two trainers in the tournament, Satoshi and Zangoose. They both fought hard and well in their final match. The overall score at the end was 5-4, with Zangoose ending up on top. It all started with a back and forth match with Satoshi taking out one of Zangoose's pokemon and then Zangoose coming back and taking out Satoshi's. Finally they were down to one eevee both the score tied at 2-2, when the unimaginable happened, both eevees managed to knock the other one out in a frenzy of swift attacks. leaving the score at 3-3. Then the tournament host chose a pokemon at random, eevee, so that Satoshi and Zangoose could face off in a sudden death round. During this second eevee, battle with the score tied at 3-3, the unimaginable happened yet again with another double knock out! the score was then tied 4-4 and the tournament moved on to the second round of sudden death. The host picked another pokemon at random, the pokemon being gastly. The two trainers fought it out in an intense battle. The matchup was great the determination of both trainers was seen clearly in their battle strategies! The two strongest players of the tournament were clashing heads with great force taking out much damage from each other! And then, with a swift maneuver, and only a hair of health left each, Satoshi and Zangoose both went in for their last attacks! In a split second we would see the victor's gastly still moving, Zangoose had won the match the score ending at 5-4, an epic battle.
Here is the brackets for the 1st tournament of week 33: Drive.google.com
and here is the Twitch stream highlight of the battle:
The current top 25 rankings are:
[112.5 Rank Points] Kwames
[104 Rank Points] DolphinHungry
[83.5 Rank Points] luana
[81 Rank Points] bowieee
pokeman1342
BlueDemon
Satoshi
Jfaferrie
Zehkar
Zangoose
Skyre
dareem3
Blind
Loki
Bulbasaur
frezer
thegamester41
wendel12BR
Dunghallen
Wendoling
Murillo
xAltariax
gameshot
Fantasma
Legiticism
Remember our tournaments are on Saturday at 21:00 GMT(5 pm EST), and Sunday at 0:00 GMT(Saturday 8 pm EST).
Ask Section
by Shadow
Again and again our collections of thoughts remain devoid of answers, whether they be so simple as to contemplate the colour of the sky or to consult the fundamentals of logistics and automation.
Gather your uncertainties and questions about technical problems or future and current plans for the game or even something stupidly irrelevant, so long as the question can be answered, the ask section is directed towards providing that answer.
Every other week, users can submit their questions in the comments, at random, one will be chosen and featured, alongside an answer.
No questions again this week. If you have questions about the game, or anything really, you can post them in the comments sections or you can send a PM to Dunghallen >>> Forums.planetpokemon.net
"A Spot in Town"
by AndIsayHey
Hey there folks and welcome to the "Spot in Town" Section! In this section, I will be posting a screenshot of somewhere in the game, and it's your job to tell me where I am! In the comments, put a zoomed-out version of the screen shot, and in the next newsletter you'll be told if you're correct! The first person to get it right last time was Ilumina, congratulations!
View the PDF for more details.
Jokes, Riddles and more!
by Tuxintuxedo
Congradulations to RyanMac for getting the answer right from last issue's quiz, the answer was Timburr.
view the PDF for more details.


Pre-Alpha Tips
by bowieee
When playing the Pre-Alpha, there are things that not many people know are possible to do, or just completely pass over. This article segment is for all sorts of tips and hints to broaden your play in the Pre-Alpha. We will be featuring a few of these tips per article, so if you want to learn some secrets of the Pre-Alpha, this is where to look.
#1.) You can press Q with Bulbasaur to use Leech seed in battle to gain a little health bonus.
#2.) You can Press Q with Eevee to use the move Refresh in battle, this will help cure your Eevee of confusion. But be careful, while confused the attack buttons are switched!
Well that's all for now. Check this section again in our next newsletter for more hints and tips. See Ya!
New Team Members/Project Leads
by Dunghallen
This week has been an eventful week of adding new members to the team!
We would like to welcome: Wendoling(Game Moderator), Satoshi(Game Moderator), Illumina(Game Moderator), and Flamour(Lore Writer) to the team!
If you want to join the team, you can go to our "Available Positions" thread. Forums.planetpokemon.net
Our current open positions that we are looking for people to fill are:
Design:
Art:
2D, 3D artists (e.g. modelers, animators)
Moderation:
News:
No open positions at this moment.
Writing:
No open positions at this moment.
Sound:
As always, please remember that in order to even be considered for a position, You need at least 2 to 3 weeks of sustained project activity, and 3 posts to send a PM, and a forum account.
You can follow us on:
Twitter: Twitter.com
Facebook: Facebook.com
Reddit: Reddit.com
Youtube: Youtube.com
or our forums: Forums.planetpokemon.net
Here is the PDF link >>> Drive.google.com