Introduction
Heyo everyone!
I apologize for the lack of content updates as of lately, the reason being that I've been mostly implementing new base systems to allow for new features and fixing old core system after the new Map system switch.
But development has been trucking along nicely and with the current schedule we'll be starting internal testing of the Alpha to iron out any potential bugs/game crashes and adding in a lot more contents and graphical updates in the upcoming few weeks.
New Crafting Implementation Video
New Crafting System
As you can see in the image below the Crafting List has changed quite a bit. The reasoning behind this has been that when you start accumulating more and more Items and gain access to more and more Recipes, it'll become very hard to navigate through a singular list of all possible recipes.
So instead of having everything in one list, I've split Recipes up into separate Catagories.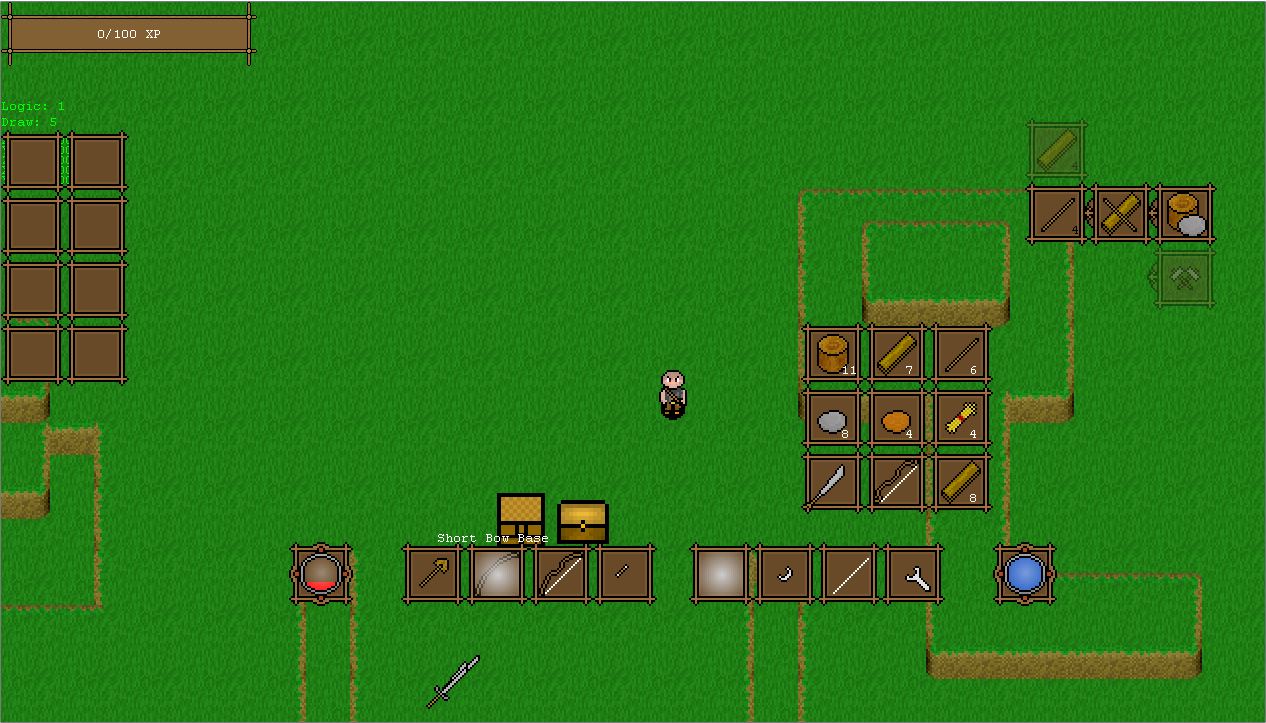 The icons on the right are the Main Catagories, i.e: Materials, Tools, Construction, Cooking, Weaponry etc. the next list is the Sub Catagories and then finally the Recipe Item which you can craft.
Now something very exciting about this new system besides the structuring is the system I'd like to call Compound Items. Which are essentially Items that are built up from lots of smaller ones. In the image below you can see a Bow being crafted by choosing the Bow Base and a Bow String.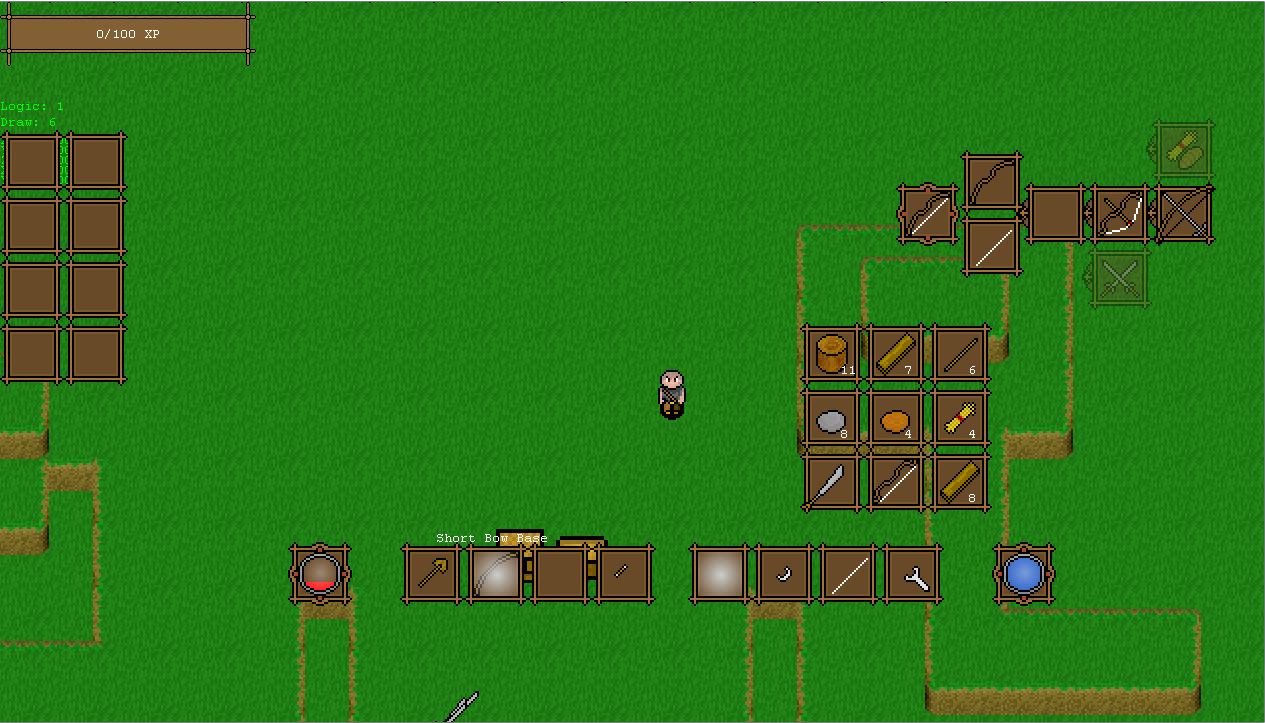 Because of the final Item crafted is built up from smaller ones, it allows for customizability not only cosmetically but also in terms of properties.
A good example is Swords where a larger blade (such as a Claymore) will have a slower swing speed but higher damage and a larger range, compared to a smaller blade (such as a Scimitar) which has a faster swing speed but less damage.
In the image below you can see all of the current Stone Sword combinations that are in the game, Keep in mind the sprite-work isn't complete quite yet and there'll be more added to this list.
But it gives a good example of what can be created. Another thing to keep in mind is that these are only Stone swords, there'll be a lot more materials to craft Swords and other various things from.
Examples being Wood, Copper, Bronze, Iron, Silver, Gold etc.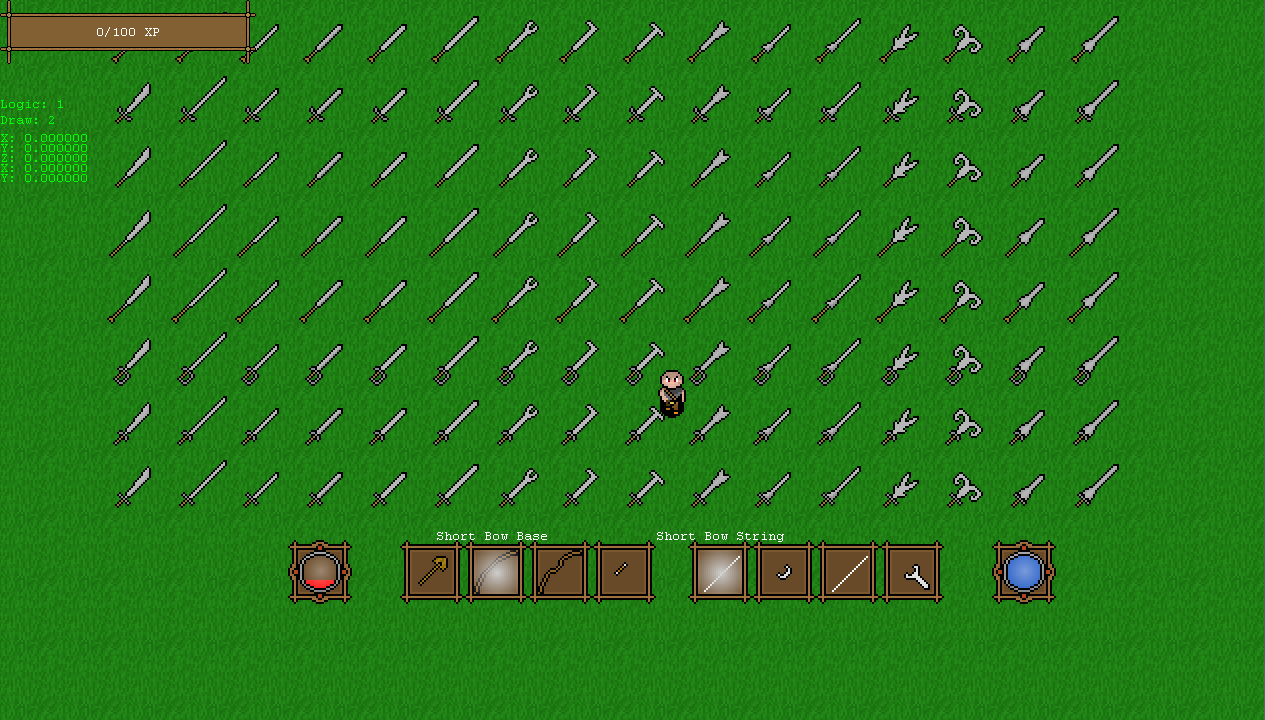 Conclusion
I feel this addition to the crafting system will add a lot of depth and power yet in an easy to use and navigate menu.
Hope you all enjoyed the video and this article.
Cheers!