As our kickstarter campaign continues, it is time for a more in-depth look at one of the key systems in Bloom, "The Bridge". ((View our campaign at Kck.st ))
What is "The Bridge" –
The Bridge is a non-physical plane existing over the normal world. This is inspired by many familiar legends and philosophies around the world and is expressed as a place where "energy" exists (including souls). It is basically the common denominator of life and is found in everything in Bloom.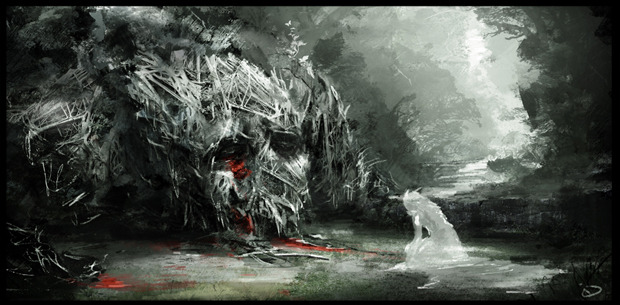 - Game Mechanics –
Early on in the game you are taught how to observe and eventually move inside of the bridge, making it a key ability to master in order to survive. Though, it is important to keep in mind that while in the bridge your body stays in the physical world and is the point you return to upon exiting (or being forced back). Going into and out of the bridge is exhausting though, so you will need a short rest between trips.

Time –
The first big difference inside the bridge is that time in the "normal world" freezes. While this won't allow you to dodge attacks, it will allow you many other advantages.

Dangers –
The second difference you will notice are the energy feeding creatures you will find waiting for you inside the bridge upon entering. These will come after you and if they touch you will send you back to your body. Eventually you learn "bridge-only" abilities, giving you ways to defend yourself (among other things) and slowly gaining more and more mastery over this plane.

~~Effectively this acts as an organic timer to how long you are able to stay or how far you are able to move. When first being able to enter the bridge, you likely won't be able to make trips for very long.

Carry-over –
This is where the bridge really starts to shine. Basically, the first attack you use inside of the bridge carries over into the "normal" world at the point your energy self uses it. This creates obvious tactical advantages, such as if you find yourself being attacked from both directions at the same time, you are able to instantly hop into the bridge and carry-over a second deflection behind you.
This also heavily plays into the puzzle system, allowing you to execute more complex chaining of deflections.

Veins –
During the game, you are eventually able to learn to see veins of energy under the ground. Sometimes these sources of energy pool in certain places, leaking their power into the air. This creates hot-spots which you can stand over, tapping into their power and healing you slowly.
This offers an important choice during fights. You can either try to take advantage of these points and rely on heavier cost long range attacks, or you can ignore them and try to close in for a different play style. We will get more into combat in another update though, so stay tuned.

Insight –
This last key feature of the bridge is a non-combat one and offers many unique opportunities to those with a more thoughtful approach.
When you first enter the bridge you are inexperienced and can only see faint representations of things energy / souls. As you grow you will begin to see the true natures of things around you as they take on a more clear representation (sometimes in stark contrast to what you see in the normal world). Eventually, you will even be able to interact with these representations and gain special insights into an enemy or creature. Not everything is as it seems on the surface.
……
Overall, the bridge is a living full world to explore. You can use it as much or as little as you wish during the game and largely depends on your play style.
Let us know what you think, and thanks again for the support! :) Kck.st