Hello everyone!
The biggest update of Area Raiders (to date) was released!
Players of Area Raiders are like this meme below in these days:

*Things have changed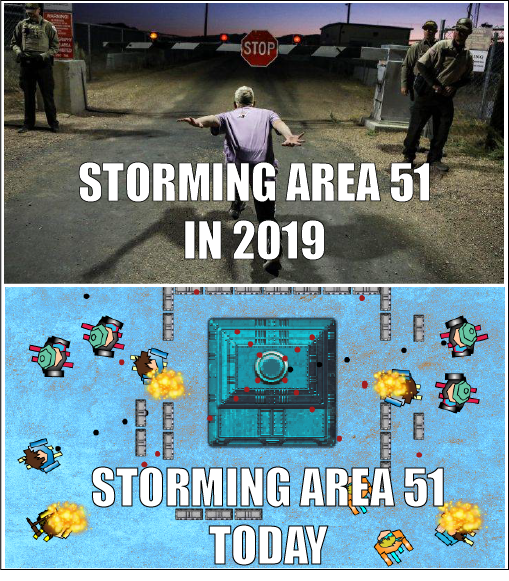 Jokes aside, in the latest addition of Events, you won't be raiding bases on Earth, but also venture into space and raid other hidden bases on Planets/Satellites. The update covers 3 different types of Events (Moon Invasion, Venus Attack, Mars Rush), which all have their own goals to follow and complete.

This feature is time-limited, meaning that you'll be able to play it on average of 1 Event/month, as rocket fuel is hard to come by, but the extra rewards from the events will definitely help you raiding on Earth bases.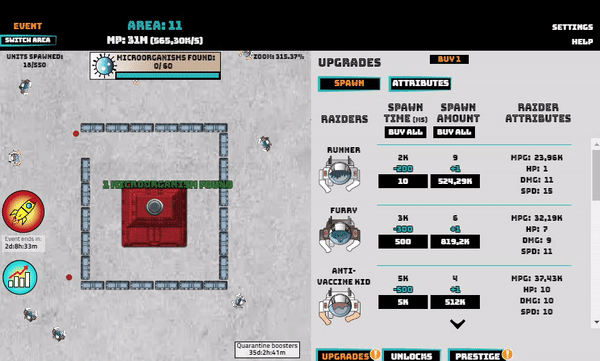 To Enter the first Event (Moon Invasion) you'll need to become a Headman of Raiders (requirement is unlocked via -> Unlocks-> Weapon City).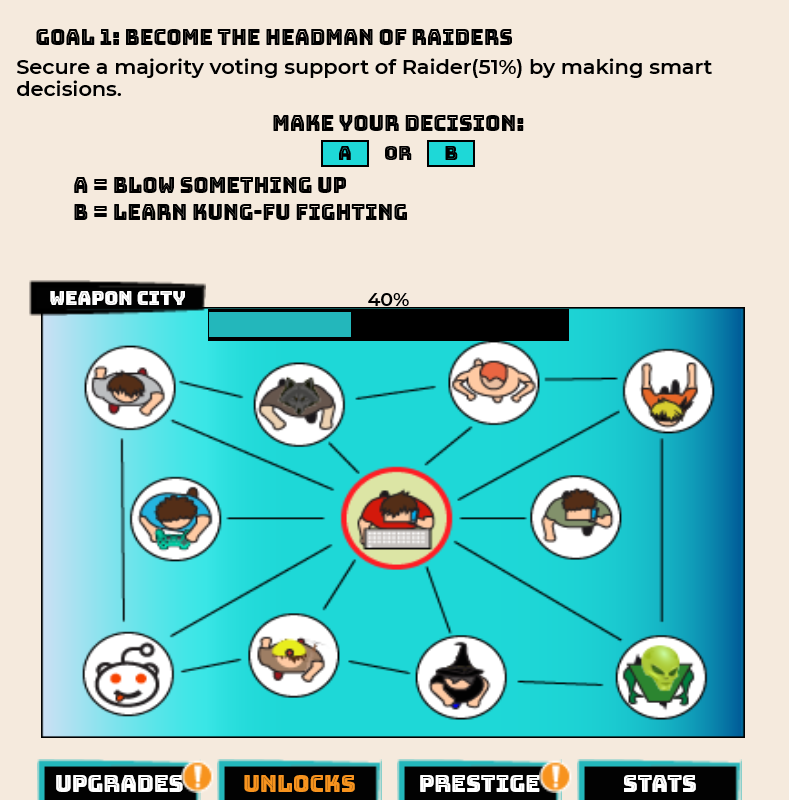 As soon as the requirement is reached you'll get enough of Rocket Fuel to leave the Earth and continue with raiding the planets, Moon in this case.
Every Event type has its own story and different goals/milestones to reach, with unique extra rewards for your raiders on the Earth bases. As events are in space, your raiders will receive new astronaut skins to make sure they don't die – well at least until they suicide for the greater good when raiding the bases!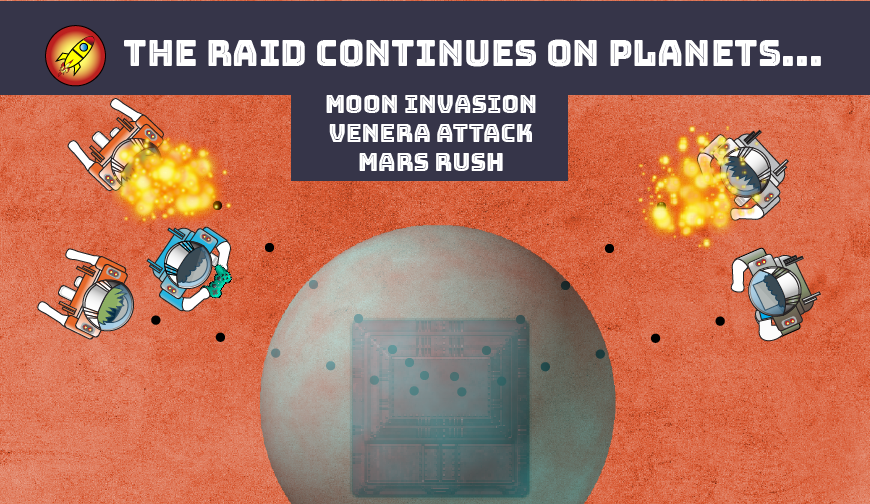 Every Event starts from scratch, meaning that everything a player collects on Earth bases is not valid in space, because you can can't load up your rockets too much! But, with the Events we are introducing the Rockets (Rocket boosters), which will have a great impact on your attacks giving you for example x4 extra Damage, Media Points, Health on top of some other available boosters. The Rockets may be collected every 30 minutes, so make sure to collect them as much as possible during the whole time of the Event, as it may help you raid the bases. Also, in case you complete the last Milestone of the Event, you can continue raiding further and collect some extra Rockets to use on the next Event eventually.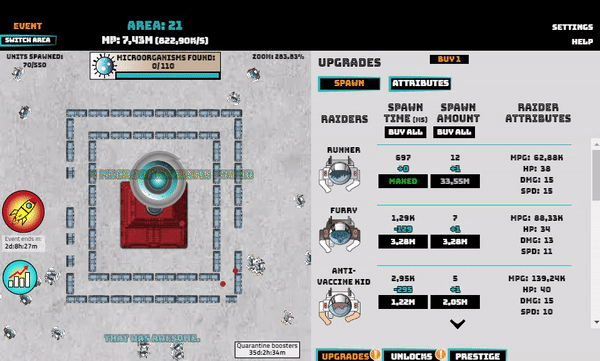 Once the Event is started it can not be paused, and it lasts for 7 days straight.

We've also focused on some other important changes of the game that were also released in the last patch, to name a few:
Improved performance of raiders attacking the bases
Stories with animation texts keeping players more focused on the new unlocked stuff (viewable once a bigger part of the game is unlocked)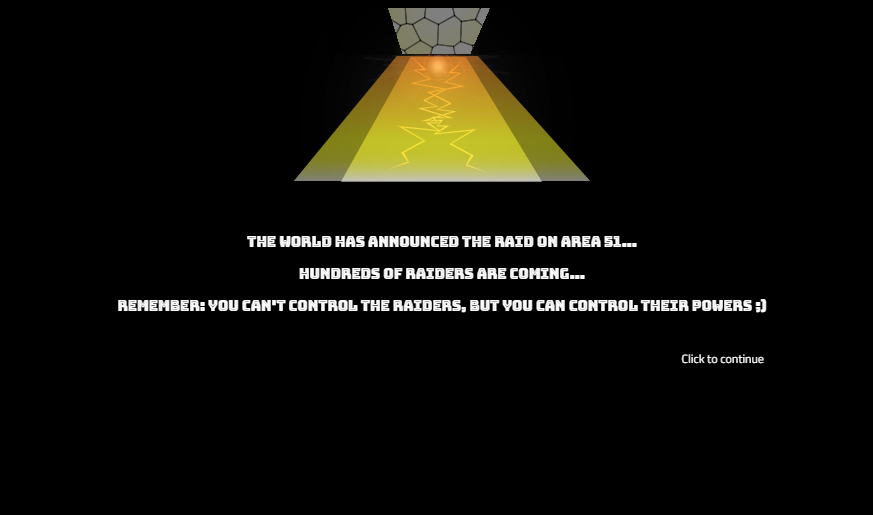 Tier 9 created with 5 extra goals added
Quarantine boosters added (x2 on all UFO's rewards during the Event, valid 40 days)
Skin packs have been increased (x2 MP on every skin pack + massively increased skills on Piglets and Weirdos). Users who bought the packs before will receive the difference in their accounts automatically with this update
First time on Area Raiders: x2 Shards on EVERY purchase (time-limited)
how to play texts added (to help new players)
content/features are now unlocking once you reach a certain goal or requirement


Feel free to let us know your thoughts on the new update, we'd love to hear back from you guys!
_____________________________________________

You can PLAY the game here:
Area Raiders - Gamex Games
Area Raiders - Kongregate
Area Raiders - ArmorGames

Join Area Raiders' Discord to hang out with other players and to get occasional sneak peeks into development work behind the scenes!
Discord Invitation