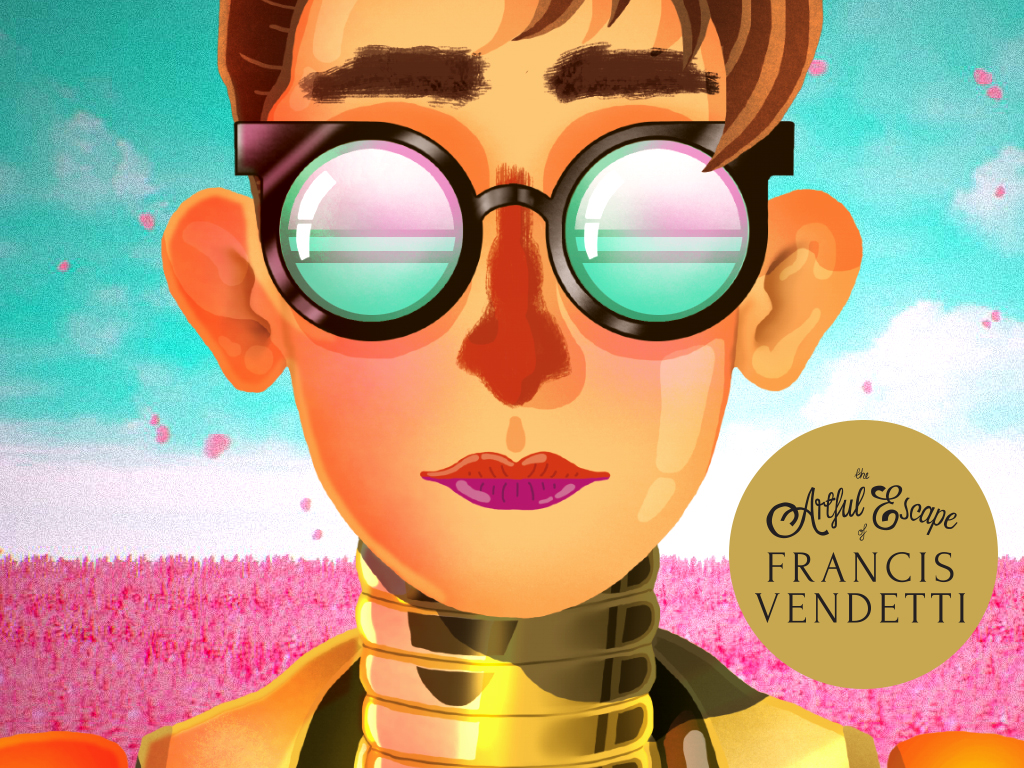 The Artful Escape of Francis Vendetti, Unreal Dev Grant Winner, Goes LIVE on Kickstarter.


Melbourne Devs, Beethoven and Dinosaur launch their first, beautiful, hallucinogenic adventure.

Melbourne, 1/3/2016 - The Artful Escape of Francis Vendetti went live on Kickstarter yesterday evening, PST.

The Artful Escape of Francis Vendetti is a narrative driven, platforming, action adventure, music sampling, guitar playing, laser-light-show kind of game that's won the Unreal Developer's Grant, been Greenlit on Steam, made the front page of Reddit and been featured in several gaming media outlets. It follows the nephew of a dead folk legend who embarks on a multidimensional journey to inspire his stage persona.
You can check out the Kickstarter page HERE.
You can jam with an in-browser taster of Francis Vendetti's sample mechanic, HERE.
The game follows Francis Vendetti, a teenage musician desperately seeking to sever the connection between him and his uncle; a dead folk singer of megalithic cultural significance. After encounters with Violetta, a laser artist returning home from California, and Lightman, proprietor of Lightman's Reptile and Telescope Emporium, Francis understands he must leave his everyday self behind... and become someone else entirely. With the help of his new friends, Francis ventures across the multiverse in search of his new persona, what it means to wear masks, and the worlds artists can construct around their core medium.
Beethoven and Dinosaur consists of Johnny Galvatron: Johnny studied 3D Animation and Game Development at uni in Melbourne. A week after graduating he signed a record deal with Warner Brothers Music and dream-punched his way across the globe. Johnny had commercial hits in Australia, toured the world, played shows with the Police, Kiss, Tame Impala, supported Def Leppard and Cheap Trick on their Pacific tour, appeared on tv gameshows. Generally caused lots of trouble. Josh Abrahams: Josh has created world renowned underground dance-floor fillers, written and produced international chart-topping hits (The Sunscreen Song, Addicted To Bass, Lovesong), composed and produced for both Hollywood and local film soundtracks (Moulin Rouge, One Perfect Day, Woody, One Last ride). Along the way Josh has amassed silver, gold and platinum albums, three ARIA awards, an Independent Film award, and an AWARD award. Justin Blackwell and Sean Slevin are our ones and zeros. They grew up making RPGs and shooters in their bedrooms and eventually graduated into the world of professional programming. They've worked on everything from apps to pharmaceutical programming to educational games and software. Justin and Sean are integral contributors and the original two mentors for "the Lab" project, a not-for-profit educational organization that teaches 3D animation, programming and game development to kids and teenagers with Asperger's syndrome and high-functioning autism.
Learn a little more about the game on our PRESS PAGE.

PRESS CONTACT:
Johnny Galvatron
email: info@theartfulescape.com
web: theartfulescape.com
phone: +61 413 773 889
press kit: PRESS PAGE