REDSHIFT? What is this about?
This is about Starlight Game Studio presenting to the IndieDB community this brand new game, REDSHIFT. It's a 2D shoot-'em-up set in an spectacular universe of lights and colors, where you defeat wave after wave of enemies to level up 6 different "colors" for your vessel, with each one granting you different shots and abilities.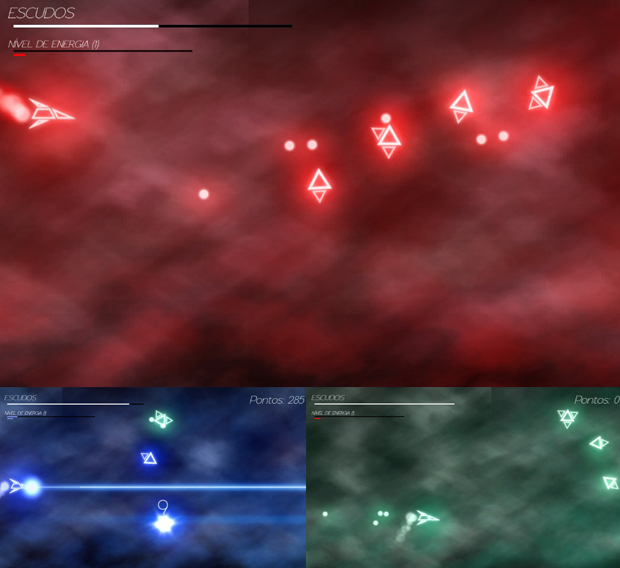 Neat, but... can you detail it a bit more?
Of course! REDSHIFT's action happens inside the PRISM, an amazing universe of lights and colors existing somewhere between time and space. It feeds on the energy of Anomalies - Objects and life forms sucked in from all universes in existence at random. Recently pulled inside the Prism, you, the player, for unknown reasons became a WHITE ANOMALY, an anomaly which contain all the colors of the spectrum contained inside yourself, and therefore can absorb energy from all the colors of the Prism. Could that be the key to your escape?

Now, for the real twist: The entirety of REDSHIFT's gameplay environment is generated at random, all enemies, their movement and attack patterns are generated procedurally in each play session. That makes REDSHIFT a game which will always deliver a fresh experience, no matter how many times you play it. Random, but still faithful to the genre conditions that made it so lovable in arcades and consoles. Also, just like the rest of the game, the PRISM BASTIONS (or, in a more common term, the BOSSES) are also generated at random, having a shape and behavior unique and 100% fresh in every play session! Will you be able to adapt your strategy in order to deal with the weak spots and strengths from each of those powerful challenges?
Now that sounds pretty cool! When is it going to be released?
REDSHIFT is in development, and it'll be available in the Windows, Mac and Linux platforms in 2017
Nice! Can I follow you in social networks?
Sure! If you liked the project and want stay updated, please like and share us!


Also, we have a Website and Portal always updated with fresh news and dev blogs!