Hello, everyone!
If you enjoy Steam Marines please do head over to Steam Greenlight and vote for it!
This build brings quite a few changes. As usual the full changelog follows at the bottom of the post but here are the highlights:
High Scores!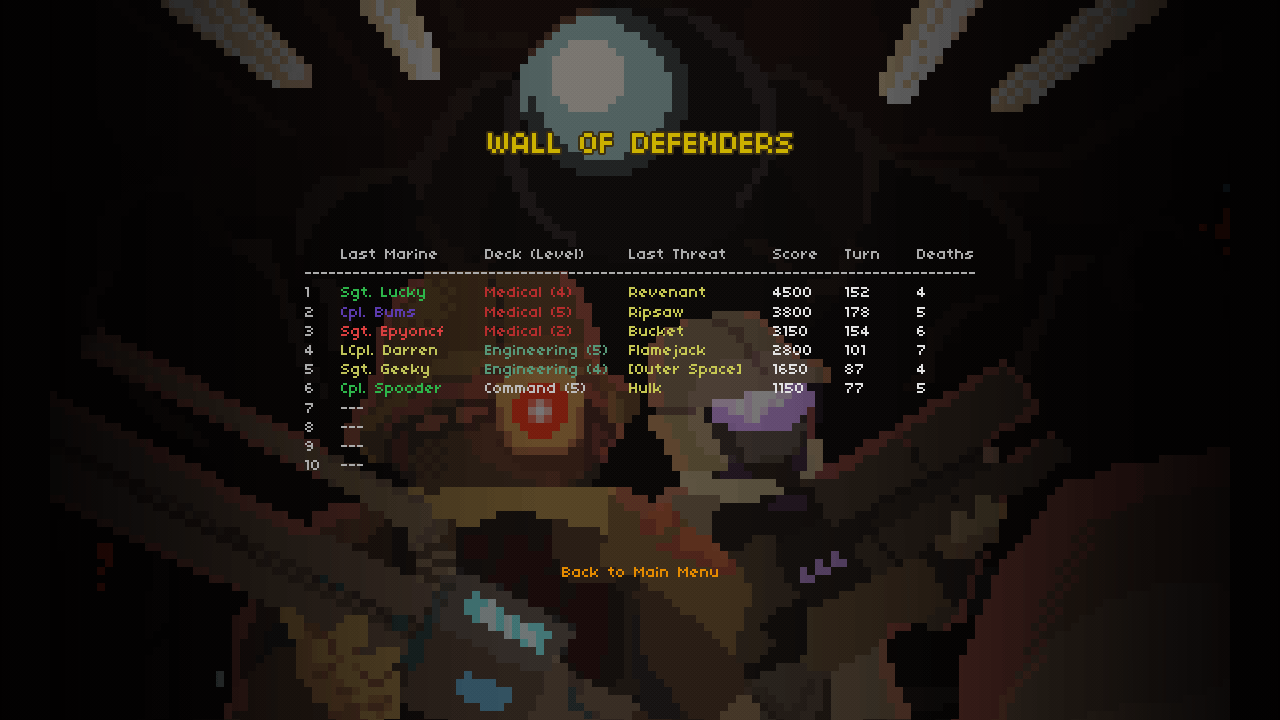 A scoring system and a high score screen - accessible from the main menu and it pops up after squad death. Right now the scoring system is opaque but I'll be making it transparent, and adding more miscellaneous stat tracking, in the future.
Damage, Armor, and Nastiness!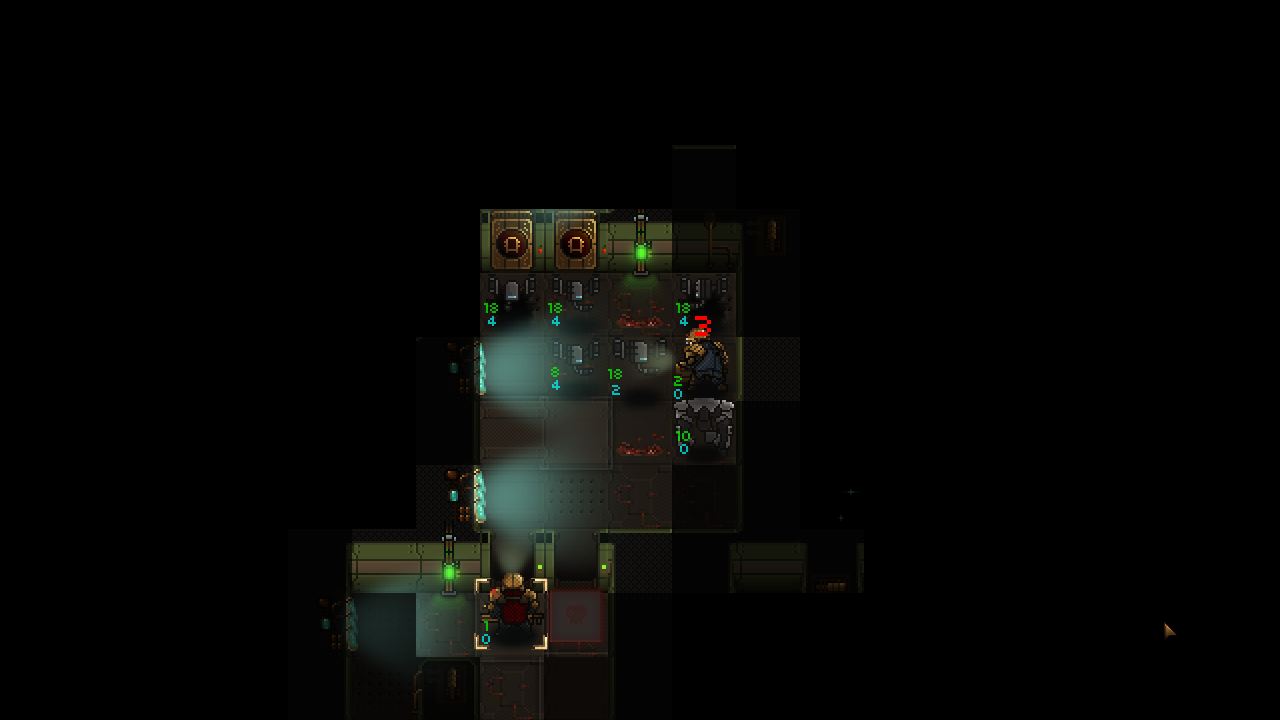 The last few builds brought better group intelligence and flanking AI to the forefront of the middle game. In this build enemy health and damage was reduced across the board, but now all enemy attacks reduce target armor. The marine classes also now have base armor factored into the randomized armor rating, meaning while a Grenadier might have high armor rating to start with, getting beat on will really start reducing his ability to survive.
The Hulk Strikes Back!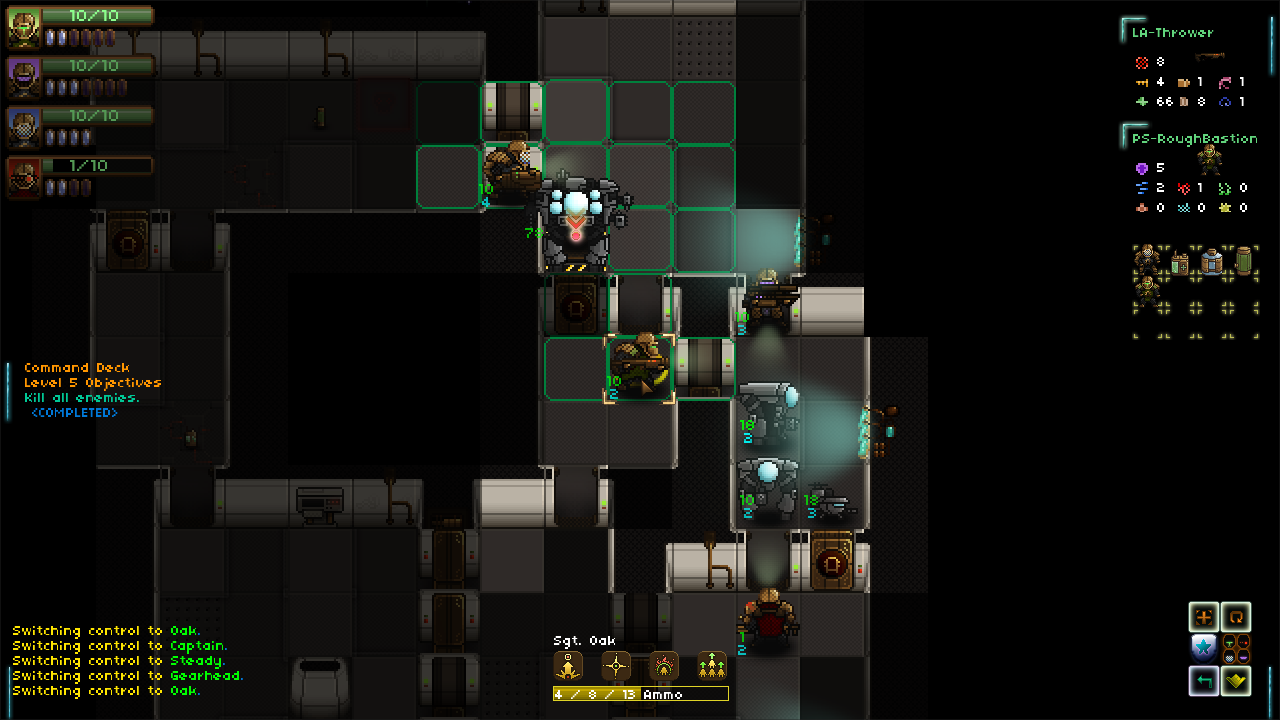 Is this guy blocking your way to the Engineering Deck? Are you angry I nerfed grenade damage? Fear not, with the aforementioned AI group mechanics and armor stat changes, it's more a fight of attrition rather than a straight up slugging match.
For fun and profit, I also added new items (scopes to increase/decrease weapon range and armor kits to increase armor rating), a new weapon damage type (acid that burns through target armor), and a rare one-use weapon, the Lasershot. With 30 base, unmitigated damage and 4 range, it can lance through multiple enemies and even walls. Use with caution - friendly fire isn't!
Another Let's Play? (Plus an untimely crash?!)
From Gaming Faster Than Light:
Have fun and happy robot hunting!
The full changelog fo v0.7.6a follows:
-------------------------------------------------
New Features
-------------------------------------------------
Added high score screen.
(Physical) armor is always reduced by 1 from a direct enemy attack.
Weapon stats no longer have a chance to be reduced on enemy attack.
Marine class armor has a higher range of randomized armor rating stat.
Base class armor rating rebalanced; Leader has 4, Scout has 2, Grenadier has 6, and Support has 3.
Base melee and range damage for all enemy units reduced across the board.
Tick health increased slightly.
Thopter health decreased slightly.
Rebalanced Buckets. Damage and armor values reduced.
Treasure chests can now contain items other than armor and weapons. Chest spawn chance slightly increased depending on deck level.
Special weapons now appear earlier in the game and with more frequency than normal weapons. To compensate randomized armor has a higher chance of being in chests instead of weapons.
Weapons can now come with an "Acid" prefix which makes them reduce targets' armor ratings.
Added Longsights and Shortsights, single use items that can permanently modify weapon range up and down, respectively.
Added Armor Kits that permanently increase equipped armor by 1.
Implemented chance for enemy AI to halt pursuit depending on line-of-sight, fog-of-war, distance between player and enemy units, and enemy unit communication.
Added special one use item, the Lasershot. Deals an unmitigated 30 damage to all units and wall tiles and closed doors within 4 tiles ahead.
-------------------------------------------------
Bug Fixes
-------------------------------------------------
Fixed closed doors sometimes being flagged as walls that didn't block line-of-sight.
Fixed enemy unit door interactions not firing properly when other units were adjacent to the door.
Fixed errant player input on end level screen.
Fixed UI not always returning after clearing all enemies and ending the turn.
Fixed some performance issues because fog of war was updating when it wasn't necessary.
-------------------------------------------------
Notes
-------------------------------------------------
Reintroduced 1024x768 resolution support.
Made fonts/font sizes more consistent and readable for smaller resolutions.
Overhauled squad creation screen.
Changed main menu save state preview to show character rank instead of internal level.
Directly selecting a squad member will no longer shortcut out if that character is already selected. It will always manually switch to that target squad member.
Fog of war fading has been turned off by default. I suspect this is the cause of the recent crash complaints.
License file changed.