State of the game
What do we have in store for you during these last 10 days of the campaign?
We have two additional recordings with David Bradley that we will share before the campaign is over [he was so efficient and professional in the recording session that we ran out of material for him to record! Instead David Bradley ended up talking about how excited he was about The Mandate and he wanted to know when he could come back and record more. Bottom line he is a class act, a true tsar!]
We have two new trailers, one which focuses on boarding operations and one that focuses on, well, uhm… that's a secret in fact!
We have four developer logs that are recorded but we need to clean them up properly
Also there are more design updates still to come and one of them is linked at the end of this update
Digital add-ons
If you are not interested in reading about the digital add-ons then skip past it to the end of this update and check out our design update for boarding operations instead.
Several backers asked for the possibility of digital add-ons as an excuse to up their pledges even if they were not interested in the higher tier design tiers or additional copies that come with the design tiers. We had not planned for digital add-ons, but after some deliberation we came up with a mix and hope there is something here for everybody. We are only inserting some of the digital add-ons below. If you want to read more about these then you can CLICK HERE.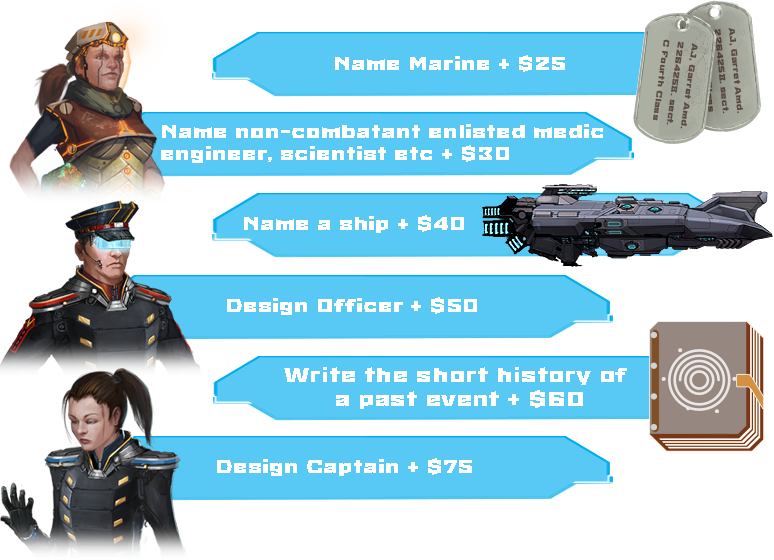 Design update - boarding operations
How exactly will boarding work? How deep will it be? What can you do? How powerful is a max level cyber parrot and how many alcohol free beverages can it shake in a minute? CLICK HERE here for answers to most of these questions.