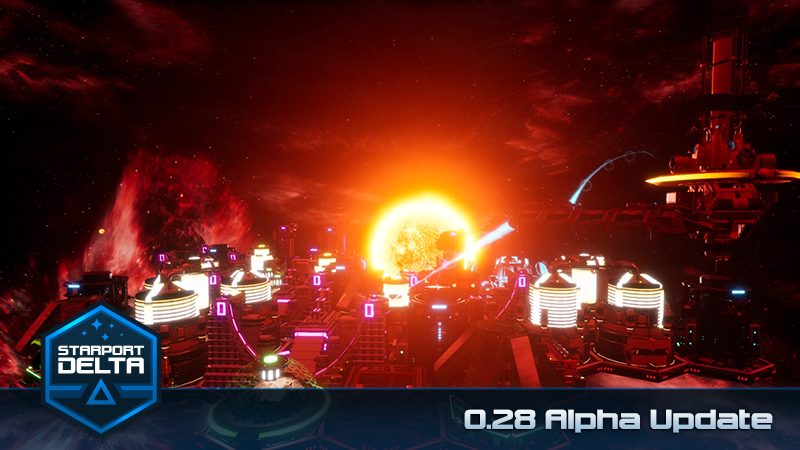 Its that time again! Its a closed alpha update to Starport Delta from the Cloudfire Studios team! This update adds more music, population evacuations, and various other updates and fixes.
What's new
add a new set of music
add evacuations
add camera shake to space worm roar
add Steam hooks for recording stats
add new military transport ship
add new trade agreements UI
performance update for background nebulae
update nebulae visuals when blending close together
update resource notifications position in 3D
update upgrade sets to use construction animation
update space worm to have some more particles
update collision settings for buildings and ships
update the arms on the corridor tile to dynamically attach to neighbouring buildings
change character notifications so they don't show up in free-flight mode
update mesh on Imperial Juggernaut
update images for campaign mission hexes
design UI for in-game leaderboard
updates to trade agreements
fix missing cursor for first-time language selection
fix taking two clicks to start mission after click-advancing briefing dialog
fix music sometimes being silenced
fix music being de-synced when pausing the game
fix occasional case of mission objective 3D asset not showing up
fix defense lasers not firing on pirates
fix timing issues with deconstruction of upgraded buildings
fix electrical storm not despawning the second time it shows up
fix flight-mode keypress falling into a bad state
fix deconstruct animations being played on destroyed buildings
fix deconstruct for infinite money bug
fix garden leaving too much debris when being destroyed
fix spaces not going back to being buildable after debris is harvested
fix bugs with evacuation UI animations
What's next
addition of voice acting
more campaign content
Wishlist Starport Delta now on Steam and Green Man Gaming!
For more information follow:
Starport Delta on Facebook
Starport Delta on Instagram
Starport Delta website
Cloudfire Studios on Twitter
Cloudfire Studios on Facebook
Cloudfire Studios on Steam