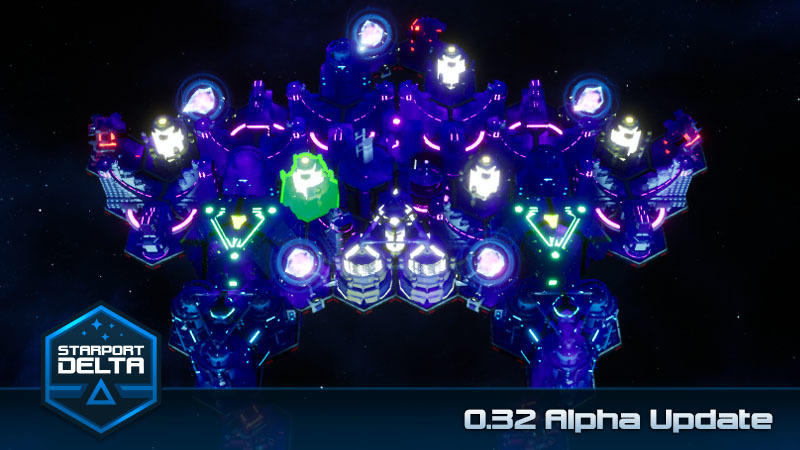 It's time for another closed alpha update to Starport Delta from the Cloudfire Studios team! This update adds a new loading screen, performance optimizations and various other updates and fixes.
This week's update image is a station designed by one of our alpha players. It's a great illustration of being able to design your station in your own way, in this case with an homage to Space Invaders!
What's new
add new loading screen
performance optimizations for buildings
adjust trade agreements to be unavailable for a period of time when declined/terminated
adjust detection on which buildings are protected by shields
switch to using hardware-based mouse cursors
add plumbing for playing videos from objective UI
reduce income from housing buildings that require maintenance
adjust behaviour of the AI on the final mission
fix super-upgrade power plant breaking some of the building count tracking
fix character names in mission briefings showing the wrong name
fix auto-sizing of text on objective achieved UI
fix mouse-based station rotation causing lag for mid-size stations
fix buildings staying inactive due to chain of inactive dependent buildings
fix leaderboard loading animation
fix evacuations not working if evacuated housing buildings are destroyed while residents are displaced
fix existing corridors in campaign levels not correctly connecting to neighbouring buildings
resolve minor build warnings
What's next
translation updates
ship updates
Wishlist Starport Delta now on Steam, Green Man Gaming and Humble Store!
For more information follow:
Starport Delta on Twitter
Starport Delta on Facebook
Starport Delta on Instagram
Starport Delta website
Cloudfire Studios on Twitter
Cloudfire Studios on Facebook
Cloudfire Studios on Steam