Hi everybody,
We hope you're all well and happy, as we have some seriously good news this time!
First of all, development of Starpoint Gemini 3 has entered its final stages, so excitement and stress are at expected levels! And, this is a good time to include so many talented people from your ranks as well. Hence the arrival of modding support in this update! Unleash your creativity and use the tools we've created to amaze your fellow gamers.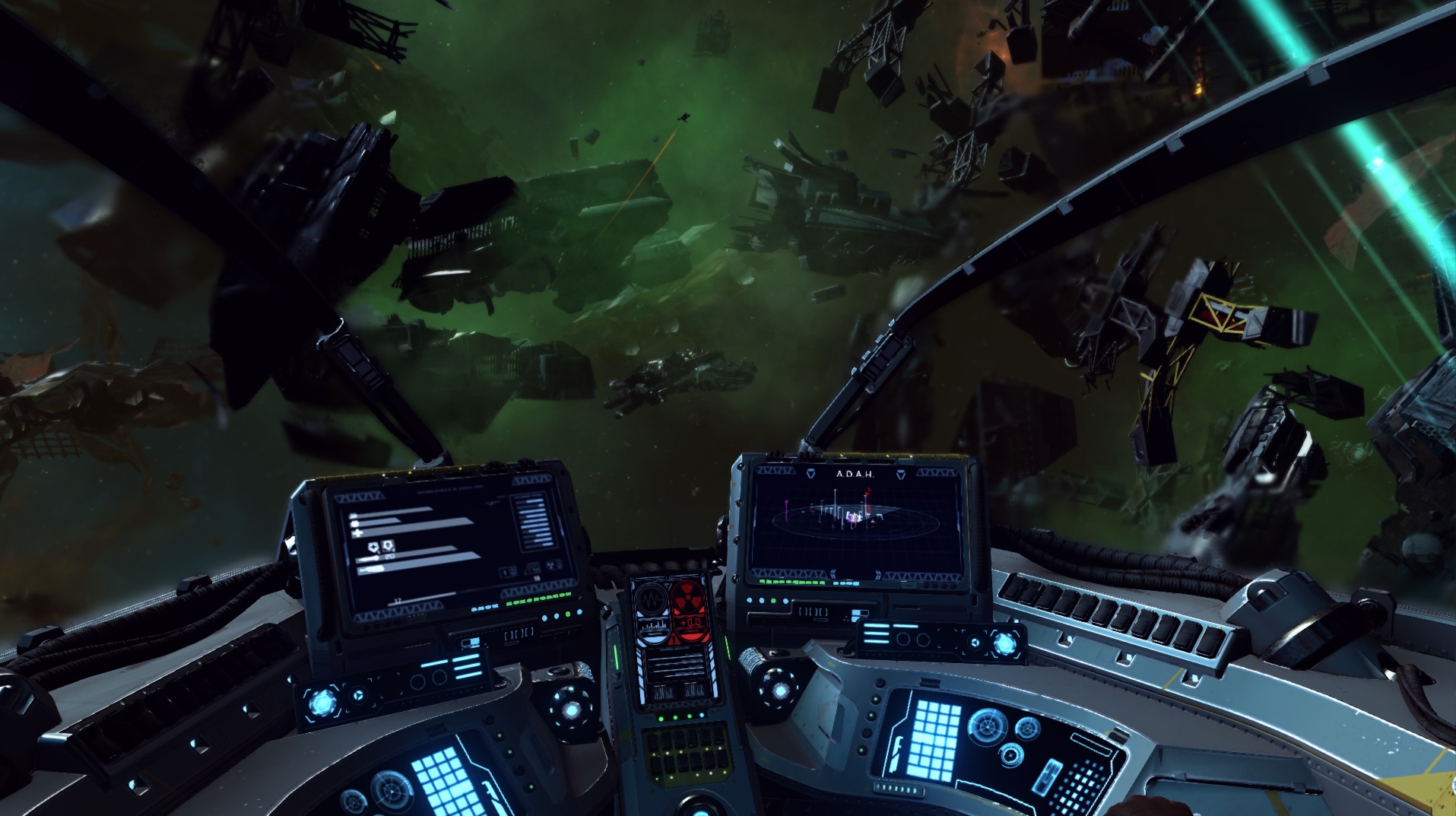 Also, we'd like to announce that this update is likely to be one of the last updates during Early Access! Full release is drawing close, and soon we'll be talking about expanding the full game rather than adding what's missing. At this point, we can say that full release and full unlocking of the game is set for October 14th. Many of you will notice that a few major chunks are still not in the game, but don't worry – we wanted to avoid splitting the remaining pieces into smaller content updates, so you'll get all remaining content at the same time in one huge update. Should be a nice surprise for all of you and allow you to be positively surprised even if you've already played the game. Yes, the entire campaign is nearly finished and will be unlocked on release, player owned capital ships too, and many more things!
Bear in mind that in the following weeks, you can expect more frequent updates as we prepare everything necessary for the implementation of everything that's left to be added.
We'll announce news on this hyperspace jump quite soon. For now, let's get back to what this update brings: as usual, full changelog will be listed below, and as highlights I can mention that besides opening the Steam Workshop, version 0.800 brings improvements of the blueprint system, and an overall batch of new elements to find, explore and gather. Noticed a space anomaly in the distance? Get yourself there, explore it and gather rewards. Then sell the information to the highest bidder.
As per your request, targeted enemy objects will now display additional HUD information regarding that target. It's easier to eliminate enemies if you know them, right?
Another useful addition, also requested by many of you, is the ability to plot your course on the Starchart. If your desired destination is further away, setting a waypoint will now automatically plot the most handy course there, taking into consideration fast travel Nav bouys etc... Never get lost again!
The trading system received a sizeable rebalancing package as well, so get rich in a meaningful and fast way! And don't forget to say hello to Doug Jones, a roaming space trader you're bound to meet at some point...
For those who found drone missions too challenging, your dear ADAH got an early Christmas present – an active deployable shield.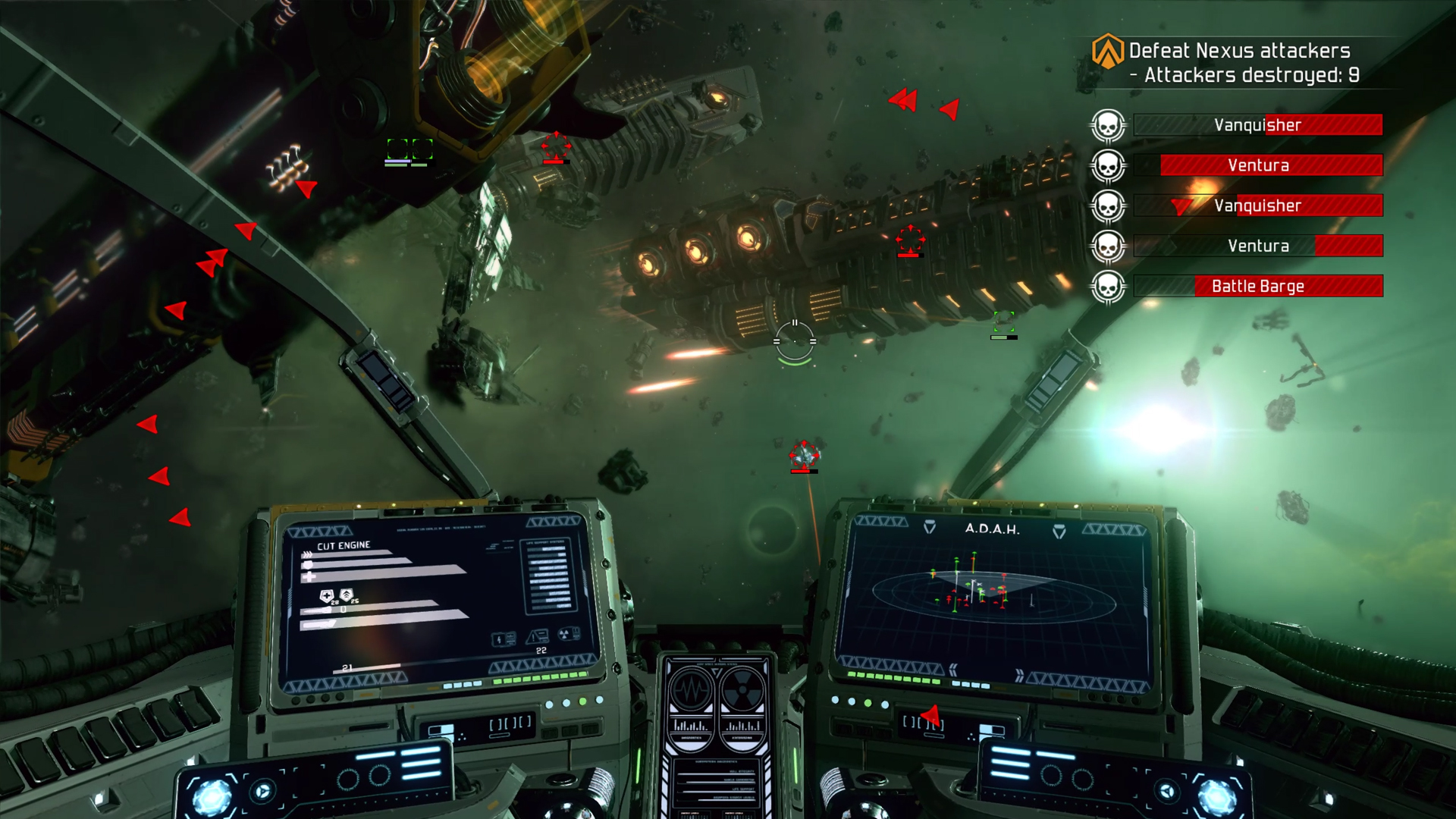 v0.800 CHANGES
ADDED: Support for Steam Workshop and access to mods
ADDED: Navigation Starchart upgraded with fastest course plotting (with multiple WPs)
ADDED: Active shield system for player drone
ADDED: Anomaly mechanics now have specific loot drops
ADDED: Additional stats information on each weapon
ADDED: Wormholes with subspace areas
ADDED: Entire Darwin sector with all objects and missions
ADDED: Roaming space trader Doug Jones
ADDED: Proper derelicts for several additional ships
ADDED: Anomaly data items granted for anomaly scanning
ADDED: For "completionists" - track bar on Starchart that summarizes everything there is to explore in each sector
ADDED: Loot containers within radiation nebulas
ADDED: Templar Outpost in Outerlands sector
ADDED: Radioactive nebulas
ADDED: Cockpit visuals upgraded (in cinematics)
ADDED: Sectors info and completion stats added to Starchart
ADDED: Hunter missile now interrupts cut engines mode and auto flight
ADDED: Light weapons can now destroy incoming missiles
ADDED: Weapons and weapon hardpoints: one weapon per each hardpoint
ADDED: Due to weapons mechanics change, rewards greatly modified and balanced
ADDED: HUD quick info on locked targets
ADDED: Anomaly scanning now grants experience and rewards
ADDED: Option to toggle depth of field on/off
ADDED: Invert Y axis for player drone
ADDED: Additional language localizations for new content
ADDED: Additional blueprints in sectors Outerlands, Sora, Extera, Iolia and Mars
UPDATED: Character models optimized
UPDATED: Additional lootable containers on levels
UPDATED: Additional security patrols near key locations
UPDATED: Encounters are now properly discarded while in radius of active missions
UPDATED: Asteroid update and draw distance now match properly
UPDATED: Nexus ship security patrols now have modified and corrects paths
UPDATED: Starchart nebula pins
UPDATED: Jupiter sector level
UPDATED: Added sales lists to Io Moon (Jupiter sector)
UPDATED: When dropping game to Steam with SHIFT + TAB, camera mode remains correct
UPDATED: Pressing SHIFT displays equipment hint
UPDATED: "Specialist" achievement now unlocked properly on last skill stage
UPDATED: HOTAS T.16000m improved config file
UPDATED: Available weapons, ship modules and equipment lists updated on several dockable locations
FIXED: Upon load, nebulas are now visible correctly
FIXED: Boss Starchart marker displays correctly now
FIXED: Player waypoint correctly removed after successful jump
FIXED: Commlink during campaign mission 6 now displayes correct video
FIXED: Radar range is increased to match installed module type
FIXED: Camera positions during several cutscenes
FIXED: Saving a game doesn't generate fake skill points anymore
FIXED: Skill points respec is now locked if you have insufficient credits
FIXED: Radiation shied progress now works correctly while Starchart is activated
FIXED: Scanner radius regarding radar now working as intended
FIXED: Templar faction now uses correct ship types
FIXED: NPC AI ships no longer randomly fire while out of combat
FIXED: Additional fixes in cinematics regarding player ship modules
FIXED: Rendering distances and LOD's regarding asteroids and junkyards
FIXED: Derelict detection is now in corelation with scanner stats
FIXED: Derelicts now appear on radar as intended
FIXED: Ship turret count now displays correct value
FIXED: Planet Starchart hint now displays properly in higher then 2K resolutions
FIXED: Located blueprints can now be properly collected
FIXED: Mission timer and quick action don't overlap visually anymore
FIXED: Camera movement removed while in ingame menu during drone missions
FIXED: Derelict rotation now correctly follows rotation of original ship model
FIXED: Berzerker capital ship now displays correct weakpoints
FIXED: Bug with "infinite" blueprint spawn removed
FIXED: Encounter quest cannot spawn inside a planet anymore
TWEAKED: Labels on weapon installation menu
TWEAKED: Targeted object is now shown on radar
TWEAKED: All radar distances now match sensor range
TWEAKED: Anomalies balanced and optimized
TWEAKED: Crafting items info
TWEAKED: HUD radar display objects
TWEAKED: Camera tweaks in ship customization
TWEAKED: Interior HUD notifications
TWEAKED: Nav Buoy positions modified in several places
TWEAKED: Weapon turrets positions on enemy capital ships
TWEAKED: Balanced asteroid rich nodes
Very soon specific news on the remaining features will follow, and we'll also reveal more on the upcoming D-day, the full release.
Meanwhile, enjoy today's update and stay tuned!