Hi all!
We want to show a new (and very important) element of the space stages.
As We said in the summary/description, our game has two stage "types"
1. Space stages
2. 2D "pure" platformer stages.
There is a "third" stage type, the special space stage. In this stage type, you need to solve a puzzle (avoiding dangerous elements, running away from others, fighting...) and the connection between space stages and special space stages is done using portals (or stargates).
This is the stargate sprite: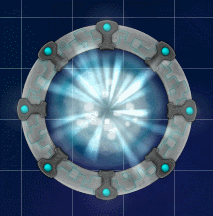 And if you didn't see the "old" space gameplay video, here you are!. Remember, this is a very (VERY) early footage, many things has been improved (and need to be improved)