We figured our first important step to a more mature release of Stackout would be to improve on what we have in a short time and spread that out on bigger platforms and therefore we decided to target kongregate first and foremost.
So today marks the exciting announcement of just that.
Kongregate Release
We worked ouf backs and fronts off and on to bring you the first iteration of the Stackout experience, with 4 brandnew levels and a lot of bugfixes and tweaks, that mostly make the game a lot more fair to everyone, since people said it was quite a tough game to master !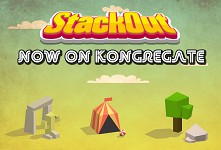 We would love to hear your thoughts and feelings on this iteration of Stackout, so we can make our brain freeze once more on the next brainstorming session.
Click to see the full changelog
A whole new world
Apart from the big news we have even more media to share. We decided to go back to the graphics of each world and try to push these even more. These are the first new ideas that we throw around internally. We even made a little teamfortress2 hommage :)
We enjoy the direction they are heading in very much and are sure to explore that even more in the next weeks !