Spiral Update 002 now out for 'ORION: Dino Horde'! This huge update adds maps, hats, taunts, a huge game patch and tons of other juicy goodness.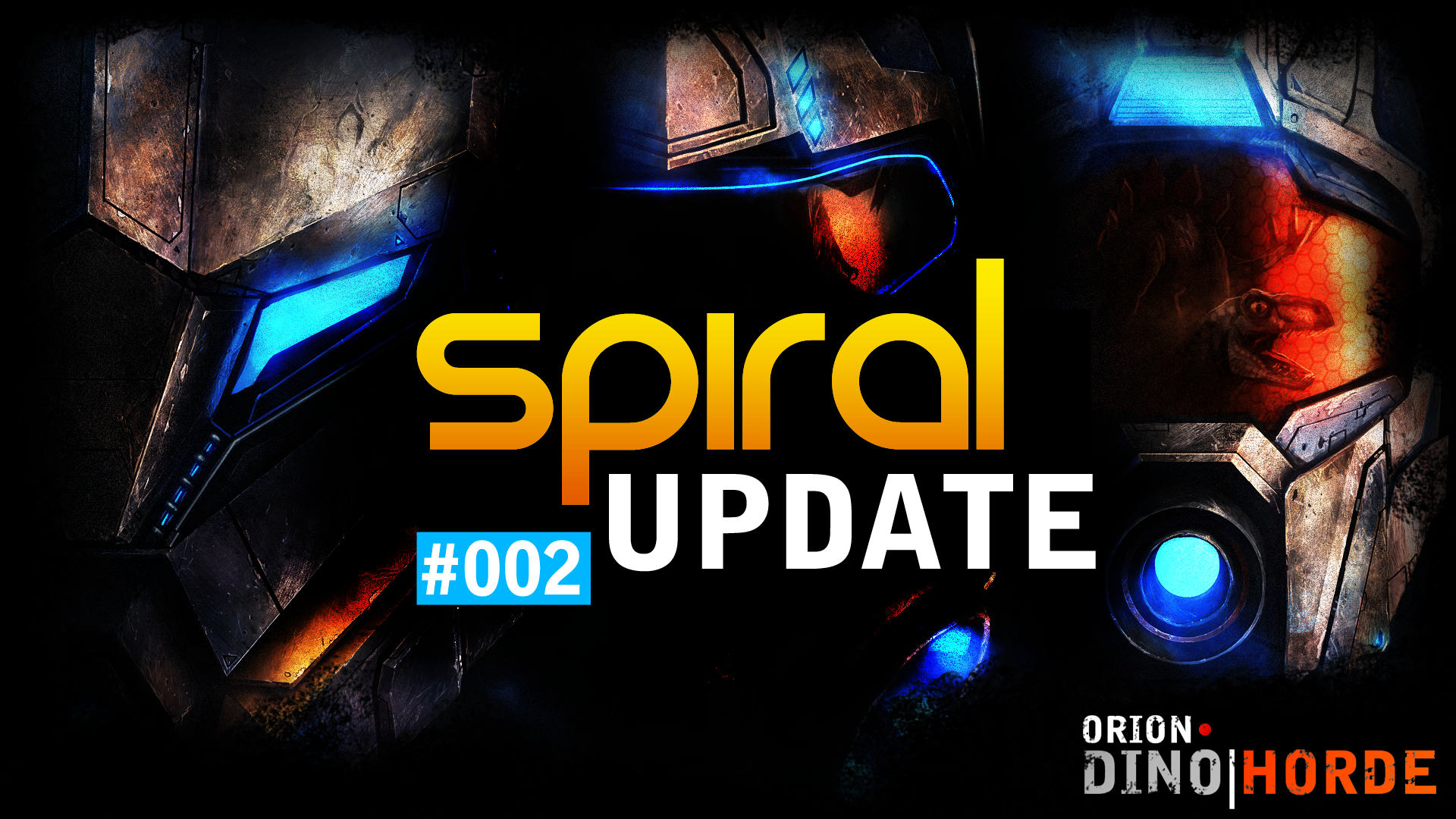 We have four major types of game updates planned:
Title Updates: Targeted Monthly. Starting June 2013 (DLC Packs)
Spiral Updates: Bi-weekly. Map Variants & Store Updates.
Game Patches: Weekly. Tweaks, Changes, Adjustments.
Hotfixes: Weekly. Fixes any issues with Game Patches.
Spiral Updates are bi-weekly updates for 'ORION: Dino Horde' which focus on adding more variety while we work on the larger, more significant Title Updates (Free DLC Packs). Spiral Update 002 adds the following content:
2 Maps
3 New Hats (@Spiral Store)
1 New Taunt Pack (@Spiral Store)
Game Patch 4
GAME PATCH 04 - CHANGE-LOG
Fixed: Throwing a Smoke Grenade no longer states EMP.
Fixed: Issue with Flying Dinosaurs that could allow for backwards flight.
Fixed: Issues with HUD not removing Large Dinosaurs from memory.
Fixed: Issues with HUD adding extra indicators that were not visible.
Fixed: TREK-12 Shotgun still listed for Support in Class Selection.
Fixed: Spectator speeds now maintain speed lock for clients.but
Fixed: Death icons no longer display for enemies.
Added: New Game Loading / Streaming (safer, faster loading).
Added: Mission Lockdown system – doors are locked until captured.
Added: New Boss Punishment System.
Added: New Gladiator Vehicle turret handling.
Added: Cooperative Level: Peak (Day)
Added: PvP Level: Depth (Day)
Added: Video Option: Vehicle Particles.
Added: Video Option: Weapon Particles.
Added: Video Option: Environment Particles.
Added: Video Option: Dinosaur Particles.
Added: Spiral Store Content – Medieval Pack – King's Knight Hat.
Added: Spiral Store Content – Medieval Pack – Thimble Hat.
Added: Spiral Store Content – Medieval Pack – Dark Thimble Hat.
Added: Spiral Store Content – Taunt Pack – Music Pack (3 taunts).
Added: Utility Gun – Repairs Vehicles & Generator, gives ammo.
Adjusted: Reduced scale of Supply Stations at Outposts.
Adjusted: Utility Gun & Status to reflect proper refill rates.
Adjusted: Water surfaces to not act as a solid for crouched players.
Adjusted: Vehicle ramming towards Dilo's is now slightly more effective.
Adjusted: Gladiator turret now has slightly increased damage.
Replication: Triangle Indicators not vanishing.
Replication: Generator not showing proper color overlay.
Replication: Dead squad mates HUD status.
GET A FREE HAT! (EARLY DISCOVERY)
The Early Discovery (Spaceman) hat will be available to ALL users for FREE until tomorrow - Wednesday, May 15th, 2013.

PLAY WITH DEVS COMPETITION
Think you can beat us in 5 v 5? Prove it. Send an application to:
pwd@spiralgamestudios.com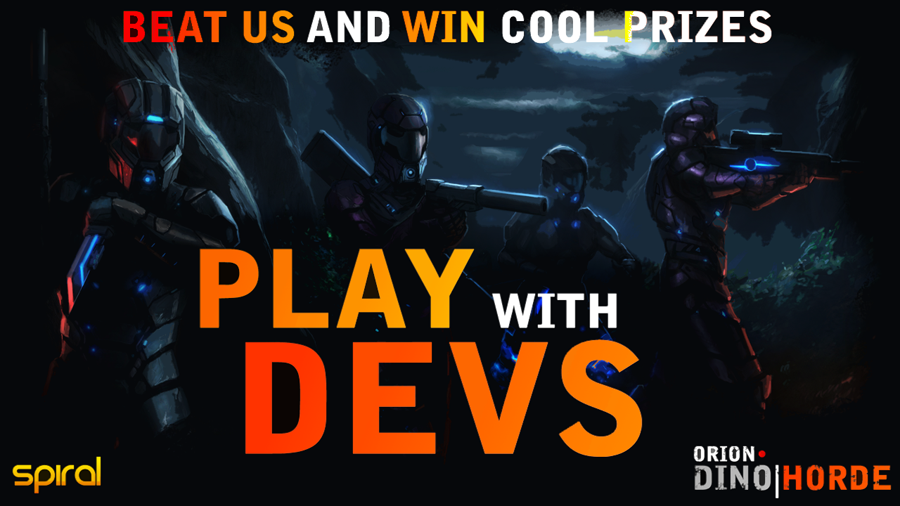 If you have a team assembled let us know and how many. Matches are announced on Wednesday and played on Sunday. More details here.
NEED A PRESS COPY?
Do you own or work for a gaming press website and need review copies of 'ORION: Dino Horde'? Simply send an email to review@spiralgamestudios.com and let us know who you work for.
OWN A YOUTUBE / TWITCH.TV?
Do you run a gaming-based YouTube channel or Twitch.tv account? Let us know and we can get you hooked up with some press copies of the game.
Send an email to press@spiralgamestudios.com with a listing of who you represent.