Spiral Updates will be happening every two weeks and will be introducing new content to hold you over until the mega (free) DLC Packs arrive which will introduce larger content additions such as new dinosaurs, game modes, weapons, kits, levels and even systems and game mechanics, while Spiral Updates simply offer more variety.
Today we are happy to announce that Spiral Update 001 is officially out and ready to be played. It adds the following new content:
2 Maps (Night Variant Pack 1)
2 New Hats
1 New Character Pack
1 New Taunt Pack
10 New Achievements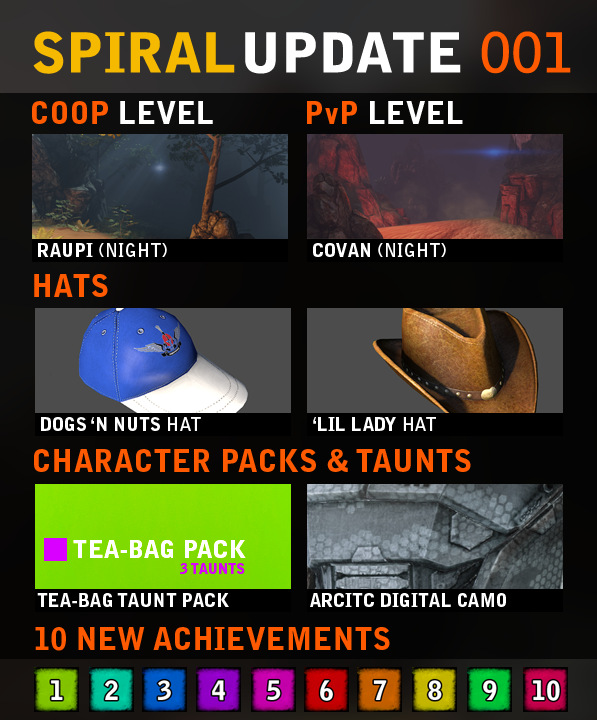 On top of this we've also put out Game Patch 1 & Game Patch 2 which incorporates both developer and community-inspired changes, tweaks and additions. Full change-log here.
ADJUSTMENTS:
Adjusted: Killcams - no more under terrain-ness.
Adjusted: Dinosaurs (rap, com, dil, rham) - avoid players in structures (+Outposts).
Adjusted: Give 25CR for Vehicle Kills (not the full 100).
Adjusted: Pteranodon's - allow for vehicle grabs (glad turret, hoverbikes)
Adjusted: Give default firemodes to all guns, replace with weapon name on HUD.
Adjusted: Weapons: CV-10 (semi), CV-10S (2burst), FNC30 (3burst), TREK47 (auto)
Adjusted: Add more mass to dead Dinosaur meshes, reduce physic-based glitches.
Adjusted: T-Rex / Spinosaurus roar audio levels.
Adjusted: Objective Flares: reduce scale to 1:1.
Adjusted: Mission Objective Captures: If dino steps in radius it will cease the capture.
Adjusted: Removed damage numbers from Smoke & EMP grenades.
Adjusted: Size of Objective flare (reduced to 1:1).
FIXES:
Fixed: Mech deaths (not instant - only vehicle)
Fixed: Fire particles on burn victims (doesn't play sometimes, damage works though)
Fixed: Greedy Aug (either give 2x or put 150% in store UI)
Fixed: Eaten bodies can remain in mouth of Playable Dinosaurs (Rampage).
Fixed: (Client) Auto-weapon fire issue.
Fixed: Remove 'Damages' from Smoke & EMP nades @ Armory UI.
Fixed: Playable Dinosaurs able to eat people through Depots / Outposts.
Fixed: Rocketeer class change to take effect next life, not instant.
Fixed: Weapon empty shot client replication issue
Fixed: Haunt, Tat, Armor reset bug
Fixed: Rumble reset (after every map change)
Fixed: Grenade Launcher / X48 Tactical Carbine not being counted towards Achievement(s).
ADDITIONS:
Added: New Rampage Rules: Shared Life System (per team).
Added: Updated Rampage Rules: Dinosaur Health Regen via Raptors (10%) and Players (25%)
Added: New Rampage Egg Return locations
Added: Third-Person aiming animations.
Added: 2 Map Variants via Night Variant Map Pack 1: Raupi (night), Covan (night)
Added: Two new hats to Spiral Store: Dogs 'N Nuts, 'Lil Lady.
Added: 1 new Character Pack to Spiral Store: Artic Digital Camo.
Added: 1 new Taunt Pack to Spiral Store: Tea Time (Tea Bags, x3).
Added: 10 New Achievements (related to Insane mode / "Are You Insane?" competition).
ARE YOU INSANE? (COMPETITION!)
With the release of Spiral Update 001 we are also starting the first of MANY competitions that we will be doing. This first one is not going to be easy. You've been warned.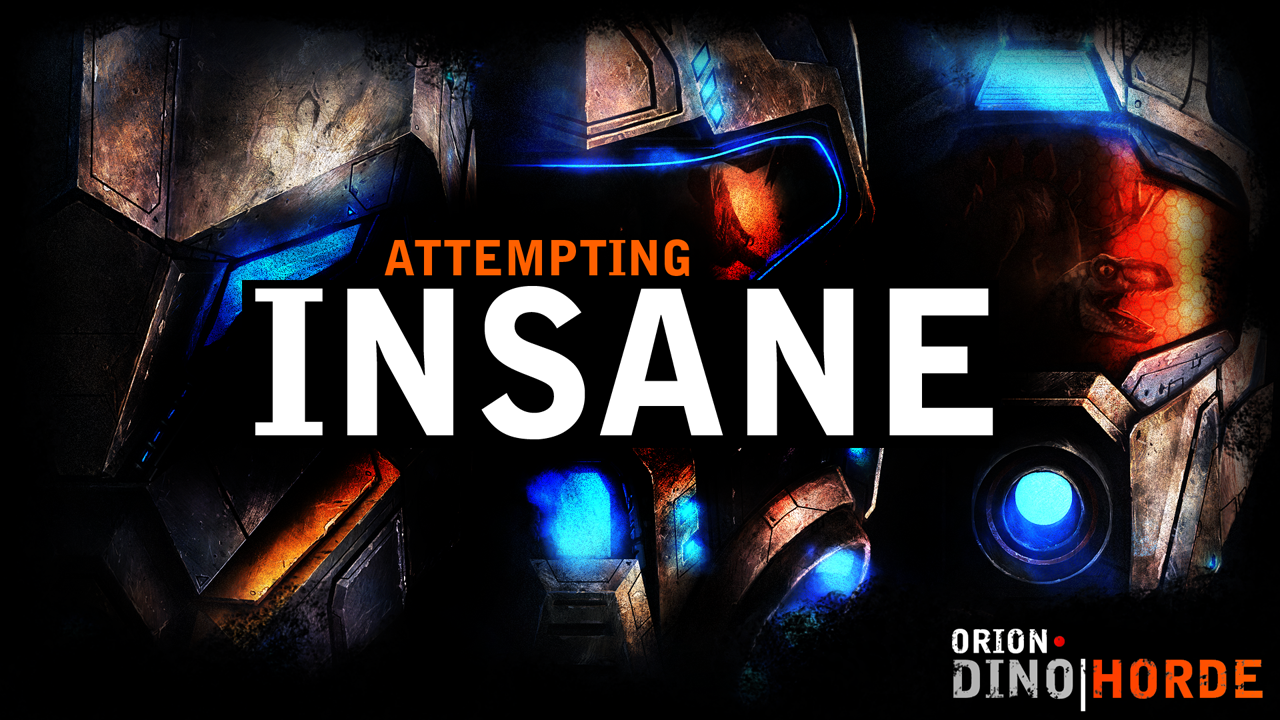 With the release of Spiral Update 1 we have also added 10 new Steam Achievements. Each of the these relate to one of the ten waves and are tied to the Insane Difficulty mode, which is absolutely insane and impossible until proven otherwise!
COMPETITION INFORMATION & RECOMMENDATIONS:
This competition is all about who can beat Insane mode first.
This competition is active immediately.
It is recommended that you only attempt this with 5 players, no less.
THE PRIZES:
First 5 to win will receive ALL Spiral Store Hats for life for free.
First 5 to win will receive the Developer Armor Pack (3).
Anyone who beats Insane mode will receive the exclusive Reptar Dinosaur Hat.
HOW TO WIN:
OUR ATTEMPTS SO FAR - PART 1

OUR ATTEMPTS SO FAR - PART 2

NEED A PRESS COPY?
Do you own or work for a gaming press website and need review copies of 'ORION: Dino Horde'? Simply send an email toreview@spiralgamestudios.com and let us know who you work for.
OWN A YOUTUBE / TWITCH.TV?
Do you run a gaming-based YouTube channel or Twitch.tv account? Let us know and we can get you hooked up with some press copies of the game.
Send an email to press@spiralgamestudios.com with a listing of who you represent.