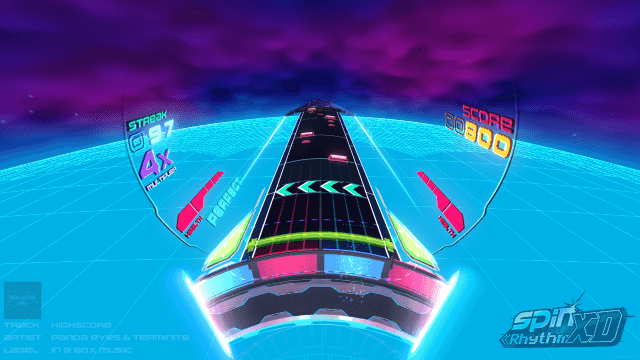 DEVELOPMENT ROADMAP

We have a bunch of things we want to add during Early Access. These include two new difficulty levels, a sweet reactive background system (check out our Razor Sharp video on Twitter for an idea where that is heading) and many more, such as...

Difficulties

Spin Rhythm XD aims to be both welcoming to newcomers and a good challenge for experienced rhythm gamers.

We were planning on adding Easy (for absolute beginners) and XD (the hardest) difficulty levels during development. We managed to slip in 15 tracks with Easy difficulty before launch (due to receiving plenty of feedback that the game was already too difficult. Oops!). XD will be our next difficulty to add, and will be included in an update where a few new mechanics are added such as "beat holds" and "spam zones" where you have to scratch and spin as much as you can to build energy and break through a barrier.

Levels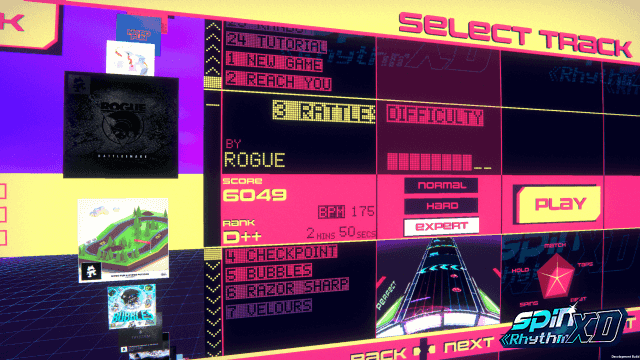 We have 31 tracks currently licensed, which includes 11 original tunes from artists such as Hyper Potions, Maxo, Lena Raine, Birocratic, seejay, 2Mello, Douglas Holmquist and Phonetic Hero.

This means we will have a steady stream of tracks released up until 1.0. We have around 20 other tracks we are looking at licensing from a variety of sources from Monstercat to individuals and a few different record labels.

By 1.0 the game should include around 50 levels across 5 difficulties. At this stage we plan for these levels to be free additions to the core game.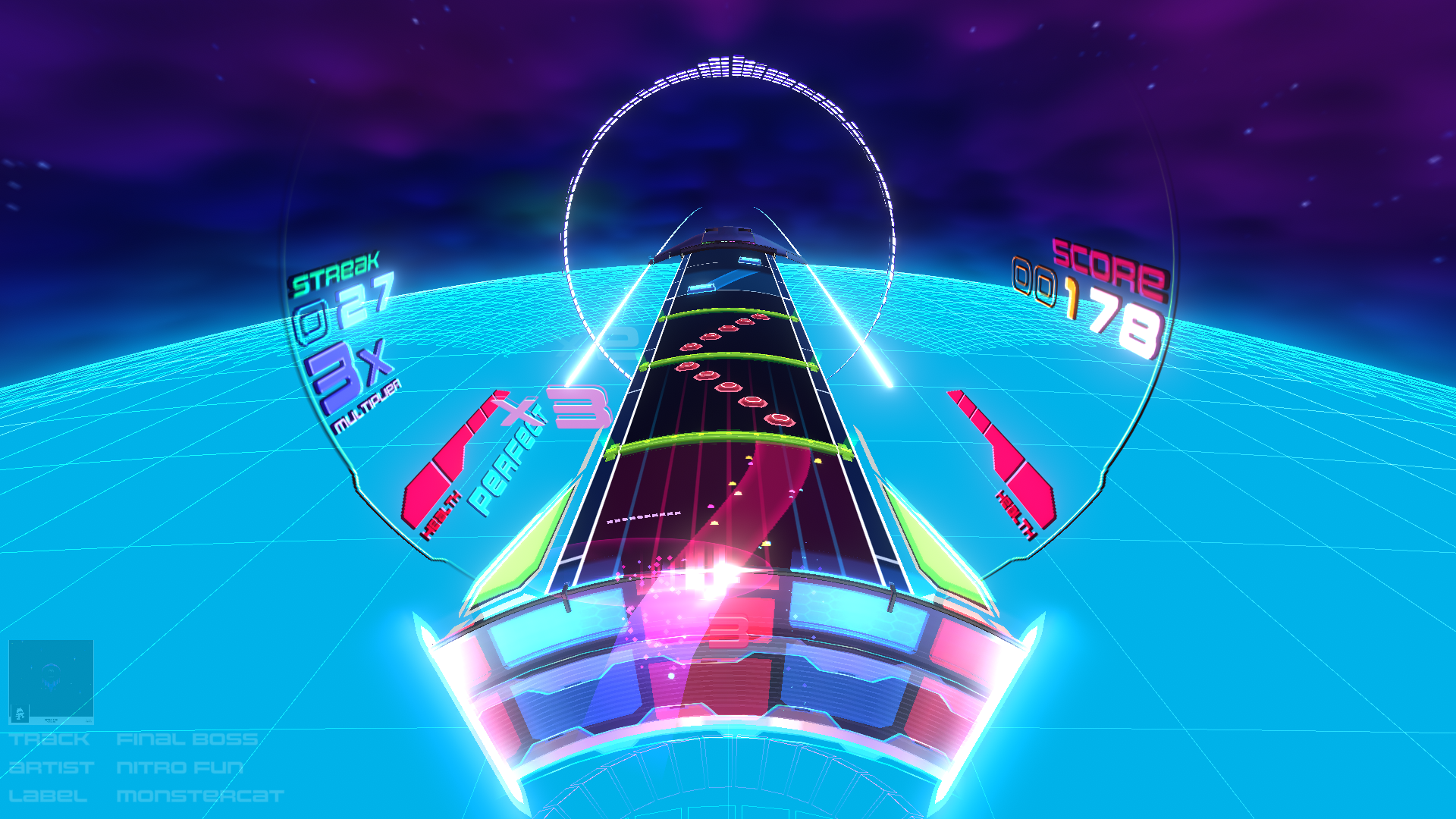 Level Editor

We have included a basic level editor to remix official levels. Jump in there and get used to the tools, and give us feedback via Discord about features you would like to see.

In the future we want to allow sharing tracks, splicing multiple different tracks together (imagine building an epic 5-tune Tokyo Machine set), editing multiple BPMs, editing background effects and more. The main thing which will take time is building an intuitive UI where all these features can be utilized easily and in a legally sound way.

Leaderboards

We have daily leaderboards at launch, with weekly leaderboards coming soon - these will be a much more difficult challenge.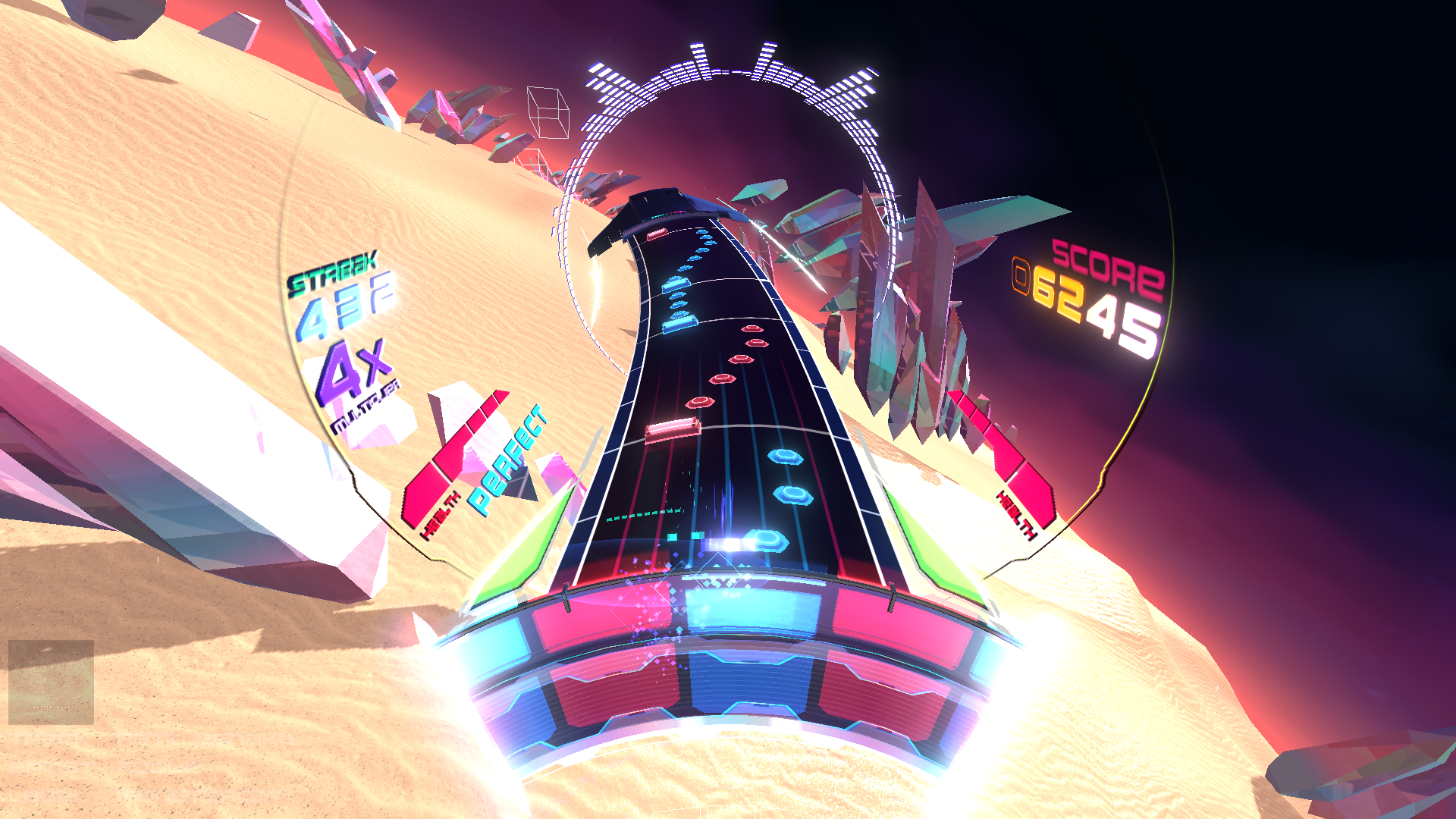 Backgrounds

We recently experimented with a new background system that is customisable and reactive to the music. We will be fleshing this out with the aim to include it as part of building your own custom levels.

We already have the ability to manipulate the flight path of the ship, and we will be adding the ability to customize this to the track editor.

Twitch / Discord integration

We have some interesting ideas for Twitch integration such as code-sharing with your audience for collective scores, chat affecting a streamer's game with mutators and more.

We will also be adding Discord rich presence features in the coming months.
Singleplayer (Tour Mode)

By the time Spin hits 1.0 we should have around 50 tracks in the game. For a first time user navigating through these could be overwhelming. We will include a simple single-player experience to unlock tracks in a sequence. Think a Lylat Wars map-style roguelite where you perform DJ sets to become the greatest galactic streamer the universe. Stay tuned.

Multiplayer

We already have working split screen vs multiplayer which will be included in an update soon, and have further ideas on co-op and counter-op modes.

MIDI Compatibility


We will be polishing our MIDI detection and calibration tools throughout Early Access with the aim of supporting as many MIDI devices as possible. We have run into some strange hiccups (such as the Native Instruments MIDI mode issue, or the odd IDance VDJ Intro input errors and the DJ Hero / IIDX controller's lack of a wheel tap input. We were able to fix these quickly because we have physical access to these wheels. We know there are potentially thousands of other wheels to cater for and with the help of the community we should be able to build support for many more MIDI devices.
Colorblind (and other accessibility issues)

We are working on support for multiple colorblind modes in Spin, and other accessibility options (such as low-energy backgrounds and low motion flight path). If you have any request for more accessibility options, hit us up on Discord and Twitter.

Much more to come and many more updates coming!

Happy spinning!