Reports & Announcements
Join Operation Winter Festival and High Command Reminders
This Saturday is the next in our series of special events. Operation Winter Festival starts at 10:00 AM server time on January 30th. Also, a reminder about tomorrow's server outage which will last a couple hours and finally some reminder information about our High Commands.
SERVER OUTAGE TOMORROW
This Thursday at approximately 6PM Server Time (GMT -8), services will be undergoing maintenance for approximately 2 hours. We are changing out a critical networking switch with a brand new switch - which is really awesome! This will give us increased analytics of all traffic which will help us find any issues within our network that exists. We've cut some that down time already by configuring several things in advance, however since we'll be physically changing the plugs on ports and need to verify everything it'll take a little bit of time to ensure everything is taken care of.
OPERATION WINTER FESTIVAL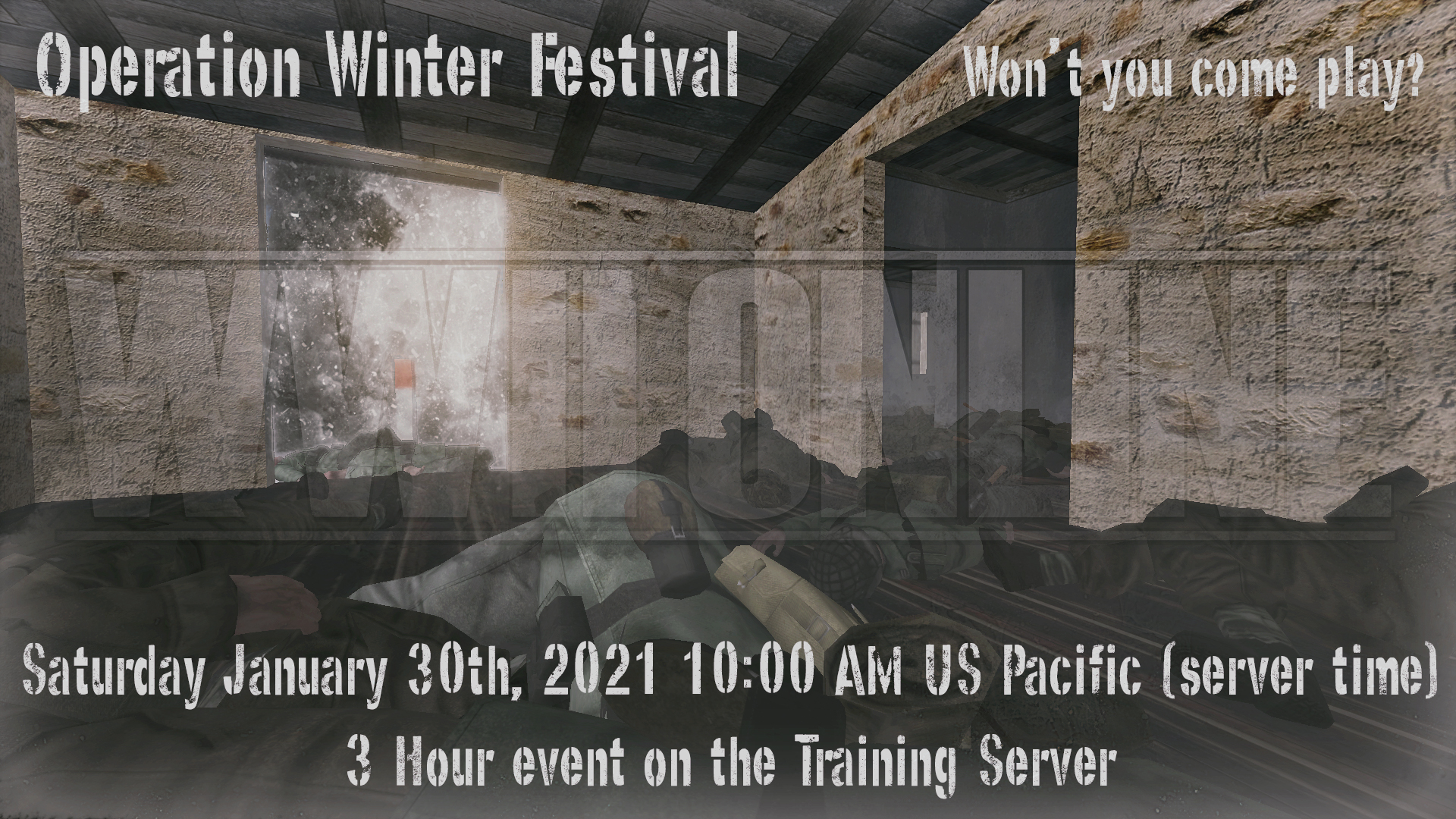 This event will run for 3 to 4 hours on the training server. The campaign will be locked for the duration of the event. In this event supply will be limited - repeat, this not an unlimited supply event. Our thanks to Tex64, Imbrutus and Ohm for setting up the event. The point is to have fun and enjoy without the pressures of a campaign.
August 1942
BBC Home Service Reporting (London)
In a surprise raid on the coast of Occupied France, British and Free French Forces have landed and captured critical facilities in Axis Occupied France. Again, the Allied Forces have captured an Axis deep water port!!
The Royal Navy and supporting craft have landed two full divisions and each are moving toward their objectives.
The Axis forces are said to be in retreat following the initial surprise. Undoubtedly the Axis Forces will recover and strike back. Friendly reconnaissance is already reporting large formations moving toward the coast.
While the war remains undecided, this will be welcomed news in Moscow to our strong yet beleaguered allies in the East.
--------------------
Now is YOUR time to dictate the fate of battle.
Will you fight from the HELM of your ship, TURRET of your tank, COCKPIT of your plane, or on the bloody GROUND that you seek to hold or capture? All these things are possible combined in massive numbers of PvP combat. With a scenario that holds hundreds of kilometers, where will YOU choose to fight, die, and respawn?
Will you come play in Operation: WINTER FESTIVAL?
Allied Victory Conditions - Points Gained: 100 points = Phyric Victory 125 points = Surprising Victory >150 & < 200 points = Significant Victory 200 or more points = Complete Victory
Axis Victory Conditions - Points Lost: < 100 points = Complete Victory < 125 points = Surprising Victory > 150 & < 200 points = Phyric Victory 200 or more points = Russian Front
HIGH COMMANDS
Howdy troops! Today we are introducing the High Command program to all you new, and not so new players. The HC is made up of players just like you, and squads just like yours, who have volunteered to take on leadership roles for their side, to better the gaming experience of the whole community.
Our Mission Statement says it all "The WWIIOnline High Command is a player run organization that serves the larger WWIIOL community through its volunteer staff's dedication and commitment." While a fully volunteer-based society, the HC is a CRS mandated structure designed to enhance game play quality for the entire WWIIOnline community.
WWIIOnline is designed and supported as a game that allows its players/customers to define the course and flow of the war. In that light, specific game systems and functionality are delivered to the HC in ongoing support of a fully player-run command layer. The HC structure represents the marriage of game technologies and services with community dynamics to deliver a system that is unprecedented in the online gaming world. Indeed, the WWIIOnline HC is a fully functioning High Command structure without equal.
The ultimate purpose of the HC is to conduct military-style combat operations in the WWIIOnline game theater and all administrative functions that these operations require. The HC is not only responsible for the planning and conducting of strategic and tactical combat operations in game, but it also is responsible for policing its members, managing its member lists and teaching the game mechanics needed to conduct combat inside the game server to those players/customers who are joining the HC Staff via the OCS Program.
The ultimate outcome of this activity is a more enjoyable and intense gaming experience for all subscribers. The Commander in Chiefs, Chiefs of Staff, and Deputy Chiefs of Staff of each side manage the WWIIOnline HC. These highest command positions are guided by the CRS Game Management Staff.
If you like what you see, and have what it takes, fill out an application here: www.axishq.wwiionline.com or www.alliedhq.wwiionline.com . If you are a steam player, please email your interest to imbrutus@corneredrats.com .
See you on the battlefield!