Hi, in new version 0.2.7 besides many bug fixed I add also few new things.
- Now, if wheel or propeller wants give force to road or air they must be connected to combustion or electric engine by shafts. Shafts is one of special connection elements, they are similar to normal bar connectors but they can transfer a torque from element who produce it to element who want it and only if second element want it.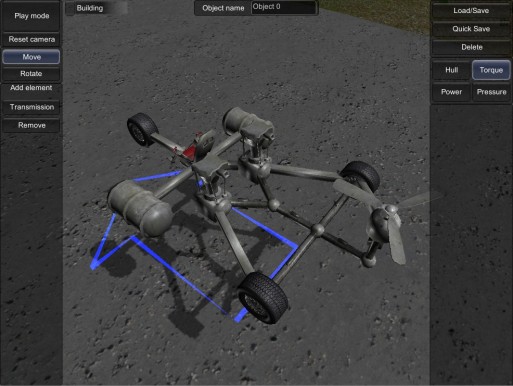 In right, upper screen, in editor is 4 button to change connector type: hull, torque, power, pressure. To connect wheel to engine you must select torque type and select engine or wheel, next press [E] to create transmission node, it will be automaticly connect to selected element, next select new created element and element with to be powered and press [1] key (like in adding new normal connector). Other type can be add to construction but for now they don't work.
- In editor whole edited vehicle can be moved, it work like camera moving, by keys WASD+ZX but with Left Shift key pressed
- All elements in game generate sound when they running, collisions also have own sounds
- Gyroscope work much better, wing also work but with problems
- During vehicle driving, in FPS camera, if in vehicle is more than one seat, position of camera can be changing by [2] key
- Now wheels and propeller have limit maximum force with they can use to change vehicle movement, wider wheel or bigger propeller can effective use more power.
- In editor is new toggle, "Building", when is active construction in simulation mode can't by moved in any way, but it can have moving elements by using joints or pistons.
- Snapping element's position in editor have smaller step.
- In edition mode is active one more light, it give more light from down.
What be in next update? Spaceships :)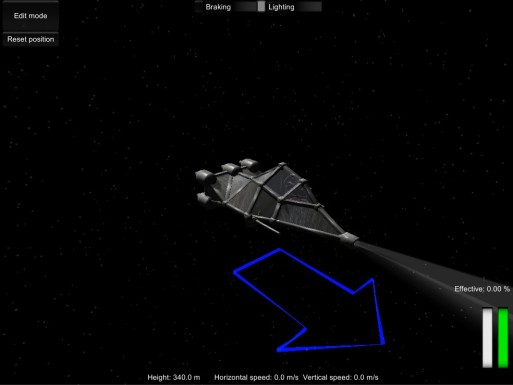 Current version can simulate space environment if in physics setting is choose "in vacum" but I want and new type of drive - thrusters, new power source - generator, new weapons - lasers, missile launchers and new element - gravity generator.
Also will be option to change space map before game, in space will be only few asteroids and black abyss
Get the latest Alpha for windows, linux and mac here.
Indiedb.com