"Reports of my death have been greatly exaggerated" - Mark Twain
It's been some time since the last update (and that's putting it mildly;)) but work on the game never really stopped - and now we're back with some concrete news! So lets get down to it:
Name Change. The most obvious change. Galaxy at War is now SPACECOM - a name inspired by military abbreviations such as JSOC, USCENTCOM, COMAFFOR and the like. This game is about space command, and we wanted the name to push across that message.
Aesthetics Change. In line with the name change comes a complete overhaul of game aesthetics - they're now a lot simpler, cleaner. They're meant to communicate an abstract command screen that a general would use for an overview of fleet operations - think Ender's Game vibe;) Together with visual overhaul comes a superb distant, meditative soundscape to put your mind to the challenge. Check out a screenshot below, showcasing the new visual style: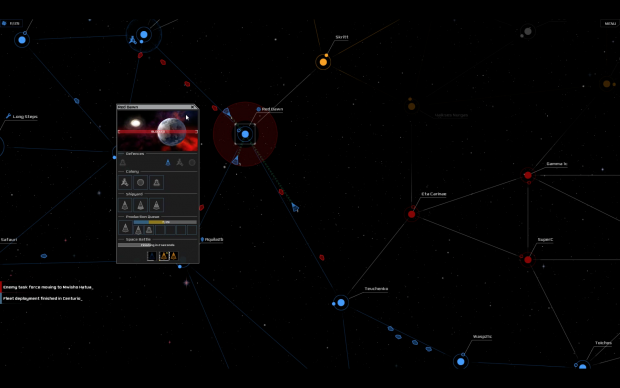 Steam Greenlight.

All these changes do not come without a reason - we've launched SPACECOM on Steam Greenlight! Obviously, we could use your

vote here

, so go ahead and vote us up if what you read and see is appealing!
Last but not least - check out the new trailer that we've cooked up for this occasion:
Hope you like the new concept enough to give us an upvote!:)