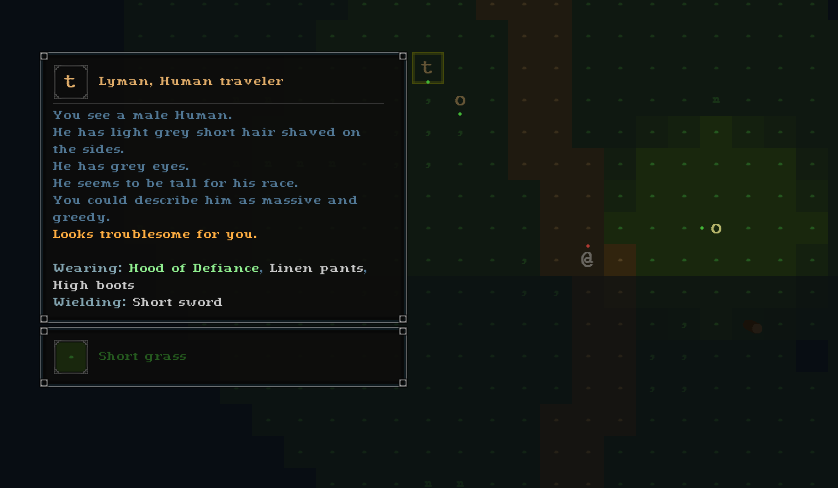 Added
- Key reassigning in Options -> Keymap.
- Enemy tooltips now have text indicating potential power difference.
Changed
- Starting region is now a semi-safe zone. Enemies will not wander into the area on their own unless aggroed. It should give enough time for any necessary preparations before going into the fray.
- The full value of willpower is now used to reduce burning or poison damage over time instead of half.
- Human traveler speed reduced by 10%.
- Fear chance of success is now affected by opposite willpower check. 80% + (caster willpower + random value between 1 and 10 - target willpower - random value between 1 and 10) * 2%.
- Intimidate ability range reduced from 6 to 3.
- The flame sword is a light source.
Fixed
- Crash on intimidating when the enemy tried to escape through a wall.
- Crash on some abilities when no weapon equipped.
- Fixed an issue where a shield could be equipped in a wrong slot, causing multiple ability related crashes.
- Crash when pressing "t" to shoot when only a shield is equipped.
- Some entities no longer spawn without arrows.
- Explosion ability animation now works correctly.
- Messages in console should wrap correctly now.
- It's possible to move to different z-level by clicking the stairs icon.
- AI hits people around when using blade dance instead of itself.
- Rest action takes one turn instead of 2.
- AI will now properly walk into range of its abilities.
- Fixed unequipping items with a hotkey.
- Fixed disappearing targeting border when hovering beyond the range of woodcutting and mining actions.

Demo also updated with changes in v0.2.4 & v0.2.5.