THE GAME THAT MAKE YOU ARE AMONG SUS
"I'm not sneaky, I'm Postor".
Social deduction games like Werewolf, Mafia … has been around for many years but only until this year 2020, Among Us has made a phenomenon for this special genre in the industry. Open marketplace for independent digital creators like Itch.io has witnessed a huge traffic bump from people searching for those little impostor astronauts.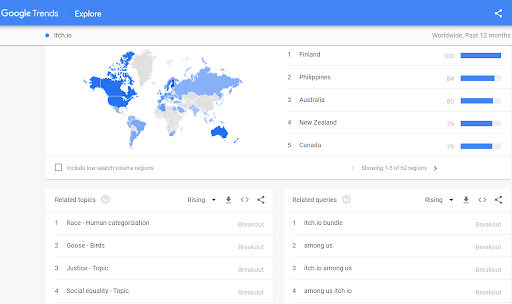 Breakout rising related queries to itch.io worldwide for the past 12 months. (Source: Google Trends for itch.io, Nov 2020).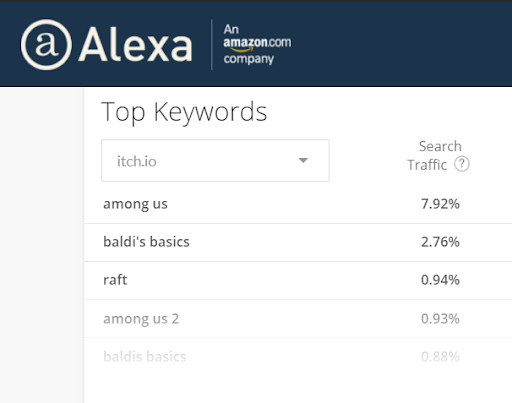 The percentage of organic search referrals to itch.io that come from these top keywords. (Source: Alexa's siteinfo, November 2020).
Therefore, it's no surprise to see small games inspired by the astronaut space theme. Among those fun indie ones, come the Sneaky Impostor - a click only game created for a game jam challenge on itch.io, the store that is famous for it's small and weird games.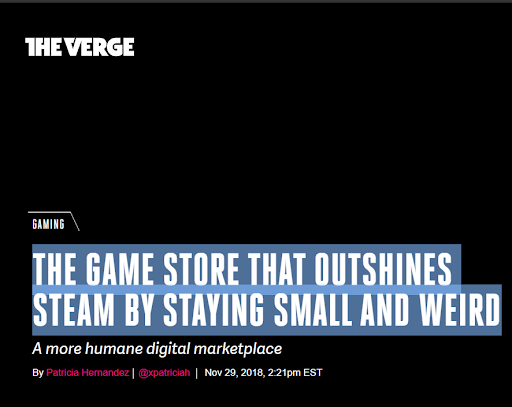 (Source: Theverge.com)
So, it's no surprise that Sneaky Impostor is also weird and mysterious in some ways. Instead of trying to teach players clearly about the rules and how to play. The dev team of 2 covered it like a secret, which is also the main theme of The Web Monetization Challenge 2020 game jam.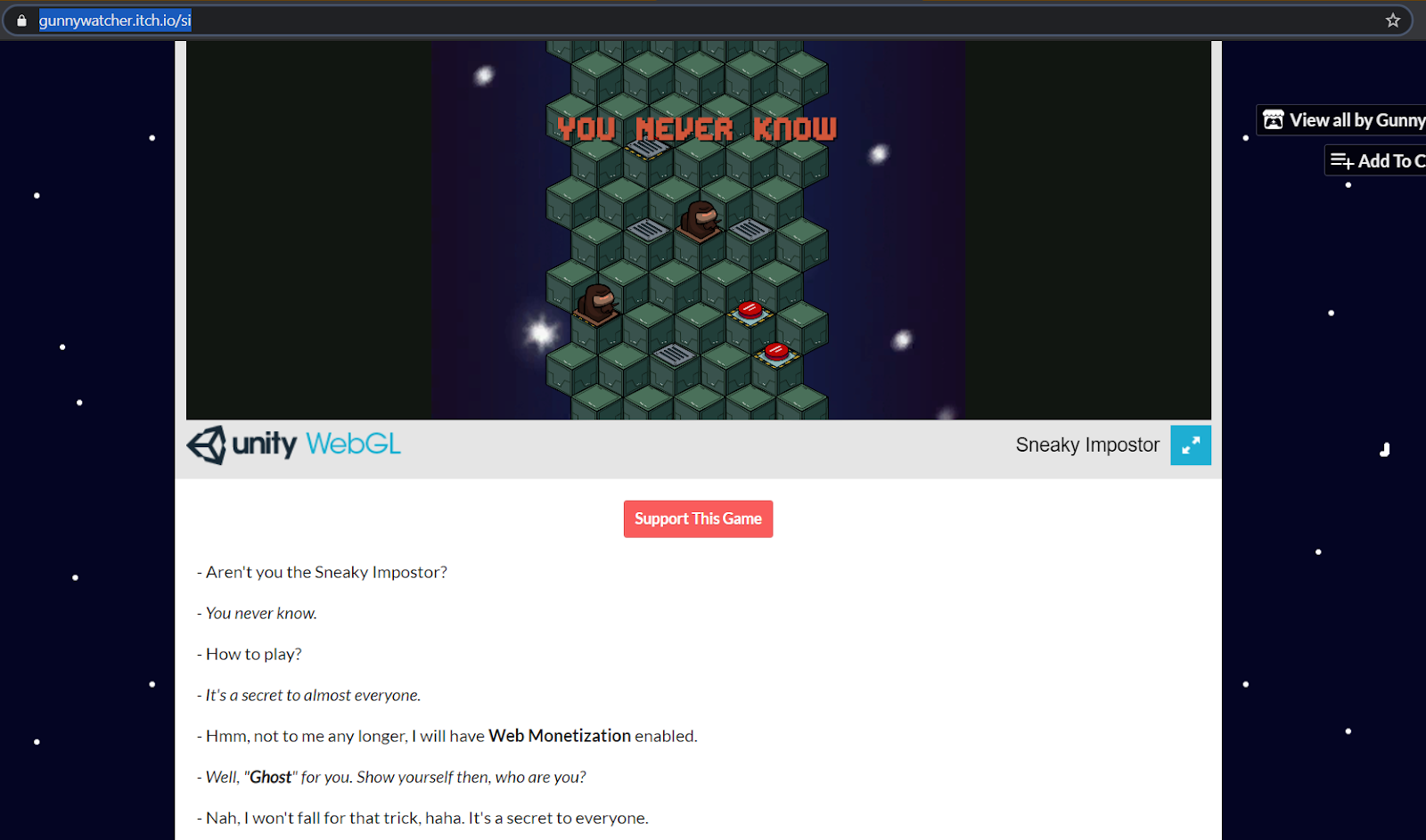 (Source: Gunnywatcher.itch.io)
It seems to me that the moment you become addicted to the simple and repeatable game rhythm, there is a deeper layer of secret. Things don't seem simple as it looks or is it really so? At a time, I don't really know whether there are other "real" players trying to make me show myself with funny decisions or not.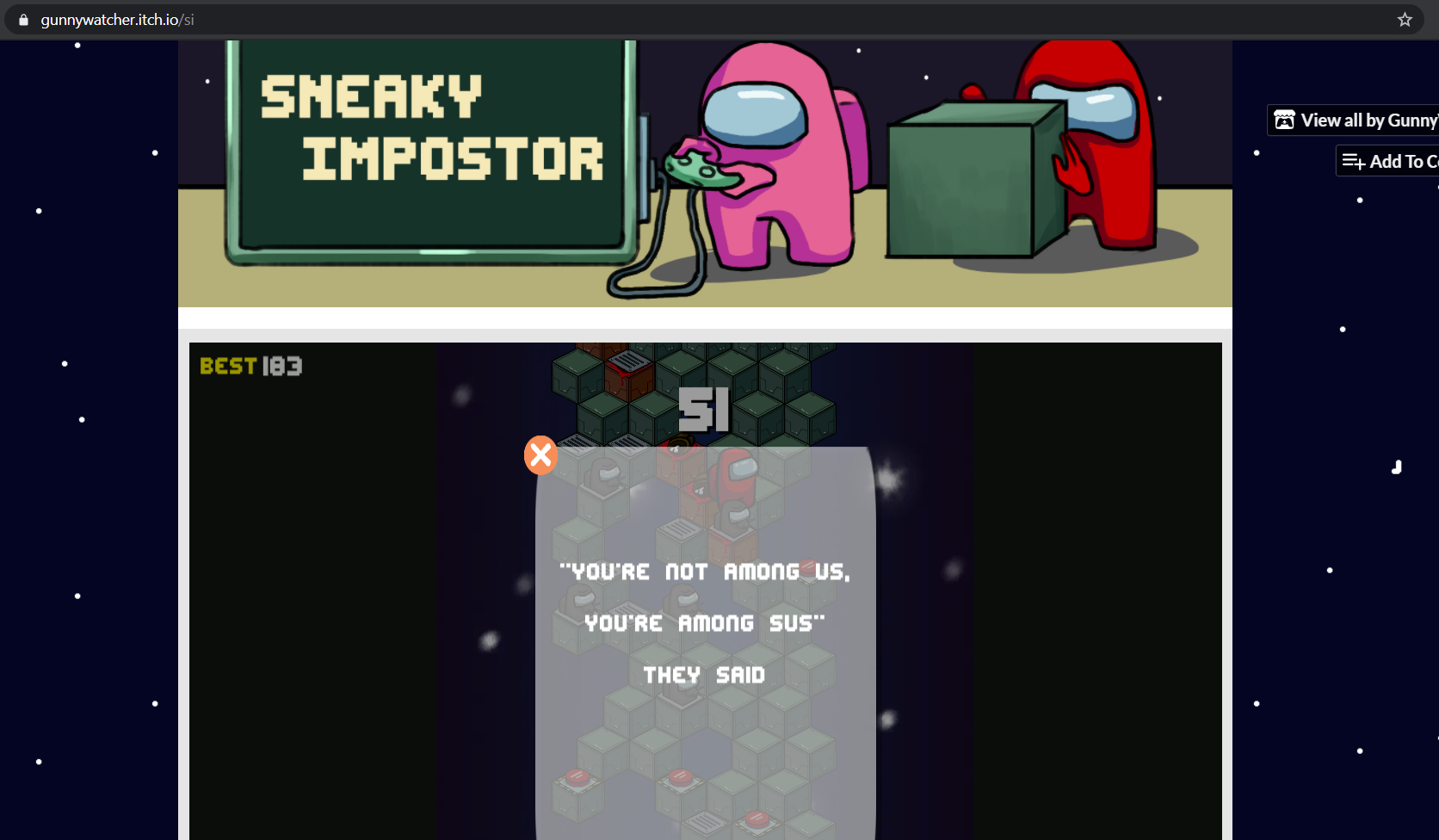 And then, I realized I was repeating the song "Dance_Or_Die" by Stefan Kartenberg in a different way: "should I play or should I die"? Well, my answer is definitely not similar to what "they" said: "you should play 'til you die".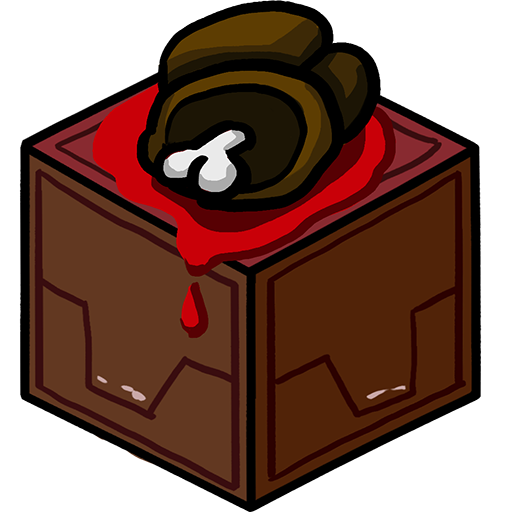 Try it yourself, figure how to play and find fun yourself while trying not to show yourself, all by yourself. And trust me, I'm your friend, I'm Postor. So, I will not reveal the secret to you. Hard to understand anything I said? Weird, that's on purpose …
Media files Drive.google.com
Game introduction article
"Sneaky Impostor, aren't you? The game that applies Web Monetization"
"Sneaky Impostor, aren't you? A fun runner game."
Contact
Email: gunnywatcher@gmail.com
Itch.io: Gunnywatcher.itch.io
Facebook: Facebook.com
Twitter: Twitter.com
Youtube: Youtube.com