Skyward Collapse 1.005 "Player's Choice" Released!
This one reverts two very unpopular recent changes. We've made some cool shifts post-1.0 on the game, but these two were not viewed to be among them. Players complained, loudly, and so after listening to the reasoning we've decided to revert the changes. Not the first time this has happened in an Arcen title, and not likely to be the last; sometimes we try something new, and it just doesn't work. The key thing is we listen to you when you tell us about that.
Now: these changes were both intended to solve some edge-case "cheese" tactics that some players were using to basically break the game rules and win trivially. These edge cases are frustrating for me in particular, because it makes the game feel broken. "Somebody found a way around the game, to play the game without playing the game! Augh! Must. Fix. Now."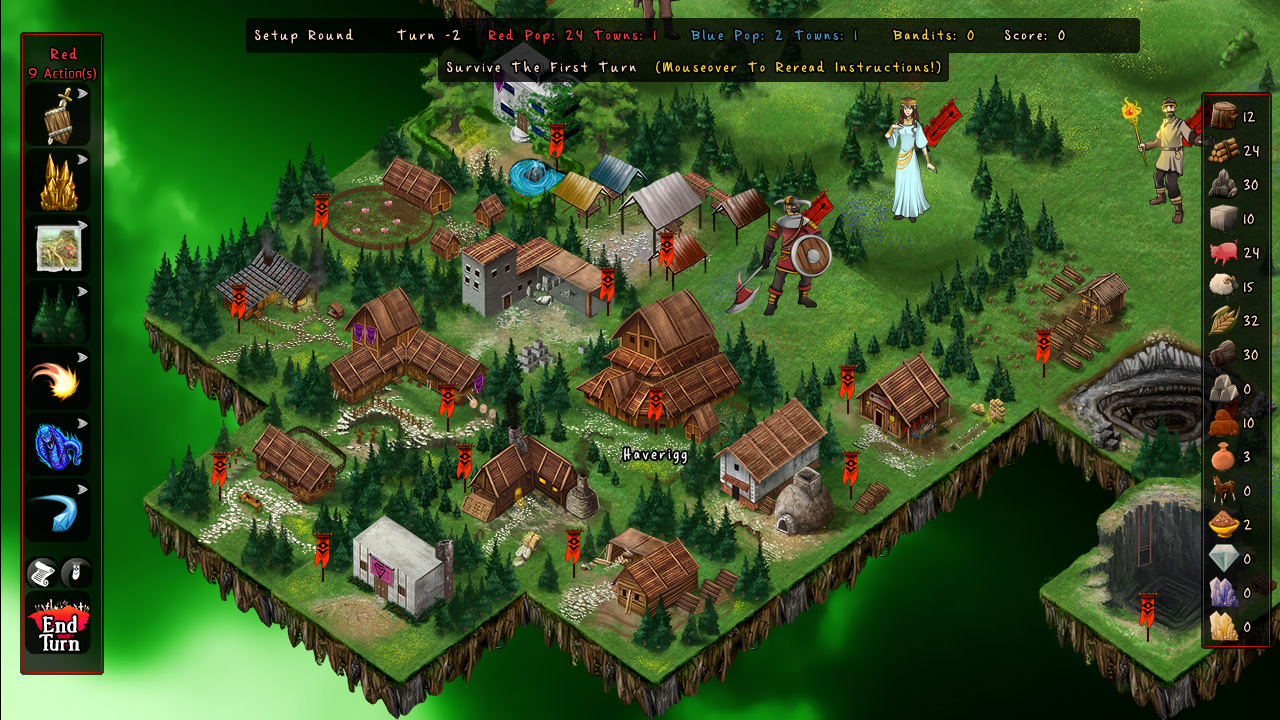 The problem with that is obviously when it impacts regular players in a negative way. The ones playing the game, having loads of fun, and not wanting the mechanics to change and screw them up. "Fixing" the cheese tactics that someone who is (clearly clever) but also clearly not all that into the game is... well, it's not the best choice. Sorry for panicking and doing that to you, folks. Bad move on my part.
I suppose the issue comes back to a fear that if a loose thread is found, then the whole tapestry will unravel. If one person discovers a cheese tactic, what happens to the core players who love the game? The fear is that they realize that tactic is there, start using it, and all the fun is sucked out of the game. Soon it's a graveyard and a broken game because of a lack of developer attention.
I don't think that's an unreasonable fear, but there are definitely some sayings about babies and bathwater that are appropriate about now. Anyway, I would still obviously like to solve the cheese tactics, as those irk me to no end and I feel like it does undermine the game to some extent. However, it's certainly good to use the carrot rather than the stick when possible, and that is not something that these two changes allowed for. They were elegantly simple changes in a lot of ways, which is why I went with them... but also unfun, so there goes that.
We'll all mull on the couple of edge case cheese problems and see if we can come up with something better between the players and the devs, and if we do we'll make a shift. Beyond that, we now return you to your regularly scheduled programming. ;)
Enjoy!
This is a standard update that you can download through the in-game updater itself, if you already have any version of the game. When you launch the game, you'll see the notice of the update having been found if you're connected to the Internet at the time.
Originally posted: Arcengames.blogspot.com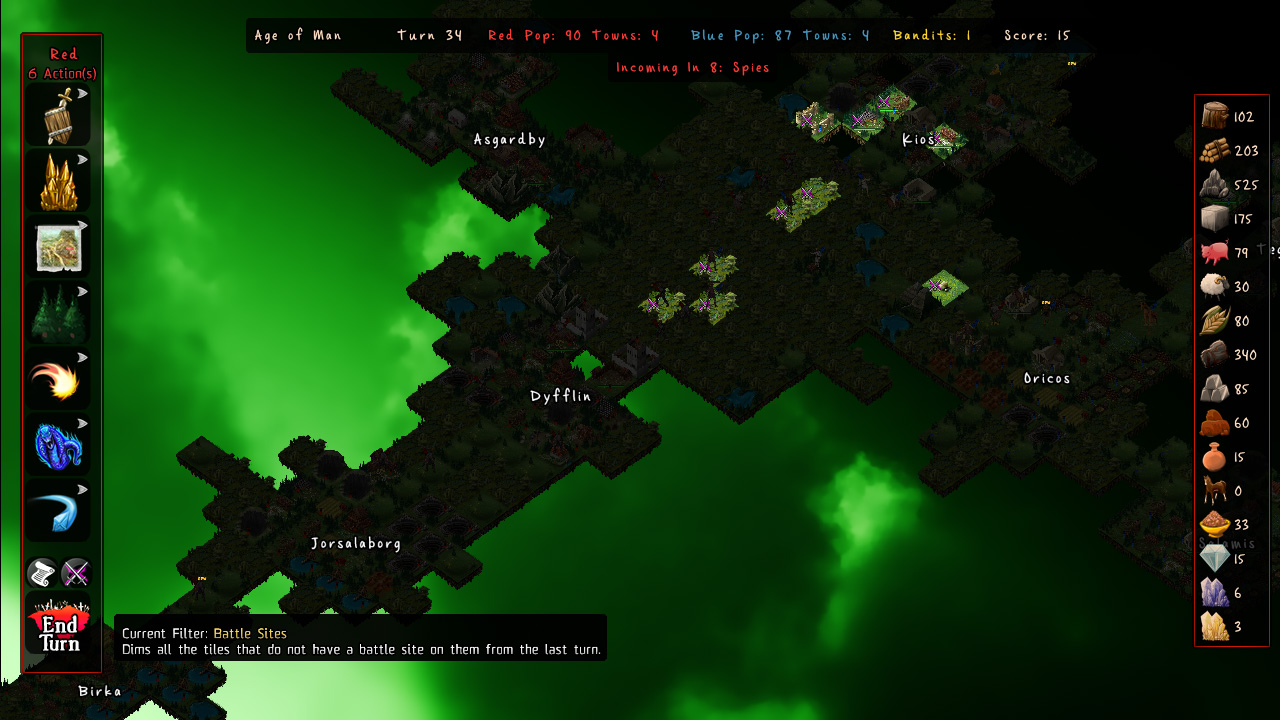 Players and Press React To Skyward Collapse
It's been a crazy few days since Skyward Collapse launched late last week. The game has received a few new updates, the Steam community already has a guide up, and players (QuartertoThree,Octopus Overlords, Bay 12 Forums), video channel owners and press (Kotaku, PC Gamer, Cult of Mac) seem to be buzzing about it -- for heaven's sake, half of Co-Optimus is playing it!
Reviewers like what they see:
PixelJudge: Skyward Collapse Review [5/5, 3/5, 4/5]
"I honestly tried to find even one element that could be seen as a flaw on Skyward Collapse. The problem is – it was nearly impossible, as everything the developers did here, they did great, giving us an astonishingly complex game which plays differently every time. The only weak spot would be the time required to actually understand what you are doing. Not everyone will have the patience, but then again, they shouldn't have picked a strategy game if they don't. Apart from that, Skyward Collapse is flawless and could be easily recommended to every gamer seeking some innovative, slow-paced, complex gameplay which will take ages to become boring!"
Dad's Gaming Addiction: Skyward Collapse Review [8/10]
"Overall, I found "Skyward Collapse" to be an intensely in-depth strategy game. It looks simple on the surface, but there a ton of things going on behind the scenes that will keep analysts busy for hours. Luckily, the easier difficulties allow those who don't want to dive into all of the number crunching a chance to experience the game in a casual manner."
Broken Analog: Skyward Collapse Review [8.5/10]
"I have begun to associate Arcen Games with their unique take on strategy games, but I have started to play their games more and more due to the wonderful soundtracks. A Valley Without Wind 2 has a great soundtrack, and Shattered Haven's music did a great job setting the atmosphere of the game. Skyward Collapse's music has a nice mix of both, great atmosphere with a nice variety of musical styles. The music alone is a reason to pay attention to Skyward Collapse."
Game Wisdom: Skyward Collapse Mythical Strategy [No Score]
"Normally the strategy genre was all about balance: making sure every unit has the proper counter, no strategy being completely dominate and so on. With Skyward you have powers that can kill everyone on the map except for Gods instantly, bestow invulnerability and more. Just try to imagine fitting that into a game of Starcraft."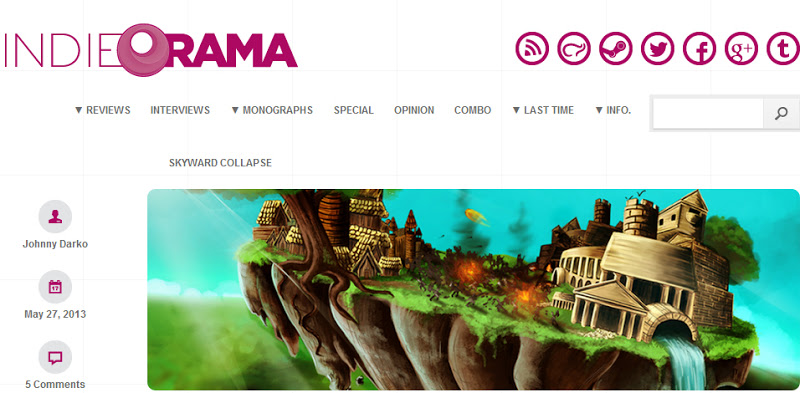 Indie-o-rama: Skyward Collapse Review (Spanish) [No Score]Game Sphere: Skyward Collapse Review (French) [4/5]Kelevandos: Skyward Collapse Review (Polish) [No Score]
Game Decider: Skyward Collapse Review [No Score]
There's been a good amount of interest from both YouTube and TwitchTV channel owners as well:
Jasix: Skyward Collapse (Steam) - Jasix, Cous & Co. - [Child's Play Charity]
Metal Canyon: Let's Look At Skyward Collapse
TekkorGJC: Skyward Collapse - Extended Quicklook
Evilmidgit: Skyward Collapse with Gladdy, Vibez, and Popcorn
JTW158: Playing Skyward Collapse with Scott (Co-op)
Skyward Collapse with the Siberian Lemming (Russian)
TheBBRcast vs Skyward Collapse (Polish)RageRageGaming: Rage's Live Look - Skyward Collapse
GameDeciderTV: Skyward Collapse - First Looks
Throneful: Skyward Collapse Gameplay
Capngoof: First Crack - Skyward Collapse
FusingProductions: Skyward Collapse Playthrough (Parts 1-4)
SanguineCoven: Let's Play Skyward Collapse
Poolitzer LP: Let's Play Skyward Collapse (Parts 1-4) (German)
MrFishman55: Let's Play Skyward Collapse
Vaetrian: Trying out Skyward Collapse
So Many Fail: Skyward Collapse - First Age
Thepicgamerseal: Skyward Collapse (Parts 1-3)
Tobias Knoll: Tobi plays Skyward Collapse (German)
Mishapp53: Playing Skyward Collapse
Dad's Gaming Addiction: Skyward Collapse (Parts 1-3)

It's still in the early going, but sales have been very solid. While I don't have anything official to announce at the moment, the team is very confident Skyward Collapse will receive significant post-launch support moving forward. I sign off with some interviews and the rest of Skyward's coverage. Until next time!
Interviews
Chris Park on Skyward Collapse: "My big fear with games is always that players will find an optimal unbeatable strategy."
Skyward Collapse Interview with Erik JohnsonMore Skyward Press Coverage
VG247: Skyward Collapse now available for Mac and PC
RPS: God's Got Game - Skyward Collapse Trailer
IndieGames.com: Arcen's god game Skyward Collapse has you balance carnage and creation
PCGamersN: Skyward Collapse plummets on to Steam
Blue's News: Steamships Ahoy - Skyward Collapse
Multiplayer: PC Magazine #119 (Italian)
Tyrant & Ogre: New Skyward Collapse Video Shows Violent Side of your Minions
Strategy Informer: 4x turn-based stategy god game Skyward Collapse coming 23rd May
Indie Squish: Skyward Collapse – Strategy God-Game from Arcen Games
Gamershell: Skyward Collapse Revealed and Trailer
Invision: Skyward Collapse Launches Soon
Deep Apple: The unusual strategy game Skyward Collapse (Russian)
Mega Games Hub: Skyward Collapse by Arcen Games to be released on May 23rd on PC & Mac
Indie Game HQ: Skyward Collapse Receives New Site, Trailer, and Screenshots
DigiBoardGames: Arcen Games Skyward Collapse Launches Tomorrow
MWeb: Skyward Collapse: New Strategic God-Game
Indie Game Insider: Indie Daily 05.23.13
Co-Optimus: Arcen Games' Latest Skyward Collapse Hits Steam Today
Game Podunk: Skyward Collapse Coming to Steam Tomorrow
GamAlive: Skyward Collapse - And you became Gods (French)
You Play With What: Skyward Collapse (Japanese)
Spazio Games: Skyward Collapse Available on Steam (Italian)
Goha.ru: Skyward Collapse - Turn-based strategy, god sim (Russian)