Skyward Collapse 1.013 "Godly Gods" Released!
This one fixes the resource drops not working in the last couple of versions. Even more substantially, it majorly increases both the health and the attack power of gods. Those guys aren't such pushovers anymore!
There's lots more in the hopper in terms of free updates, and we're still steadily working away on the first expansion (Nihon no Mura) as well. But it's been a busy couple of days on a lot of fronts, and I haven't quite had time to do enough to actually push anything but this into the codebase yet.
More to come soon, though. Enjoy!
This is a standard update that you can download through the in-game updater itself, if you already have any version of the game. When you launch the game, you'll see the notice of the update having been found if you're connected to the Internet at the time.
Originally posted: Arcengames.blogspot.com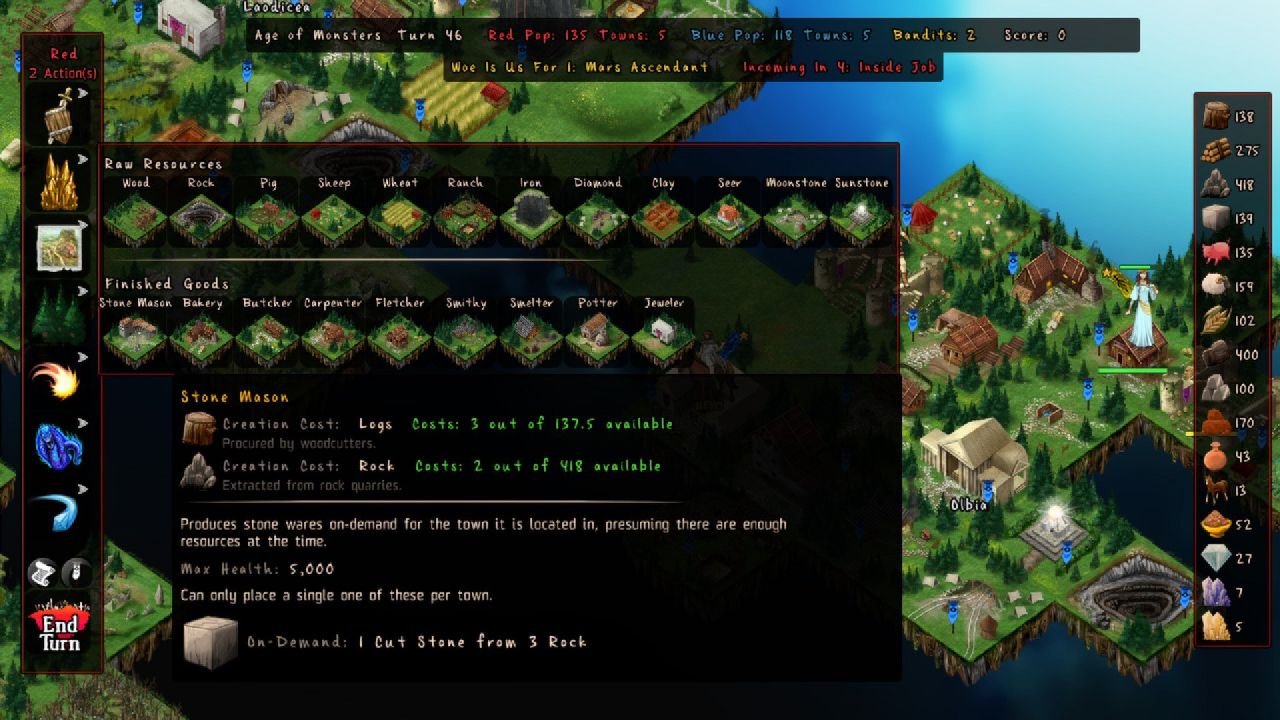 Joystiq: Skyward Collapse lets you play god on both sides
Richard Mitchell of Joystiq took a good look at the game as part of the outlet's Snapshot column. He really seemed to enjoy it! Some choice quotes:
"I can never play Skyward Collapse again. It's not that it's a bad game, it's just that I work from home. Frankly, having it – and the accompanying temptation – within arm's reach would be detrimental to my productivity."
"Skyward Collapse is more complex than I've made it sound. There are numerous resources that have to be accumulated. As a Creator, you can literally move mountains to keep factions at bay. I haven't even touched on "woes," terrible events that occur after a set number of turns. (Reduce every single unit's health to 1? Why not?). Despite this complexity, the game is always presented in a friendly, understandable way. Every building, unit or token clearly displays what resources and prerequisites are needed to manufacture it. You don't have to sift through menus or tech trees – just highlight something and everything is right there in a handy tooltip.
"That accessibility, combined with the game's addictive qualities, ensure that I can never boot up Skyward Collapse ever again. I sunk seven hours into it over the course of two days, and I just don't have that kind of time. If you do have the time, and you're looking for a different sort of strategy game – one where the world becoming a chaotic, smoking ruin means you're winning – definitely give Skyward Collapse a try. It's available now on Mac or PC (via Steam) for $5."
Very awesome! :D
Originally posted: Joystiq.com