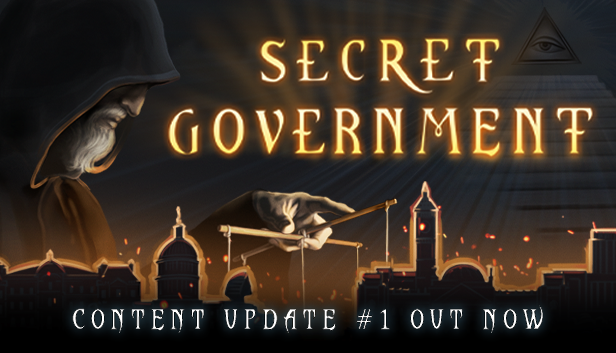 Prague, Czech Republic, July 16th, 2020 – Secret Government, a Grand strategy game where you take upon the role of a secret society leader that is changing the course of history to his own liking, is receiving its first content update! This update focuses on improving existing game mechanics, adding more content to the current mission and balancing the game more to be in line with what the players have asked for.

Watch the Secret Government release trailer here: Youtu.be
The below list includes all the key additions and changes that the first Early Access content update brings to Secret Government. More updates will follow in the next months that will add new features and expand the gameplay options. A detailed roadmap is available to all players who would like to see what's planned until the end of the early access period.
New storyline events for the "English Revolution" mission
Visualization of the main game processes at 3D map
Improvements of the country's government AI
Improvements of economic dashboards
New illustrations for states dashboards
Game balance improvements
General bug fixing
About Secret Government
Taking place from the 17th century to the modern days, Secret Governmenttasks you with leading a secret organization as you spread your influence across the globe, rewriting key historical events and deciding the fate of humankind. Manage your resources as you manipulate the actions of the world's leaders. From strategically planting your agents in vulnerable regions, to infiltrating powerful institutions of authority, anyone can be your pawn as you exploit their resources and seize control over key decision-makers.

Secret Government is out now on Steam Early Access and GOG, with a full launch planned for this October. For more information, be sure to check out the game on Steam and Twitter, or follow as 1C Entertainment on Facebook or Twitter.