Major updates:
Magnet Trap
Imp
Trick or Treat
Launcher
The new units have been introduced in the last development vlog, but I have not spoken about the Launcher.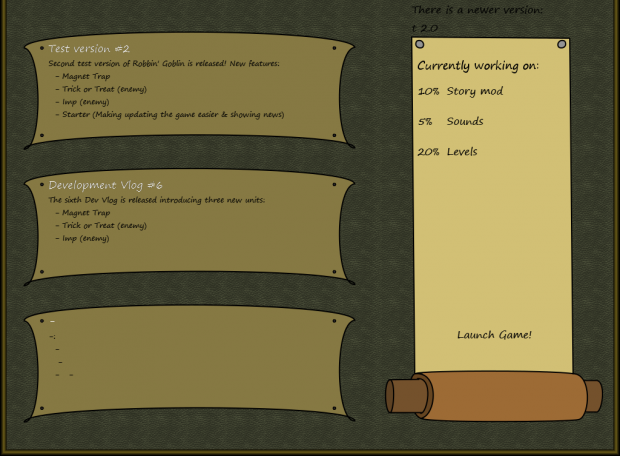 The new launcher
In the past few weeks I have been thinking about making a launcher, to make updating the game easier and reading news about it as well. There would not have been a lot of meaning to create a complete launcher, e.g. with login system, because the game is still in early development, thus it would not be able to use those features. However I wanted to get rid of that far-from-beautiful Readme at the beginning of the game. It also serves as a way for creating an easy way to update the game and informing the players of new available contents.
This is my first time making something like this, so if something is not working or have some suggestions feel free to share it.
Minor Updates:
The goblins behavior has been changed, now they spawn more rarely, but in bigger numbers: up to 7-8.
Taking gold away from goblins now has a sound effect.
Level restart bug fixed.
If you have some feedback on the game, be it criticism (constructive) or suggestions, please share it either on indieDB, on our facebook page, or at tulipsarebetter.com.
Watch the 6th Dev Vlog:
Download Test version
(Contained too many bugs, so we decided to remove it . Don't worry the next version (alpha 1.0) will be released in about a week, with brand new features!)
Do you want to try an oldschool arcade game? Click here!