Hello Bringers!
The launch of ScourgeBringer's alpha has been a blast. All your feedback have been very relevant and helped us to focus on what matters.
Today, we are releasing Alpha 2.
It adds the super attack and revamps the weapon system (including new weapons and items). It also addresses a bunch of the issues you've highlighted, though all not yet, but we'll get there as we publish new updates.
Accessing the alpha: for the time being, alpha access are managed through our Discord.
You will find right after the gif the full change log!
Thanks for your support, and let's continue rocking the feedback!
Cheers,
Thomas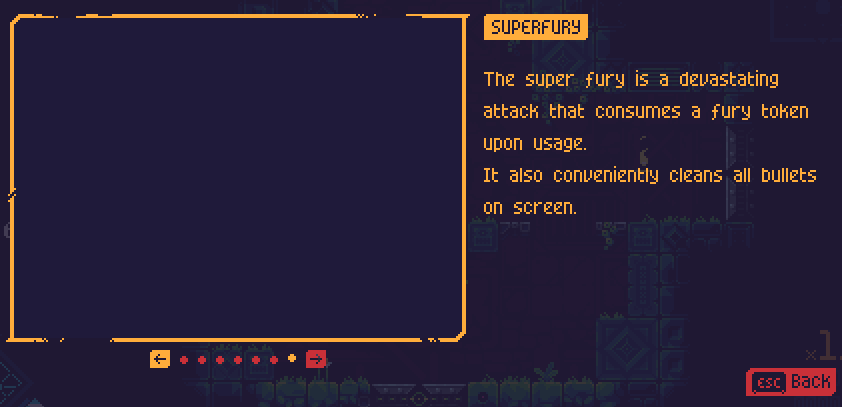 New:

- Added the super attack
- Added 14 drone weapons to drop and find in the shop
- Added 6 new items (most of them are related to the new drone reloading system)
- Added an option to disable the mouse aiming when playing with only a keyboard
- Polished the settings and pause menu to have sounds and animations
- Added more gamepad support, and possibly fixing a specific Xbox One controller issue
- Added a deadzone to the aiming stick and slightly increased the moving stick's one
- Implemented the auto-slash accessibility setting

Changes:
- Reworked how the drone reloading works: the reload bar now consists in charging the full bar in order to get back X ammo (X depends on weapon), and it is more required to have an empty clip to reload
- Changed the default drone weapon: it's now a manual revolver
- Removed 2 items that were no more relevant to the new drone reloading system
- Removed the Bodyboulder last bullets upon exploding
- Removed the drone reloading gain from hitting with drone weapons
Fixes:

- Fixed a few typos
- Fixed max HP no being reset after a run
- Fixed scrolling in the settings not being reset when browsing through tabs
- Fixed possible crash if the Settings file doesn't exist
- Fixed gamepad vibrating when playing with keyboard
- Fixed pending money carrying over the next run
- Fixed mini-boss not cashing the correct amount of money if the player is leaving the room too quickly
- Fixed enemies not dropping the correct amount of money
- Fixed world 1 shop room having missing tiles above its northern door
- Fixed mini-boss continuing to fire upon exploding
- Fixed the shop freezing the pending purchase if an unbuyable item is hit before the pending purchase has been cashed in
- Fixed smart aim not snapping correctly to bosses
- Fixed "exit" from pause menu not working if the player just got hit and has invulnerability frames
- Fixed ambient sounds still playing even if the music volume has been set to 0