This is all ridiculously exciting. Our first full game, Richard & Alice, is just seven days away from release. You can already pre-order it right here on Desura, for just £3.99. Next week it'll be out on GOG and IndieCity too. This all feels a little bit like it isn't really happening.
Today, the special edition DVDs (just 50 of them, to be sent to those who really helped us fund the game on IndieGoGo) arrived. They look fantastic. We've also now finished uploading the final build to everywhere it needs to be uploaded, and distributed it to the press. Counting down the days now. Getting nervous. I hope it doesn't turn out to be rubbish.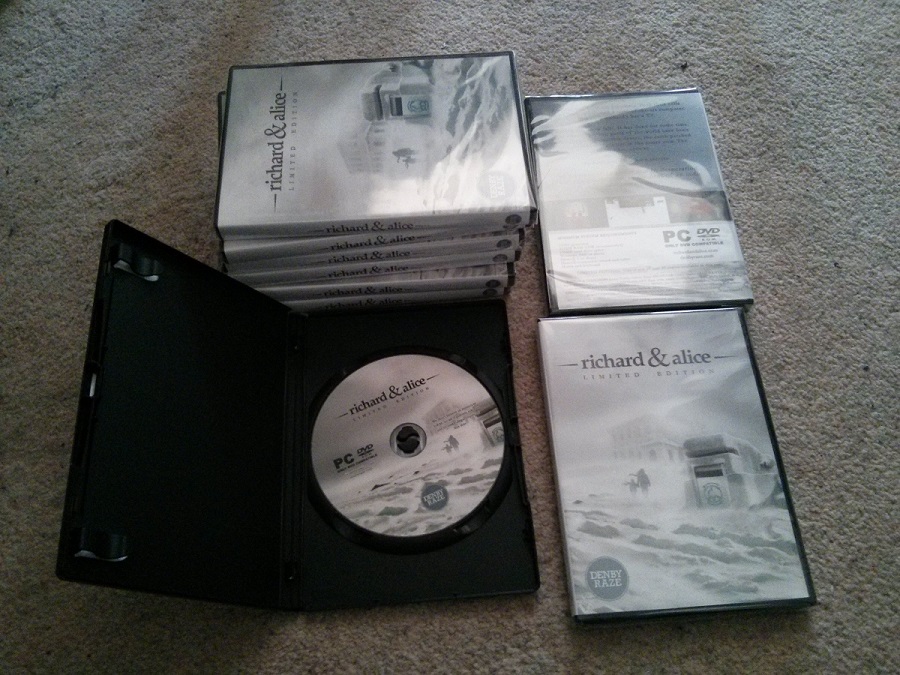 I don't think it's rubbish, though. When we showed the game to the press last summer, we were overwhelmed by the spectacular response it received. Adventure game expert and Rock, Paper, Shotgun editor John Walker wrote of how he was "entirely hooked" by the press demo, and said he's "very excited to see more". Elsewhere, Just Press Start's Ian Findlay called the game "rather special", writing: "This 45-minute taster of what is to come from Richard & Alice has left me intrigued and incredibly impressed."
So there's that. The full game's about three-to-five hours long, so hopefully we've managed to infuse the whole game with all the stuff that people seemed to love about that 45-minute demo. Not long to go now. Watch the clock with us. Oh, and totally pre-order the game.