I've been working a little bit on Rexzilla's instruction manual, and thought the below section might serve as a good basic sneak-peak explanation of the game.
Gameplay Screen
The screenshot below is typical of what to expect during normal gameplay. The circled objects are explained below according to their labelled number.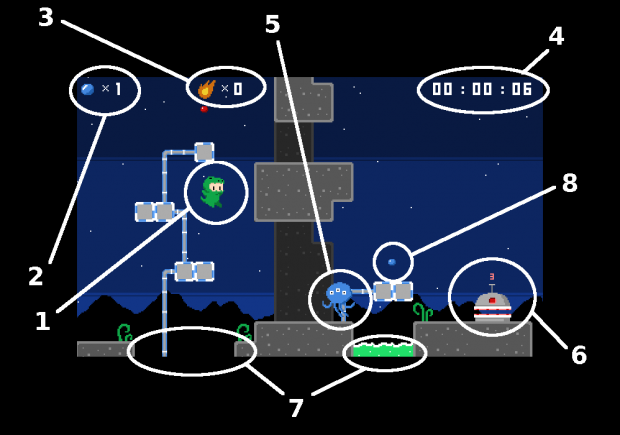 1. The Player (Rexzilla)
Responds to player input via either the keyboard or gamepad.
2. Gumballs Collected
A count of the current number of gumballs collected. Collecting one gumball (any colour) will increase this number by one. Collecting gumballs will open telepods, and may have other benefits. (For more info, see Pickups & Powerups)
3. Fireballs Available
A count of maximum number of times the player may use fireballs during gameplay. Collecting one red gumball will increase this number by one (see Pickups & Powerups). Alternatively, if the player has set the Fireballs option to Infinite, then there will be an infinity symbol (∞) displayed instead (see Options).
4. Play Time
A running count of how long the current playthrough has currently taken. The digits displayed are broken down as follows: hours : minutes : seconds.
Though this information is mostly for the player's reference, there may be an award associated with a faster time. (See Awards.)
5. Enemy
Various enemies will attempt to prevent Rexzilla from progressing. Though each type of enemy behaves differently, all will try to kill Rexzilla. (For more info, see Enemies.)
6. Telepod
There is at least one telepod in each level which serves as the level's goal. The number displayed atop the telepod indicates the minimum number of collected gumballs necessary to open it. (For more info, see Pickups & Powerups.)
7. Obstacles
Rexzilla will encounter various obstacles as he travels, including bottomless pits, lava/acid pools, and spikes. Touching them will result in a player death.
8. Gumball
One of Rex's lost gumballs. Touching it will return it to Rex's possession. Collecting gumballs will open telepods, and may have other benefits. (For more info, see Pickups & Powerups)