The third PTV!
Well looks like I haven't really put in everything I wanted in (I'm sorry, I had to work properly for the first time in my life in a real job). Instead, I've significantly (and by that I mean like... a-frickin'-lot) improved the combat system. Now there're still a couple of changes I'd like to make to it but here are a few things that are currently in it:
- Animals will now hit you in a random body part.
- If your head or torso reach zero, you will die.
- Low head health will result in a lower hit chance.
- Low arm health will result in weaker hits.
What else?
Well I've added swamp plants: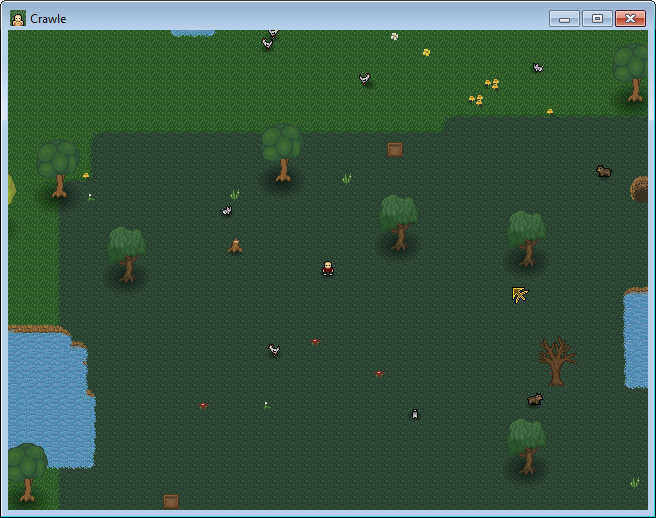 The inventory is now drag and drop and there is also a right click menu for it: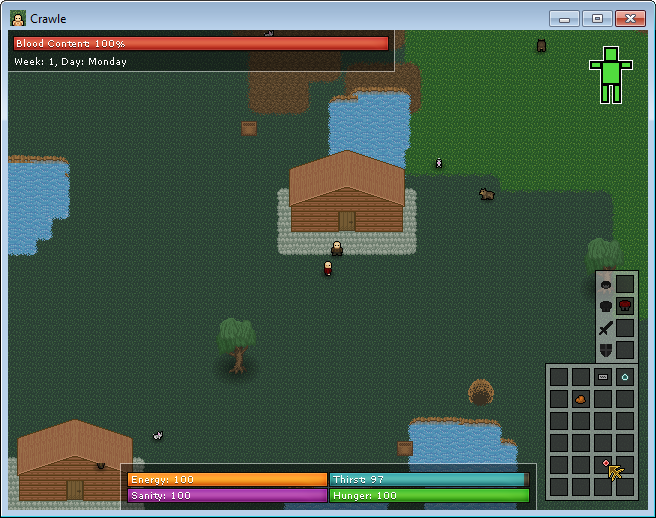 Almost everything is now based off your world mode, for example the rate at which you can catch diseases after eating raw food or standing near a corpse and finally even more world generation fixes and tweaks for even more cleaner world generation!
The masssive changelog!
0.4.1 --> 0.5.0
# MUSICAL CHANGES
- Updated main theme.
- All sounds converted to OGG.
# GRAPHICAL CHANGES
- New credits screen.
- Stone edges.
- Removed unused graphics.
- New willow and dead tree graphics.
- Minor(ish) GUI changes.
# FIXES
- Massive world generation fixes and tweak!
- Optimised the stat system (not based off FPS anymore).
- Fixed the invisible blocked objects.
- Faster world generation.
- Biomes now fill the entire map.
- Proper world clearing.
- Fixed energy being taken when missing.
- Fixed energy regenerating whilst in combat.
- Fixed the file not found error with Unforgiving worlds.
- Fixed the permadeath input check bug.
- Proper player clearing.
- Fixed the inventory not taking 3 random items in normal mode.
# CHANGES
- Replaced world passwords with a confirmation box.
- Night is less dark.
- The GUI is now hidden by the H key.
- Moved the door inside houses to the left a bit.
- Made walking and running a bit faster.
- Animals no longer drop random loot.
- Animals no longer despawn on death.
- Damage is now increased depending on the animal.
- You can no longer spam attack.
- Diseases can now happen from eating raw food
- Diseases can now happen from being near dead animals.
- Removed airborne (random) diseases.
- Updated the combat tutorial.
- The health bar is now a blood content bar.
- Baskets now can be searched using right-click.
- Added proper items to baskets.
- Added proper items to chests and pots.
- You now have to unlock steel chests.
- Removed the sand biome.
- Animal damage is now based off the world difficulty.
- Stone no longer spawns in the overworld.
- Hit chance is now based off the player's arms' health.
- Energy reduction is now based off the player's legs' health.
- Disease chance is now based off the world mode.
- Animals can no longer simply hit you for 0 damage.
- Items are now actually saved in the world file.
# ADDITIONS
- Building!
- Equipable weapons & armour.
- Equipment interface.
- New items.
- Animals can now be skinned and butchered.
- Animals can now be picked up.
- Added Villager trading.
- Added a disease and health tutorial.
- Worlds are now automatically saved every 10 mins.
- You can now 'Quick Save' with F.
- Skills! (Woodcutting, Fishing)
- Health & Disease tutorials.
- The ability to bleed.
- Right click menus.
- Loaaads more items.
- New health system based on body parts.
- Drag and drop in inventory.
- You can now re-view the tutorial using the T key.
- Swamp plants!
The Download!
You can download the game here or using this
mirror.
IF THIS GIVES YOU ANY DLL OR OCX ERRORS DOWNLOAD AND RUN THIS:
Downloads.sleepystudios.com