Our game Bombslinger just hit Early Access and in the upcoming weeks and months we are going to document our design and production focus as we adapt the game based on the feedback we get.
Bombslinger is the first project of our new-born Belgium-based studio Mode4. We've been working on it for one year and a half now with a core-team of 2, Ferry Keesom and myself, and several contributors, some of whom now work with us on a daily basis.
We think of Bombslinger as a reinvention of Bomberman as a solo game. This might seem counter-intuitive to Bomberman fans as the game is remembered as a multiplayer game by most but we always loved playing Bomberman solo (really), especially Saturn Bomberman which was a huge inspiration.
And looking at the current game scene, there's just not much going on in regards to Bomberman-inspired games besides a few clones.
So one year and a half ago we were brainstorming for games we'd love to make and it came to us: wouldn't it be cool to make a hard core single-player player Bomberman thing? But with more explosions, a faster pace, more items….Bomberman is tame, let's make something a bit nastier!?!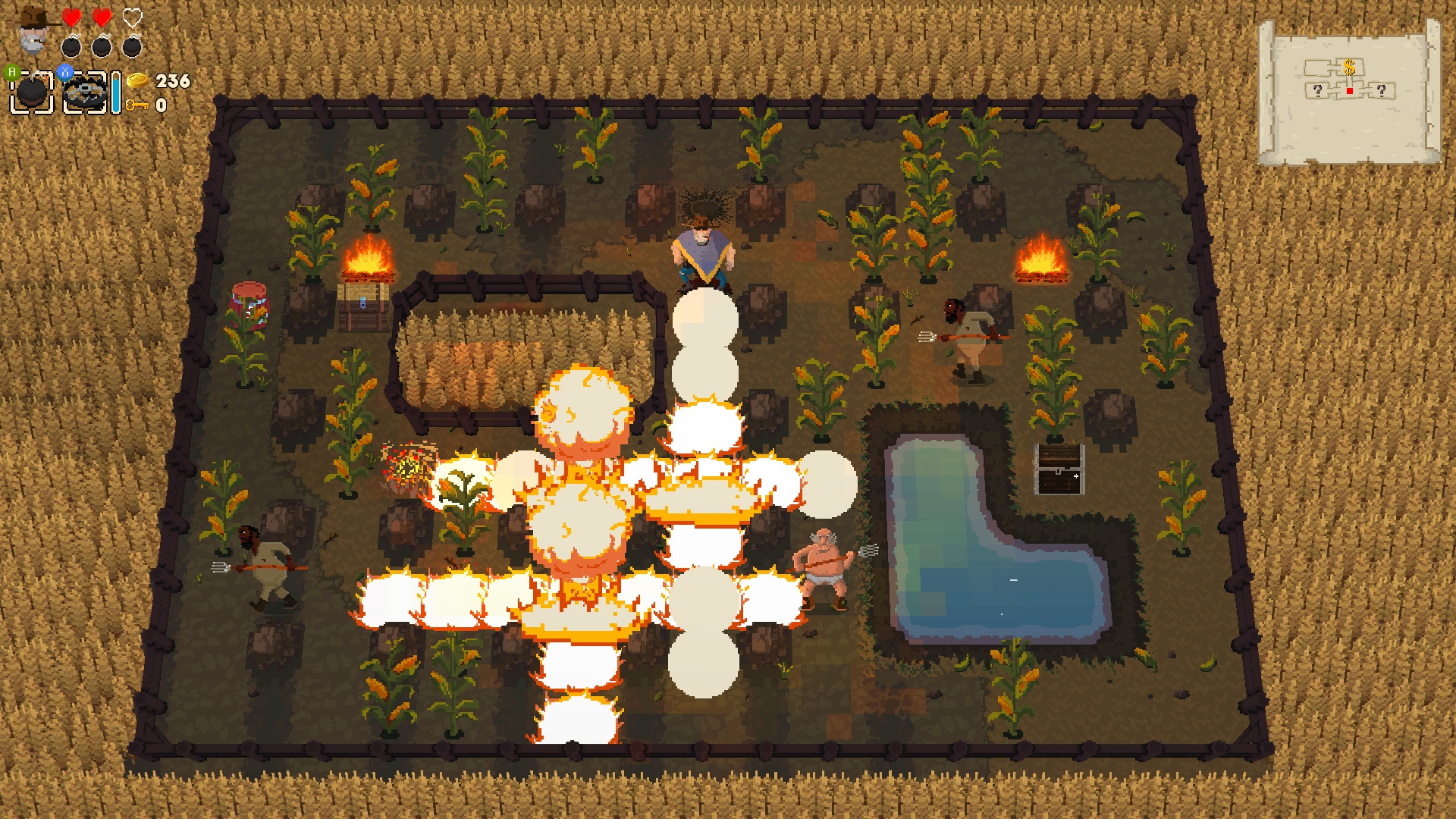 The Wild West / spaghetti western setting came quickly after. We brainstormed settings to try and figure out what they would allow us to do with the game and for some reason we always got back to that same one: cowboys, Wild West, spaghetti western…I remember at one point thinking that we should go with robots and a sci-fi setting and that a very cool robot would be a… cowboy robot.
Anyway, the nail in the coffin there was Ferry describing our character as a cowboy who would launch bombs, like a...gunslinger with bombs, a...Bombslinger! There, nailed it!
Bombslinger's high concept
Bombslinger initial concept was "Solo Bomberman + Rogue-likes". The main reason for it being that we were excited by the prospect of making that game, the second being that procedural content fits a small team fairly well and we fancied working on that kind of tech.
So our initial Bombslinger feature list came to be:
Solo-oriented Bomberman-inspired action game
Procedural levels
Several bomb types
Tens of items to use as alternates for the bombs
Classic Wild West buildings (shop, saloon, sheriff's office, etc.).
Local battle multiplayer game modes
I'll get into more detail on the pre-production and art-direction in later posts to avoid this article ending up being 10 pages long but our first major milestone was last year's Gamescom, the E3-like event in Köln, Germany. It was the first time we put the game in front of professionals from the media and publishing outlets. On that occasion we also made our announcement trailer for which our friends at IMOV Studios were fantastic in helping us out to get to a quality we would have never achieved on our own.
Response to the game was fairly positive, yay! That event kind of validated our project and we felt on the right track. We continued showing the game around throughout the end of 2015 and up until this point.
Earlier this year we did our mandatory Greenlight campaign and luckily for us, it went fairly smooth and Bombslinger was greenlit in a couple weeks. At that point we decided that we wanted to try going on Early Access.
It was a hard choice to make. We heard all sorts of opinions about Early Access, all very polarized. In the end we decided to go for it: as a couple of unknown game developers, we figured it was our best shot at getting relevant feedback and hopefully meeting some players passionate about the game.
We decided to do a small-scale close beta test to iron out the bugs and polish the experience before releasing publicly. Some people really took some time to give us invaluable feedback (thank you!).
It's worth noting that we decided to release Bombslinger without any form of multiplayer content, despite a 4-player local battle mode being near-releasable. We're trying to figure out the best way to push Bombslinger as a primarily single-player experience despite its multiplayer-oriented roots as the multiplayer mode is kind of guaranteed to be fun, being very close to Bomberman's.
That said, local multiplayer battles will be coming very soon to the game along a Mac build…which we had up until recently: a few weeks back our new shiny Mac mini got stolen during a break-in...(at least the robbers were not interested in our first edition Japanese Saturn console. That was close!).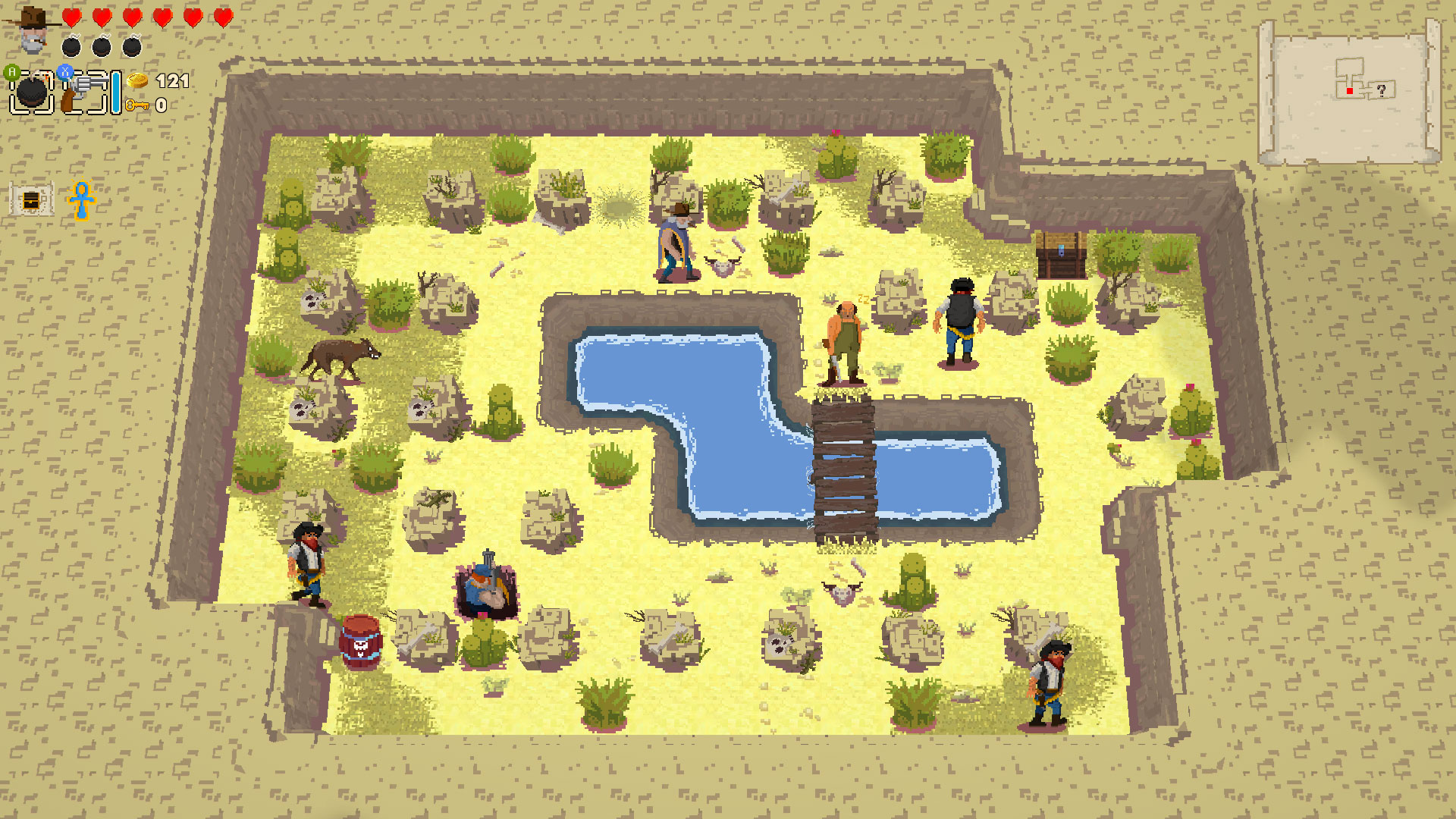 Anyway, that's where we are right now. Bombslinger was released on Early Access a few days ago and our quest for feedback starts now!
Many challenges lie ahead of us besides the obvious hurdles in getting noticed: younger players don't know about Bomberman (which was a surprise to two guys in their mid-thirties like us), Wild West might not be perceived to be as "cool" as sci-fi modern-set action games (nonsense!)...
We still have a lot of iteration on the gameplay as well. We think the controls and core gameplay are already fairly good. Yet we're missing some opportunities to make the experience even more explosive with more bomb-chaining and a better risk-reward mechanics. I'm looking forward to detail our thinking about this soon.
That's it for now, if Bombslinger sounds interesting to you, check it out and please let us know what you think about it! We're super eager to get feedback during our Early Access time and get Bombslinger to live up to its full potential!