The answer is quite simple: fast and intense.
Rascal Rider will take you to the world of future, where motorcycles are no longer allowed in the streets. They are one of the memories of the old world, where people could drive their cars and ride the bikes by themselfs. But they still do arouse emotions...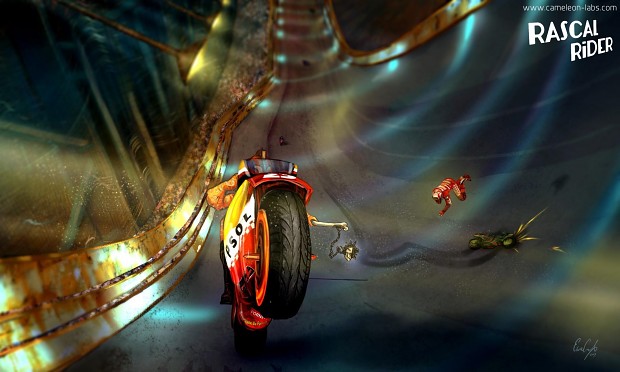 As a professional rider you will take part in a motorcycle racing series designed to entertain millions with its unforgiving and violent rules. Beeing on track you and all of your opponents, will be allowed to use different kind of weaponry to claim your place at the finish line. From melee attacks to shooting rival riders in the back - all is allowed. The high-tech protective suit and medical bots standing by the track will keep you in one piece during the race, as long as you can stand the pain of getting trashed over and over...
The game will feature both single player and a cross-platform multiplayer modes. In both modes you will have a choice of allowing the use of the weapons without limitations or restricting it to certain areas of the track or to a specified amount of time.
You will find out more about the storyline behind Rascal Rider game soon. Just watch out for the first part of the Rascal Rider comics.