Hi all, a late blogpost this week, but I'll make up for it and give you a long one :). This week, I'd like to talk about two things I remember from playing MMORPGs with other people: solidarity and waiting.
Giving teams a home
Let's start with solidarity, with which I mean that warm feeling of really being part of a group. Whether it is walking to a battlesite with my clan to fight another clan in Runescape, or beating some monster together with my party in a dungeon in WoW, doing something together as a group feels great. This feeling is the main feeling I want to try to recreate in Olvand. I believe building a town together, and then defending its honor in games is one way to do that, but there's something more I want to do. Namely, I often noticed many clans have a place in the game world that they feel is 'theirs'. It can be a market square, a house in a town somewhere, the second floor of a bank, somewhere in the sewers, it doesn't matter. It's the place where that group of people often meets and gathers, and feels 'at home'; it's their team base so to say. So far, Olvand's town hall could of course be used for this, but what if there are multiple subteams within a town? To solve this, I present you the pub: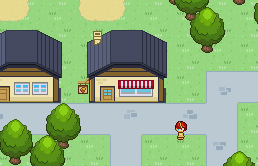 Killing time with little games
But, besides giving you something to build, and a possible team base, there's another problem I want to solve with pubs: waiting. When I think of playing with other people I know, one of the first things that comes to my mind is that it often takes a looooong time to get the right people at the right place on the right time. Not only do people have to come online, they also have to travel to the right places, prepare themselves for the thing you're going to do, etc. Having all team members (or members of the opposing team) ready at the same time is simply almost impossible, so there's going to be waiting involved.
And if waiting for others will be a part of Olvand probably in pubs, why not add something to do there, to kill time? That's why I'm also planning to add various little minigames to pubs. And this time I don't mean races, duels or fishing contests, but really small and simple games. Games like tabletop games, or the games you can play on the back of napkin; games with an easy-to-learn ruleset, but which will hopefully turn out to be incredibly deep. I want to add at least 3 or 4 (I already have some ideas), and more if they turn out to be popular. I should add that I'm not planning to add them anytime soon; since waiting is not really an issue at the moment yet, I'll focus on other things. But I just wanted to let you know what pubs will be used for.

Music
And of course, pubs will also have music! As you might have guessed by now, it's another variation on the [town theme], but this time a jolly one. Unlike [last week's variation], I can see people dance around on this.
I really had a hard time creating this. I know I wanted something with that pirate/sailor/irish pub feel to it, but I couldn't get the sound right. After trying hundreds of things, when I had almost given up, I decided to go to YouTube and listen to some Irish tavern music and pirate songs, and made a list of all videos that had the right feel. I then relistened to all things on the list, trying to find out what they had in common. The answer? A combination of a fiddle and a flute.
If you want more development, see [twitter] or [facebook]. If you want to be a tester, you can subscribe on [olvand.com].