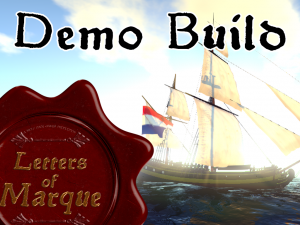 Download "Letters of Marque Test Build" Letters-of-Marque.zip – 82 MB
Wha?!?! Did you say the demo was playable by everyone?!?!?!
YES! It is playable and downloadable and free to play. No 'Early Access' or fees to pay, just a plain ol' game in testing that you can play with your friends. Now, there is one limitation, it requires you to sign up on our website for an account, but that is the only stipulation. We are using the login to track some basic metrics and crash reports so it helps us help you! Now, on to some of the details of the latest build.
Installation
Download, extract to your favorite games folder, enjoy. It is just that simple. No installer to worry about. Just put it somewhere that has decent file permissions and you are good to go.
Patcher/Launcher
In order to stay up to date we have included a patcher that will download and install new patches to the game. In your game folder there are two executable files. The one with "launcher" in the name is… well… the launcher. It patches the program and makes sure you are up to date. It is recommended to run it instead of the other executable simply because we release patches constantly.
Multiplayer
In order to host a multiplayer match you will need to forward your chosen port to your computer. By default we are using port 15937 for the game, but you are welcome to host on any port you please. When someone picks your game to join from the master server list, it will pass along what port to use so you don't have to.
When playing locally with multiple clients on one machine or on LAN, you will need to use the 'Join IP' and type in the IP of the hosting machine. We will, one day, make that automatic but that is fairly low priority right now, sorry.
Input and Keys
When in game you can press the Options button from the main menu, or the Exit menu from in a game to get to your settings. On the top right is the Controls button that lets you reassign your keys to your hearts content. Here are some of the defaults:
Camera Type
Change View Type (On-deck or 3rd Person) – F
Change View Point (On-deck Only) – R
Camera 3rd Person
Mouse Right Click – Unlock camera to move
Mouse Left/Right/Up/Down – Orbit around ship (While right clicking)
Mouse Scroll Wheel – Zoom in/out (while right clicking)
Camera 1st Person
Mouse Right Click – Unlock camera to move
Mouse Left/Right/Up/Down – Look (While right clicking)
Mouse Scroll Wheel – Use telescope (while right clicking)
Movement
W/S – Sails raise/lower (double tap to full/douse sails)
A/D – Rudder left/right (double tap to full left/right rudder)
Gunnery
Space – Fire battery that is facing the same direction the camera is
E -Fire one shot from the battery
Shift + W/S – Elevate guns
Other
C – Begin Damage Control
O – Take Screenshot without GUI
P – Take Screenshot with GUI
Enter – focus on text box/send chat message
~ – see your current FPS and memory usage