Another pretty good couple of weeks which were interrupted a bit by various things. I may have my first cavity in years, if my dentist is correct!
A buddy of mine recommended I post the game as a concept on Steam Greenlight as you likely know and I did just that (I was just intending to get feedback and build an audience, not sell it). It started out being mostly noes but likes almost balanced out the noes at the time of writing, likely due to the fact that I said I wasn't selling it but instead was offering it for free.
I finished the basics of the world and the creatures are all timered. A timer in 001 can be used as a respawn point, which of course brings creatures back to fight again, and more trees to interact with and so on. That took forever, because of the way the system is set up. Good thing I have some good music in the background to keep me going.
I am working on a dirt-digging system to collect worms (for fishing - or eating!) and maybe more using a shovel. As well, beware, as if you aren't lucky, you may now get hurt by a mischievous creature while resting! The crafting system is basically done, but there is more to do. You can now also use buckets to pick up water to drink on the go, and lava as well. Why you'd want to drink lava...? Who knows?!
I also added transitions between tiles, which will hopefully make them look better. An example of this is shown below. A guy suggested shading some things, and I tried it anyway. I had no idea where to start.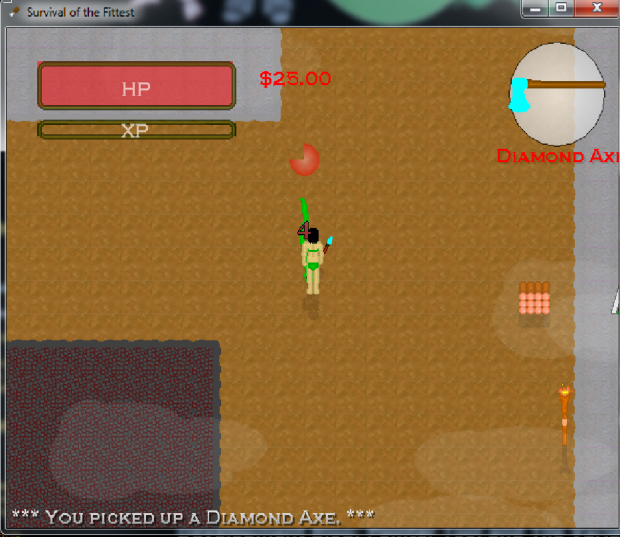 In the coming weeks I hope to develop systems more, work more on perks and the options menu, and make dungeons and add friendly folk (or not, depending on how you are!)
Until then, see you!
P.S. If it wasn't already clear, achievements are gone and a stat-tracking system is in!